GrandeLash MD is a big name in lash growth serums. It gets mentioned across beauty forums. It gets recommended amongst friends. It shows up time and time again on top lash serum lists all over the Internet. And it's no surprise why.
You see, there are only a few eyelash growth serums that do what they claim to do – provide significant eyelash growth.
In fact, there are only a handful of lash serums that are capable of taking your lashes from short and average to near-Snuffleupagus proportions. And GrandeLash MD is definitely one of them.
Read on to find out why.
What is GrandeLASH MD?
Lashes and brows are having a serious moment in the spotlight right now. And the booming interest has resulted in more eyelash serums entering the marketplace than one could have ever imagined.
Seriously, just a decade ago, there were hardly any eyelash growth serums on the market. There was pretty much just Latisse (introduced in 2008), RapidLash (in 2008) and GrandeLash (in 2008).
Now, as you know, there are tons and tons of lash serums vying for your business. The thing is, though, that despite the dozens of new eyelash serums popping up on the marketplace, GrandeLASH MD has held its place as an effective, trustworthy lash serum.
And a huge part of its success is the company behind it.
The GrandeLASH Story
GrandeLASH MD is an eyelash enhancer made by Grande Cosmetics, LLC, a US company owned by Alicia Grande. The product was originally formulated for her own use and Alicia was the first 'customer' to see results from her product.
Knowing that her lash serum could deliver the goods, Alicia Grande launched the company in 2008 with one product: GrandeLASH MD.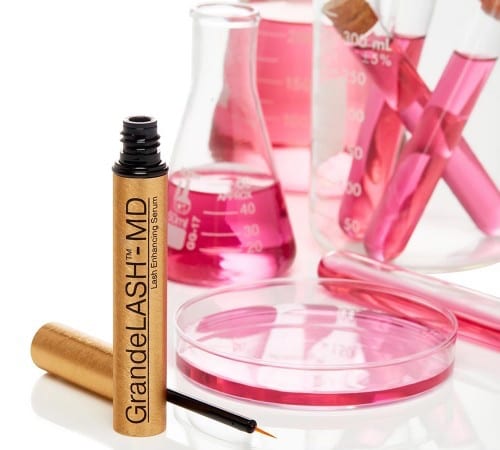 Since then, the company has boomed and the product line has expanded to well over 40 products.
And that single product that started it all, GrandeLASH MD is practically a household name for lash lovers around the world, with hundreds of thousands of customers who've seen drastically improved lashes simply by using the serum.
The Company Behind the Lashes
There are eyelash serums galore but if you're a regular reader, you know that we only recommend a handful.
That's because lash serums are used in one of the most vital, sensitive parts of our body – our eyes. And yes, we care a lot about the quality of the serums that we regularly use around our precious peepers.
Which is why we always check out the company behind every lash serum to see if they're a fly-by-night company trying to cash in on the lash trend or if they are a legitimate business that can back up their lash claims.
GrandeCosmetics is definitely the latter. They stand by their eyelash serum – and have been doing so for over a decade. They're so confident, in fact, that they offer a full 90-day money back guarantee – that's more than enough time to fully test and get results from their serum.
We also really like the fact that GrandeLASH MD is cruelty-free and PETA-certified. Whereas it's adorable to think of bunnies with ridiculously long lashes, we love that they've gone the extra mile to create a guilt-free lash serum.
Lastly, it's worth noting that GrandeLASH MD is made in both the USA and Germany, adhering to the rigorous quality standards of both countries.
Grandelash MD Ingredients
When it comes to choosing an effective eyelash growth serum, ingredients matter. A lot.
So it's not enough to simply say that GrandeLASH MD's helps promotes faster, thicker growth of both eyelashes and eyebrows while simultaneously nourishing and protecting lashes and brow hairs from breakage and damage to ensure healthy growth.
No, we want to break it down for you and explain exactly how it works. So what is in GrandeLASH MD? Let's take a peep inside the serum…
Ingredients: Water/Aqua/Eau, Panthenol, Glycerin, Sodium Citrate, Leuconostoc/Radish Root Ferment Filtrate, Alanine, Alcohol, Aloe Barbadensis Leaf Juice, Arctostaphylos Uva URSI Leaf Extract, Arginine, Aspartic Acid, Calcium Gluconate, Caprylyl Glycol, Chamomilla Recutita (Metricaria) Flower Extract, Ethylhexylglycerin, Gluconolactone, Glycine, Hexylene Glycol, Histidine, Honey Extract/Mel/Extrait de Miel, Hydrolyzed Glycosaminoglycans, Hydrolyzed Yeast Extract, Hydroxyethylcellulose, Isoleucine, Isopropyl Cloprostenate, Magnesium Ascorbyl Phosphate, Panax Ginseng Root Extract, PCA, Phenylalanine, Polysorbate 20, Proline, Propylene Glycol, Serine, Sodium Hyaluronate, Sodium Lactate, Sodium PCA, Threonine, Tocopheryl Acetate, Triethanolamine, Tussilago Farfara (Coltsfoot) Leaf Extract, Valine, Vitis Vinifera (Grape) Seed Extract, Phenoxyethanol, Sodium Benzoate, Sodium Metabisulfite
As you can see from the list, GrandeLASH MD lash serum boasts vitamins, amino acids and herbs to nourish and condition the lashes. Just a quick glance shows that the formula combines a strategic mix of ingredients that benefit lash in various ways:
Panthenol to strengthen damaged lashes, by moisturizing and improving elasticity
Aloe Barbadensis Leaf Juice to soother and repair
Coltsfoot to nourish the hair shaft and increase elasticity and protect again lash breakage
Arginine to stimulate lash growth by promoting blood flow to the roots of hair cells
Grape Seed Extract to moisturize and condition with its high Vitamin E content
Uva Ursi Leaf Extract to strengthen the roots and protect against eyelash loss
Just those ingredients alone would make for a nourishing eyelash serum. But the real lash-boosting ingredient in its formula is a prostaglandin analogue that you'll see listed in its ingredients list as prostaglandin I.C.
This bears mention because the pioneer in eyelash growth serums, Latisse, uses an active ingredient called Bimatoprost, which is a prostaglandin analogue as well, to promote significant eyelash growth.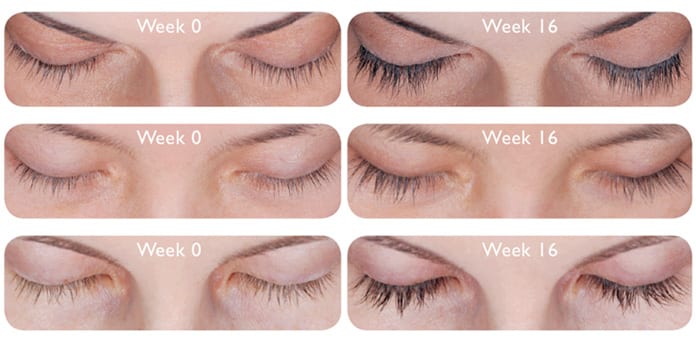 Vitamins, peptides and amino acids can go a long way to growing your eyelashes to their full, natural length. But we're going to be honest with you – you don't get eyelash growth like this from nourishment alone.
Prostaglandin analogues, like the ones found in Latisse and GrandeLASH MD do more than promote your lashes to grow to their full natural glory.
They're able to work dramatic lash magic because this little ingredient both increases the percentage of lash follicles as well increases the duration of the Anagen phase, which is the phase during which eyelashes are actively growing.
The result is seriously long, thick and lush lashes.
How Long Does It Take to See Results from GrandeLASH MD?
As you know by now, GrandeLASH MD contains a potent combination of vitamins, peptides, and amino acids condition and nourish the lashes, making them healthier and stronger.
But again, the ingredient responsible for actually making your lashes grow like weeds is prostaglandin I.C., which works by both stimulating the growth of new lashes as well as extending the natural growth cycle of eyelashes so that your lash line can reach beyond its full potential.
That being said, because eyelashes naturally take their time to grow – the natural lash growth cycle is around eight weeks, it will take some time before you see the full effects of GrandeLASH MD.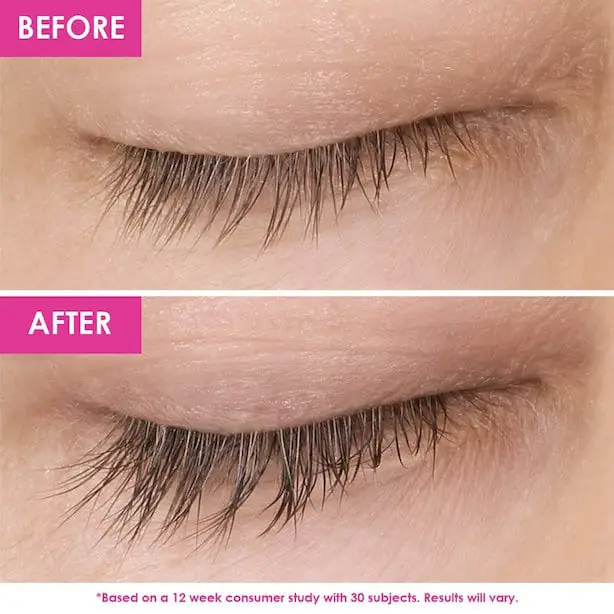 According to the company, it can take around 3 to 5 weeks for younger users with shorter eyelash growth cycles to see results from GrandLASH MD. Older users with longer regrowth cycles can expect to notice eyelash growth within 6 to 10 weeks.
In my experience, GrandeLASH MD took around as long as Latisse to show results, which was around 2 months. It's not a short time when you're impatient for lush lashes, but it is worth it.
It can feel like a life time and if you've been religiously applying GrandeLASH MD for a month and it feels like it's not working – just hang on. Eyelash growth serums with prostaglandin analogues work. But they take their time.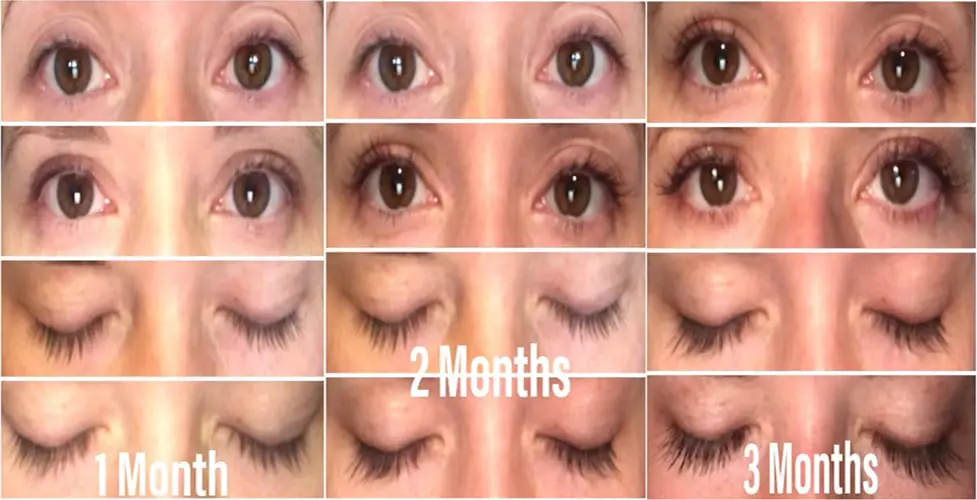 The process goes something like this:
First week: No visible lash growth
Second week: No visible lash growth
Third week: No visible lash growth
Fourth week: No visible lash growth
Fifth week: No visible lash growth
Sixth week: No visible lash growth
Seventh week: Is it just me or are my lashes longer?
Eighth week: Okay, lashes are definitely longer…
Ninth week: Let's skip the eyeliner – thanks, thicker lash line!
Tenth week: So many compliments and questions on my "fake" lashes
Eleventh week: OMG I never knew my lashes could look like this
Twelfth week: Lash zen
The first changes will come as the new, longer eyelashes begin growing in amidst your older lashes – but you won't really notice them. But gradually, over the next month or so, most of the lashes will be replaced with the new long, thick lashes.
And trust me, you'll notice.
Does GrandeLASH MD Have Side Effects?
You should also be aware that prostaglandin analogs can cause side effects such as eye irritation, itching, eye pain, and darker pigmentation around the eye – all of which are reversed if and when you stop using the product.
I personally experienced no redness or irritation. If anything, there was only a slight feeling that there was something on my eyes. Not enough for me to classify it as discomfort, but for the first week or so of usage, I felt like my lash line felt different after application.
The closest thing I can compare it to is when you jump into a swimming pool and then wipe the water away from your eyes. Afterwards, when you blink, your eyes feel different, like you're carrying a tiny bit of weight.
This feeling went away with regular application.
NOTE: Although GrandeLASH MD says that their product does not cause permanent changes in eye color, a darkening of light-colored eyes is a potential permanent side effect of prostaglandin analogs.
Is GrandeLASH MD Worth It?
In a nutshell, definitely. It's no secret that it's one of our favorite eyelash growth serums. In fact, I personally liked it so much, I've used it a couple of times over the past six years, at various times in my life.
This is perfect for those who do not want eyelash extensions but still want a full thick look. However, if you do wear fake eyelashes be sure to check out out our guide on how to remove eyelash extensions.
And each time, it didn't disappoint.
So what makes this lash serum so worth it? Well overall, GrandeLASH MD ticks off three very important boxes. Is it affordable? Yes. Is it effective? Very much so. Is it reputable? Yes.
Let's break this down.
How much does GrandeLASH MD cost?
Affordability is a big factor when choosing a lash serum, simply because this is a running cost. Eyelash growth serums need to be used every night until you get the results you want.
But even afterwards, you still need to use the serum a couple times a week in order to maintain results. If you stop using the serum altogether, your lashes go back to their normal length.
Which means, you're going to be buying a lot of lash serums – and that adds up. So you want to make sure that the serum you choose is comfortably affordable.
GrandeLASH MD fits the bill – it averages out at around $20 per month. Which is not bad at all to pay for the luxury of long, lush lashes.
Does GrandeLASH MD work?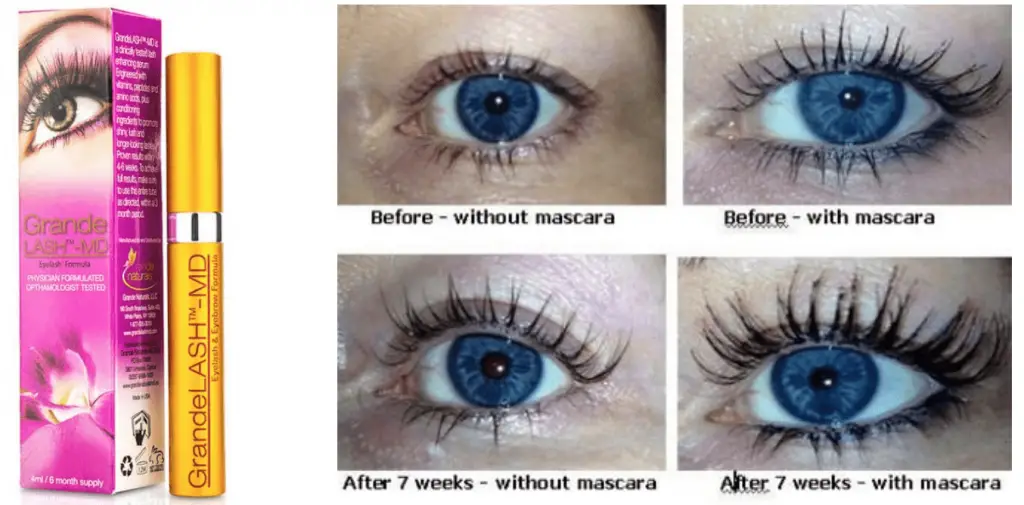 It's proven very effective at growing longer, thicker lashes but there are a few things you should know.
It takes time
Despite the claims, GrandeLASH MD does not take 3 to 5 weeks to see results. In about a month's time, you will maybe notice a few longer lashes growing in and a slight fullness of your lashes but you actually need to give it around 2 months to see the full effects of this serum. Patience is needed with this one.
GrandeLASH MD vs Latisse
When it comes to lash serums, the gold standard is Latisse so if you're wondering how GrandeLASH MD stacks up again Latisse, you're not the only one who's curious.
I certainly was. And the result? For me, I didn't experience the crazy extreme length that happened with Latisse – but then, my eyelashes grew like weeds on Latisse. It may be because the prostaglandin ingredient in GrandeLASH MD is in a smaller dose.
Don't get me wrong, though – GrandeLASH does give a dramatic increase in lash length. My eyelashes grew very lush and long with GrandeLASH MD, long enough to sweep against my sunglasses.
What was also great for me was the fullness that GrandeLASH MD provided. Lashes grew in thicker, fuller and there were simply more of them so if you're looking for a full lash line – this is your go-to lash serum.
All in all, GrandeLASH MD gets a positive rating from me because it is highly effective, highly affordable, produced by a reputable company and you don't need a prescription to get it.
If you're on the fence – just go for it.
Tips on Using GrandeLASH MD
Here are just a few tips I found helpful for using GrandeLASH MD.
Speed it up
The company says to apply GrandeLash MD on clean skin once or twice daily. I recommend applying twice a day – once in the morning as soon as you wash your face and before you put on makeup and once at night after all your makeup is removed.
That's because the prostaglandin ingredient is in a much lower dosage than it is in Latisse so having it on twice a day definitely speeds up results.
Upper lash line only
Apply just a small amount of the serum onto your upper lash line only. I really recommend using a minute amount so that it doesn't leak into your eyes at all.
Plus, be warned that prostaglandin analogues are known to grow lashes where there weren't any before. So you want to be careful to only apply where you want lashes to be.
Eyebrows can join the party
GrandeLASH MD actually works really well for eyebrow growth as well – you don't have to use a lot, either, just lightly brush over the parts of your eyebrow that could use a little help.
Editor's Note: This post was originally published in September 2014 and has been completely revamped and updated in 2020.