If you Google "best lash serums", you will be overwhelmed with several options to improve your lash game. At the end of the day, this will leave you more confused and with many questions about which of these serums will work best for YOU. And – if you are like me – you are constantly trying to balance beauty with health (whew! not an easy task to accomplish in the 21st century!). Throughout the years, I have gained wisdom in regard to beauty products and have started to prefer products with natural key ingredients such as LashLuxury: Daily Eyelash Serum
Perfecting The Wink
In the early 1900s, flirty, wispy, fuller eyelashes became a standard of beauty and the industry has since been trying to keep up with the demand by developing fake strips, extensions, serums, dyes, and lifts. Lash serums have become popular as they stimulate the growth of the natural lash, decreasing the financial and tedious upkeep of extensions and eyelash strips.
Nowadays, you can find many lash serums in the market that promise the fullest and most beautiful natural eyelashes. Many of them have an extensive list of impossible to pronounce chemicals in their formulations that might leave you wondering: is this product really safe for my eyes? If you have asked yourself that question, you are not alone. No one wants to lose an eye (no pun intended) at the expense of beauty!
Ingredients Matter
Before you make an impulsive purchase, make sure you understand what ingredients are in the lash serum you intend to buy. The eyes are a sensitive part of your body and the last thing you want is to spend money on a product that would cause irritation, discomfort, or even worse, unwanted permanent damage to your vision. When buying an eyelash serum, it is important to look at the key ingredients and evaluate for both: efficacy and safety. Most lash serums in the market fall under the categories of prostaglandin analogs, botanical serums, and peptide based serums.
Prostaglandin Analogs (PGA) Serums
These serums contain chemical compounds that work by mimicking the effects of the human body's naturally occurring prostaglandins (hormones derived from phospholipids in the body). Prostaglandins in our bodies elicit different effects depending on the part of the body they are produced in. Scientific research has shown that prostaglandins are believed to play a function in both – the promotion and resolution of inflammation. Prostaglandin analogs are currently the medication of choice for the treatment of glaucoma, an eye condition that can lead to blindness due to cell damage.
One of the effects of PGA in lash serums is darker, thicker, and longer eyelashes. This was originally discovered as a side effect of patients using topical PGA drugs for Glaucoma treatment. Following this discovery, the FDA approved it as a lash serum component. However, there have been reports from PGA serum users of unintended side effects such as:
eyelid inflammation
drooping eyelids
darkening of the iris
thinning and loss of eyelashes
blurry vision
eye pain and irritation
Botanical Serums
These eyelash serums promote a blend of conditioners that will moisturize and strengthen eyelash follicles. They are mostly plant based, making them a great option for vegans. However, there is a lot of confusion around botanical serums as some claim to be vegan even though they may contain animal derived ingredients.
It is important to research each ingredient mentioned in these serums if 100% vegan products are important to you. Botanical serums use DHT (Dihydrotestosterone) blockers. DHT is responsible for shrinking the hair follicle and decreasing the hair growth cycle. Some users have reported allergic reactions to this type of serum so be cautious and read the ingredient list carefully.
Peptide Based Serums
These are the most natural type of lash serums. They offer a more gentle, yet equally effective, alternative to hormone based serums. If you have sensitive skin, are prone to developing skin allergies or rashes, or prefer hormone-free products, a peptide eyelash serum is the best choice for you.
After extensive research on the ingredients that make up the best natural derived lash serum, I came across LashLuxury: Daily Eyelash Serum. There are so many good things to say about this serum and the company that makes it. Let's dive in!
The Best Natural Lash Serum
LashLuxury: Daily Eyelash Serum is a revolutionary, top of the line product that contains powerful and natural vegan ingredients. Its non-irritating formula rejuvenates, strengthens, and hydrates eyelashes without using harmful chemicals. It does not only contain peptides but also conditioning ingredients (B vitamins), as well as plant extracts.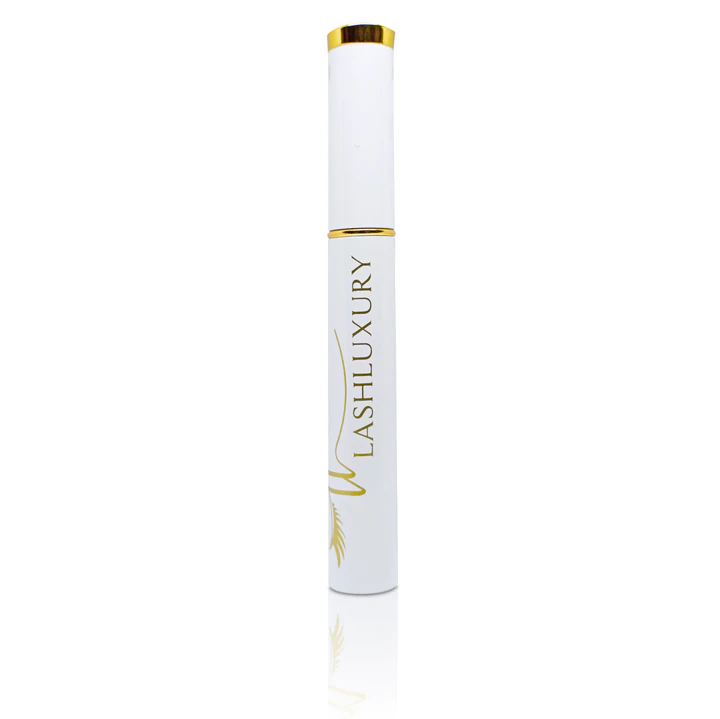 The Real Eye Catcher in LashLuxury Daily Eyelash Serum?
LashLuxury Daily serum is water based and contains peptides (strings of amino acids) which stimulate growth and strengthen the eyelash follicle. To add to the secret sauce of this amazing serum, the formula also combines these powerful peptides with vitamins B5 and B7 and a combination of plant extracts. This trio will protect, grow, fortify and condition your eyelashes.
The 3 Amigos: Peptides, B Vitamins, and Plant Extracts
Here is the breakdown of ingredients in LashLuxury daily serum:
Peptides
 made from amino acids stimulate both collagen and keratin production, which are the building blocks of healthy, long lashes:
Myristoyl Pentapeptide-17
Acetyl Tetrapeptide-3
B Vitamins contain powerful moisturizers that hydrate, repair, and strengthen weak eyelashes:
Panthenol (B5)
Biotin (B7)
Plant extracts that contain a powerful combination of natural moisturizers, anti-inflammatories, anti-oxidants and soothing plant ingredients to maintain and promote lash health:
Trifolium Pratense (Red Clover) Flower Extract
Aloe Barbadensis (Aloe) Leaf Juice
Cucumis Sativus (Cucumber) Fruit Extract
Camellia Sinensis Leaf Extract
LashLuxury Daily serum is hormone free, 100% vegan, fragrance-free, cruelty-free, hypoallergenic, and free from parabens and phthalates. This non-toxic serum will help repair, nourish and grow your eyelashes in a natural way. It is bolstered by ingredients, like aloe and cucumber extract, that provide extra soothing effects, making it safe on sensitive skin.
Do I need a lash serum?
Eyelashes, like any part of our body, change with age and other environmental factors. Hormone imbalances can also affect collagen and keratin growth, which in turn will cause thinning of the eyelashes and eyebrows.
Natural eyelash serums with hydrating, soothing, and growth-stimulating ingredients like peptides, plant extracts, and B vitamins work to boost the volume, length and overall health of your lashes over time.
If you find skin moisturizers important in your daily beauty regimen, your eyelashes should not be excluded from the same love and attention.
Does LashLuxury Daily Eyelash Serum Work?
LashLuxury serum works in as little as 6 weeks to lengthen and strengthen your natural eyelashes. The active ingredients are clinically proven to accelerate your natural lash growth.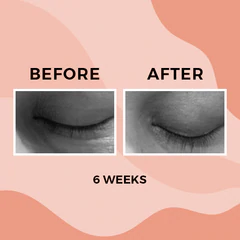 Another great advantage of this serum is that It can also be used to boost the fullness of your brows! It's like having 2 serums (eyelashes + brows) for the price of one! And, if all of the above-mentioned benefits were not enough, LashLuxury is safe to use with lash extensions. You can apply LashLuxury in the roots of your natural lashes to nourish and keep them strong while wearing extensions. This serum is specially formulated without oils to be used with lash extensions.
LashLuxury Daily Eyelash Serum: Our Verdict
Whether you are needing a lash serum to repair damaged eyelashes from hair extensions, have noticed your eyelashes thinning with age or stress, or simply are looking to boost your natural eyelash length you can rely on LashLuxury Daily Lash Serum as the best clean beauty product available for this purpose. This non-toxic serum will help repair, nourish and grow your eyelashes in a natural way in as little as 6 weeks. It also works on eyebrows and is safe to use with lash extensions. The best part? You can have all of these benefits while knowing you aren't sacrificing your health.
Want another reason why I think they are the best? LashLuxury offers a 100% satisfaction guarantee. If you're not happy with your lashes & brows after 60 days, they will send a full refund!
LashLuxury Daily Eye Serum undoubtedly gets our vote for the best natural lash serum.