MD Lash Factor is produced by MD®, a physician-created line of skin and hair care products. This eyelash conditioner is composed of a patented cytokine complex that claims to provide your eyelashes with the nutrients necessary to develop thicker, fuller, longer-looking lashes in as little as 30 days.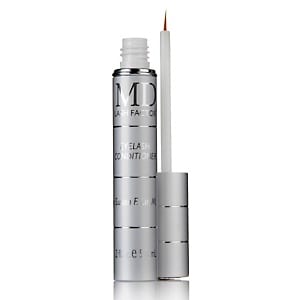 The patented formula is ophthalmologist-tested and prostaglandin-free. MD Lash Factor is to be used after cleansing once a day, applied like a liquid eyeliner.
MD Lash Factor Ingredients
water, hydroylzed glycosaminoglycans, phenoxyethanol, triethanolamine acrylates/c 10-30 alkyl acrylate crosspolymer, c12-15 alkyl benzoate, caprylyl glycol, panthenol, sodium chloride, biotin, sodium lactate, sodium pca, alcohol, sorbitol, panthenyl ethyl ether, alcohol denat., inositol, milk protein, lactose, acetyl cysteine, acetyl methionine, sodium citrate, citric acid, ergothioneine, proline, sodium phosphate.
MD Lash Factor Review
Once upon a time – a few years ago – MD Lash Factor had a slightly different ingredient list. The main difference? Well, MD Lash Factor used to contain prostaglandin ingredients (like Latisse and a few other lash growth serums that really work) and thus, was quite effective at dramatically lengthening and thickening lashes.
But times have changed. A few years ago, the FDA – egged on by Allergan – warned various companies selling lash growth products to remove their prostaglandin ingredients. Which is why many of these products have now been reformulated with new ingredients.
MD Lash Factor is one such product. Whereas before, it was very effective at lengthening and thickening lashes, it is now mostly an eyelash conditioner that protects and nourishes lashes. It is not particularly effective for eyelash growth but it does help promote healthy lashes by preventing breakage and ultraviolet (UV) damage through its mix of ingredients. Ingredients of note are:
Panthenol: Provitamin of B5. Moisturizes.Biotin: Also known as Vitamin H. Supports the health of cells.Milk Protein: Part of cytokine complex. Encourages healthy lash growth.Ergothioneine (Thiotaine): A powerful mushroom-derived peptide and antioxidant. Protects and nourishes lashes.
Our verdict? Over time, MD Lash Factor can promote healthier lashes with a fuller appearance. And it does have a strong line-up of lash-protective ingredients.
But those alone aren't enough to justify its hefty price tag, especially when you consider that there are eyelash growth serums out there that are more affordable and come with significant eyelash growth benefits, like the ones below…