So many of us fall prey to the belief that expensive equals better results. So yes, we were initially a bit skeptical of L'oreal Lash Boosting Serum and whether it could deliver longer, thicker lashes. After all, at its current price point, it's way on the cheaper side when it comes to lash serums.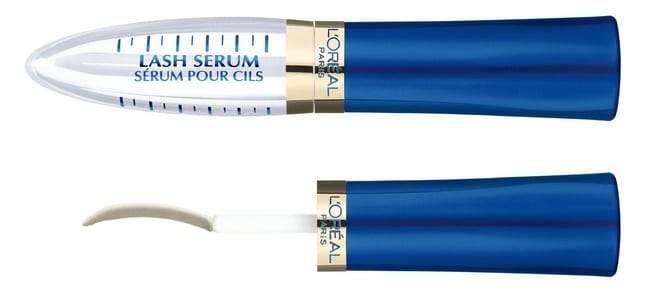 Plus, the Lash Boosting Serum makes some big claims, promising visibly fuller, thicker natural lashes – as well as the growth of more lashes – in as little as 4 weeks.
So, does it work? Read on for an in-depth review!
L'Oreal Lash Boosting Serum Ingredients:
Aqua/Water, Alcohol Denat., Glycerin, Hydroxyethylcellulose, Phenoxyethanol, Panthenol, Polysorbate 21, Madecassoside, Acrylamide/Sodium Acryloyl Dimethyltaurate Copolymer, Methylparaben, Octyldodecanol, Isohexadecane, Sodium Hyaluronate, Arginine, Serine, Citric Acid, Glutamic Acid, Polysorbate 80, Sodium Hydroxide, 2-Oleamido-1,3-Octadecanediol
L'Oreal Lash Boosting Serum Review:
As you can see from the ingredient list above, the L'oreal Lash Boosting Serum doesn't live up to most eyelash serums. Right off the bat, it contains more alcohol than most, which can be irritating to your eyes and skin and also contributes to drying the lashes out, as well as parabens. So if you're looking for a gentle, natural eyelash serum – this one is a no go.
That being said, this lash serum does contain some lash-strengthening goodies like panthenol, madecassoside – a derivative of Centella asiatica, as well as arginine, an amino acid that strengthens lashes.
And when it comes to results…it's not bad, as long as you keep your expectations in check.
Here's what we mean: the first thing you should know about the L'oreal lash serum is that it won't work miracles. The results fall way short of Latisse and the best eyelash growth serums so if you've used something like RevitaLash or Rapidlash before and are expecting the same length and thickness, you're going to be disappointed.
The sort of results you get with this lash serum are on the 'placebo-effect' level, of the sort where you think your lashes may be a bit longer and a bit thicker whereas with a serum like RevitaLash, you know your lashes have visibly grown longer and thicker.
L'OREAL LASH SERUM BEFORE & AFTER

(After 20 days of use)

(After 3 months of use)
REVITALASH SERUM BEFORE & AFTER
But if you've never used another lash growth serum and are simply looking for something that's affordable to strengthen your lashes and provide a bit of a boost, the L'oreal lash serum is a good bet.
Whereas it won't help your lashes grow to dramatic lengths or fullness, the L'oreal eyelash serum does do a good job protecting lashes from falling out as frequently and since that protection helps prevent your lashes from falling out prematurely, they're able to grow to their full length and thickness. The result is that your lash line does appear a little longer and fuller.
This lash serum also contains a thickener that gives your lashes a bit of an instant boost which is great, albeit temporary. And possibly the best part is that this lash serum acts a bit like a hair conditioner, helping to make your lashes soft and silky smooth, which is a nice perk.
All in all, considering the price and easy availability – the L'oreal Lash Boosting Serum is a decent, affordable choice. It's definitely better than using nothing at all!
L'Oreal Lash Boosting Serum Review: Does It Work?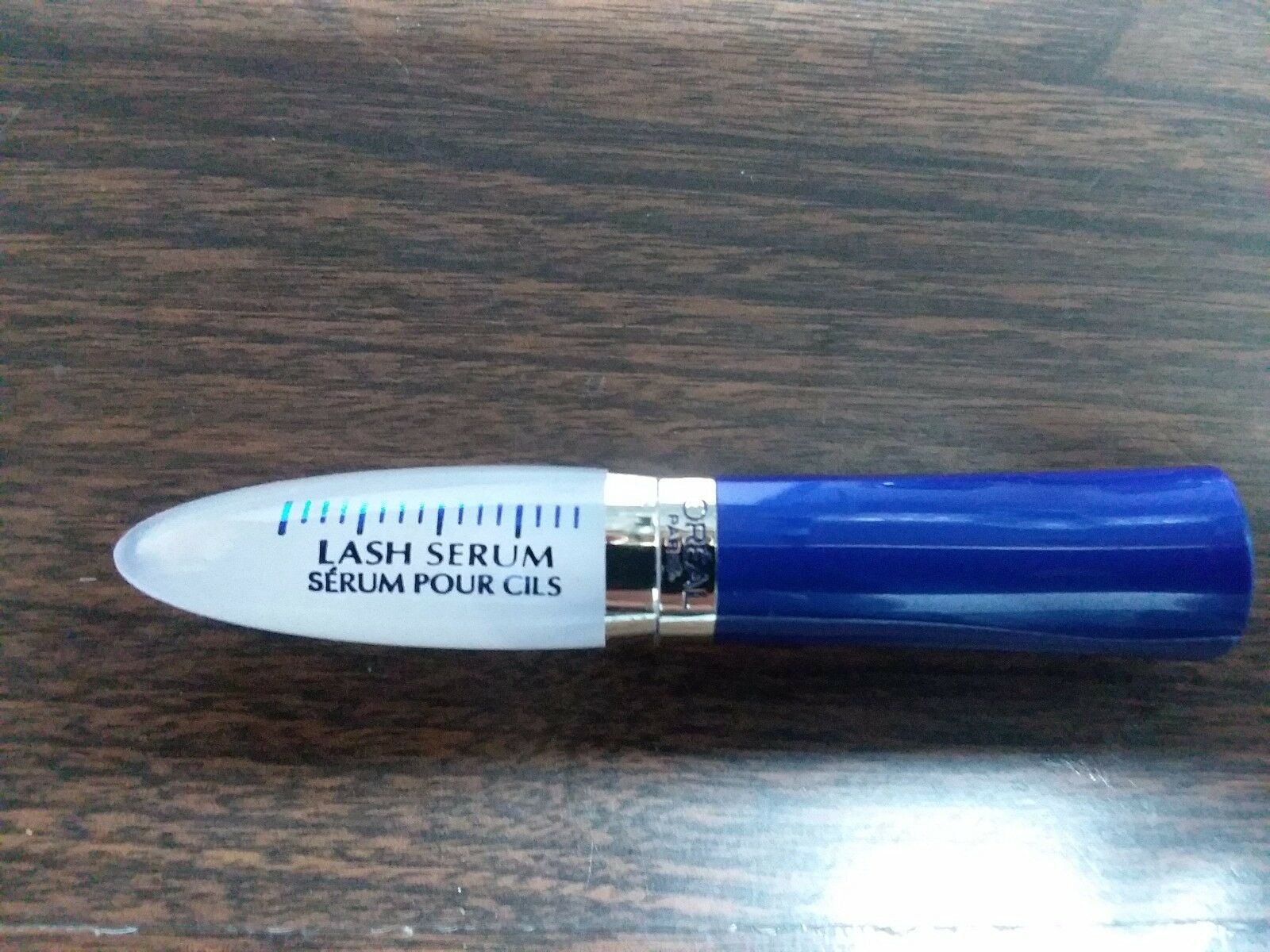 This lash boosting serum absolutely works, and has already served tons of ladies who were dealing with eyelash problems and the ladies that were worried because of their thin lashes.
The Serum doesn't works immediately, but operates slowly and makes your lashes look stronger, thicker, and longer than ever.
With this serum, you'll be able to observe the positive changes to your lashes and you'll witness how confident you'll feel. 
It's gentle while being applied:
If you're someone who used to wear contact lenses daily, you must know what it feels like to not have a natural lash or an extension that doesn't suit your lenses or with your eyebrows. 
In order to witness better results within a certain amount of period, this serum comes with certain instructions that are meant to be followed strictly.
This serum is applied to the bottom roots of bare lashes on both upper and lower lash lines, in order to make your eyes look nice and classy. 
Makes Your Lashes Stronger:
Sleeping with extensions can prove to be wrong in many ways.
When you sleep with your extensions on, you'll not be able to take care of them in your sleep, and as your extensions come in contact with your pillow or blanket, there's a high chance that either some of your lashes break off from the lash bed. 
As a result, you'll be able to witness that your lashes are uneven, and that can hinder your lashes and can even shatter your confidence.
So in order to heal up from this problem, L'Oreal lash boosting serum was introduced to help you ladies who're dealing with similar problems. 
If you're wondering how this L'Oreal Lash boosting serum works? Let me put down some of the specifications it brings along with it.
In order to boost your lash growth and strengthen your lashes, the formula of this serum is enriched with quality ingredients. 
One of the ingredients this Lash Serum consists of is Castor oil. It's well known for its ability to nourish, and when it's combined with pro-vitamins, keratin is produced. 
This Keratin helps strengthen and fortify your lashes, by featuring madecassoside and hyaluronic acid,  this L'Oreal lashes boosting serum ensures to enhance the growth of your lashes and helps them to be stronger, thicker, and longer. 
This serum also has a Siloxane mix with the other ingredients which work to boost up the growth of your lashes. 
Procedure for Using L'Oreal Lash Boosting Serum: 
If you want to grow eyelashes more effectively, you will need to make sure that you apply the product once in a day to your eyelashes.
The procedure that will follow the application will be the same as when you apply the eyeliners and mascaras. 
However, if you are under the impression that the increased usage (ie. two times a day) will accelerate the growth time, let us be the one to shoot this one down for you as this is not possible.
As from reading above, We hope that you get that the application process of this boosting serum is similar to wearing mascara.
Try adding this part to your routine. It is highly likely that a person will not find the time to remove these eyelashes.
But make sure that you do find the time to use this product once a day in your daily routine.
Since the application of this product is very easy, it shouldn't be a hard thing not to follow the everyday instruction! 
Price of the L' Oreal Lash Boosting Serum:
A price can be an important factor when it comes to buying the product. Just because a product is good, doesn't mean that a person is bound to purchase it.
The price is an important factor leading the customers to make the buying decision. Considering the points mentioned above, the price of this Boosting serum is very well set and is affordable for a lot of people.
Recommended audience for the L'oreal Lash Boosting Serum:
Although many users Although I'm not pleased with the price, The reviews suggest that this product is totally worth it. 
This product is recommended for people that are staying away from the lash extensions product and are looking to nourish and grow their natural lashes in size.
This product is also recommended to the people that are also using the strip lashes. There is a misconception among people that using strip lashes is a safer option.
It all depends on how the person applying the strip lashes have positioned them on the lash line. Mispositioning them can cause harm to the natural lash line increasing the problems.
From the reviews, we have concluded that people will still prefer using the eyelash boosting serum manufactured by L'Oreal.
However, expecting the product to bear results in a minimum time period is baseless, the product will bear positive results over time and is rather more on the side for maintenance of the eyelashes. 
We hope that this review gives you a clear picture of the serum and the intent on whether to buy it or not.
Conclusion!
Being enriched with natural ingredients, this L'Oreal lashes boosting serum is known to be productive and ensures the user's with a stronger, longer, and thicker set of lash bed. 
This serum offers optimum results and improves the visibility of your lashes so that there are high chances that you're going to be adored by other groups of ladies very often.
By stepping up your confidence, this serum ensures to keep you safe from any type of eye irritation, and hence proves to be a viable pick for your lashes.
Note: Because the presence of alcohol can actually dry out your lashes and create more brittleness in the long run, we'd honestly recommend using this lash serum only for short spurts to minimize lashes falling out or until you can get your hands on something that's gentler and provides long-lasting nourishment and protection, without the alcohol.