We all know that fluffy, gorgeous brows are in vogue, but what about those of us who weren't blessed with naturally thick, luscious eyebrows?
Or those of us who are victims of the 90s trend of overplucking? Is there any hope for us? Thankfully, there is!
Eyebrow extensions are a thing (yes, just like eyelash extensions!), and we're going to show you how to DIY your brand new (faux) eyebrows.
What Are Eyebrow Extensions?
Like the name says, eyebrow extensions are just that – extensions for your eyebrows, or you can think of them as falsies for your eyebrows. Neat, huh?
Just like lashes, you add hair to your natural eyebrows in order to make them appear fuller and more luscious, and when done right, they're indistinguishable from your natural brows.
You can get these babies professionally done, at the salon (but they can be $$$), or you can even do them at home. We're going to show you how in a minute. But first, let's talk about your options.
How Are Professional Eyebrow Extensions Done?
The easiest way to get flawless false eyebrows is to leave it to the professionals. Here's what you can expect…
The prep: First thing's first – the brow artist will assess your natural eyebrows to see what they're working with. The more natural eyebrow hairs, the better. Then, they will give you a shape, if needed, by tweezing stray or unnecessary eyebrow hairs. 
Next, they will draw on your eyebrows to make the shape clear; this will look a little crazy at this stage, but don't worry – that's not indicative of the final result. 
The process: Once everything is set, the technician will take individual eyebrow hairs with a pair of tweezers, dip them in glue, and then apply them at the root of your existing eyebrow hairs. Just like with eyelash extensions!
The entire process can take 30 minutes or longer, depending on how much hair you need applied, and whether or not you have natural eyebrow hairs.
If your eyebrows are bald, that will take much longer, and will also turn out to be more expensive, as you will be able to see in just a second. 
How Much Do Professional Eyebrow Extensions Cost?
Like with most other services of this kind, the cost very much depends on a series of factors, like the location and the level of expertise of the technician, but most of all, it depends on what you're working with, eyebrow-wise. 
Because of the way the extensions are applied, the more eyebrow hair you have, the easier it is to attach the extensions, meaning that the service is cheaper.
To give you an idea, the easiest type of extensions, where 75% of the eyebrow hair is yours, will cost you from $50 upwards, 50% natural hair starts at $100, and if you have 25% natural hair or less, you can expect the price to be upwards of $200. Oof.
It's worth mentioning here that it is possible to apply eyebrow extensions on "bald" brows, and that this procedure is often done for cancer patients or people who have otherwise suffered hair loss.
However, this does mean the procedure will be more expensive, because of the increased difficulty of application, in absence of a natural root to adhere the fake hair to. 
How Long Do Eyebrow Extensions Last?
How long the effects last depends on what you started with. On bare skin, you can expect around 5 to 14 days, because the hairs have nothing to grip onto, so the effect is short-lived, but it would be ideal for a special occasion.
On natural eyebrows, the effects can last a few weeks, depending on the natural growth cycle of your eyebrows.
Pros and Cons of Eyebrow Extensions:
Okay, now that we know how it works, let's talk about the pros and cons. Nothing is perfect, but what's great about it? What isn't?
Pros
You don't have to do anything
Obviously, the great benefit here is that you don't need to put in any effort. You just show up, let the technician do their job, and then you're out the door.
You pay for the luxury, it's true, but if you don't have the time, the patience, or the mood to do it, it's just easier to have someone else do it.
You're getting your brows done by an expert
In addition, if you're going to get this done, might as well have it done by someone with proper training, who knows a thing or two about eyebrow extensions.
You know that it'll turn out great because you're in expert hands. 
Cons
As this is hardly an essential service, and it's quite labor-intensive for the technician, it's not a cheap procedure to get.
Especially when you factor in the fact that you need to go back regularly to maintain the effect, it gets pricy very quickly. 
It can be a pain to go to the salon 
Plus, making the trek down to the salon every few weeks is tiring and time-consuming as well, which can factor into your decision.
How to DIY Eyebrow Extensions:
Like most other such cosmetic services, there are plenty of ways to go past the professionals and get your own DIY version.
The thing is, though – not all DIY false eyebrow options are the same. Here are the main ways you can do your own eyebrow extensions at home – and the pros and cons of each!
Eyebrow Extensional Gel:
What is it?
Like the name says, it's a gel that is meant to enhance your eyebrows. Actually, it contains fake eyebrow hairs, so when you put it on, it applies hairs to the area. 
How do you use it?
The product comes with a little brush that you use to scoop up the product and apply it to your eyebrows.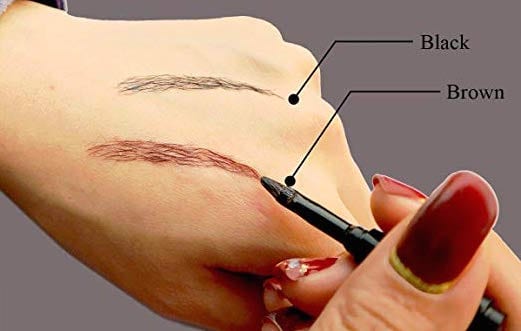 However, between us, you'll also need to rely heavily on an eyebrow comb or spoolie to direct the hairs in the direction you want them to go.
Also, keep in mind that you should also be prepared for a few extra steps. Simply sweeping on thicker eyebrows with a gel sounds easy but the application is a little tricky and can take some working with to get the look just right.
The gel is slimy and it tends to dry shiny so unless you're into the plastic eyebrow look, you'll also want to use some eyebrow powder to matte-if once the gel is dry.
We also recommend going through the brows with a spoolie once the gel has set to arrange the brows for a more natural look.
How long does it last?
This should last you a whole day, lasting power isn't the problem here, but rather that it's kind of difficult to take off. 
Pros
It does provide some extra fullness
It's affordable
Cons
It takes some work to get it looking right
It's too sticky and might rip your eyebrows out when taken off
Is it any good?
Honestly, this eyebrow extension gel would be the perfect, easy DIY option to get false eyebrows. Except…it's not easy at all.

You see, it's actually really difficult to get these eyebrow hairs to sit right, and you never pick up the right amount or apply them perfectly.
The glue has a tendency to clump so it'll take much longer than you'd expect – around 30 minutes – to get it to the point where your brows look natural.
Most of us simply don't have that much time to spend on our brows every single day.
Add to that the fact that this product is really sticky – to the extent that it can take your real eyebrows off when you remove it – and we'd have to say this is a mediocre DIY eyebrow extensions kit at best.
That being said, the gel is pretty cheap and certainly won't break the bank. So if you want to give it a try – go for it. You may be one of the lucky ones who can get it just right.
Eyebrow Extension Fiber: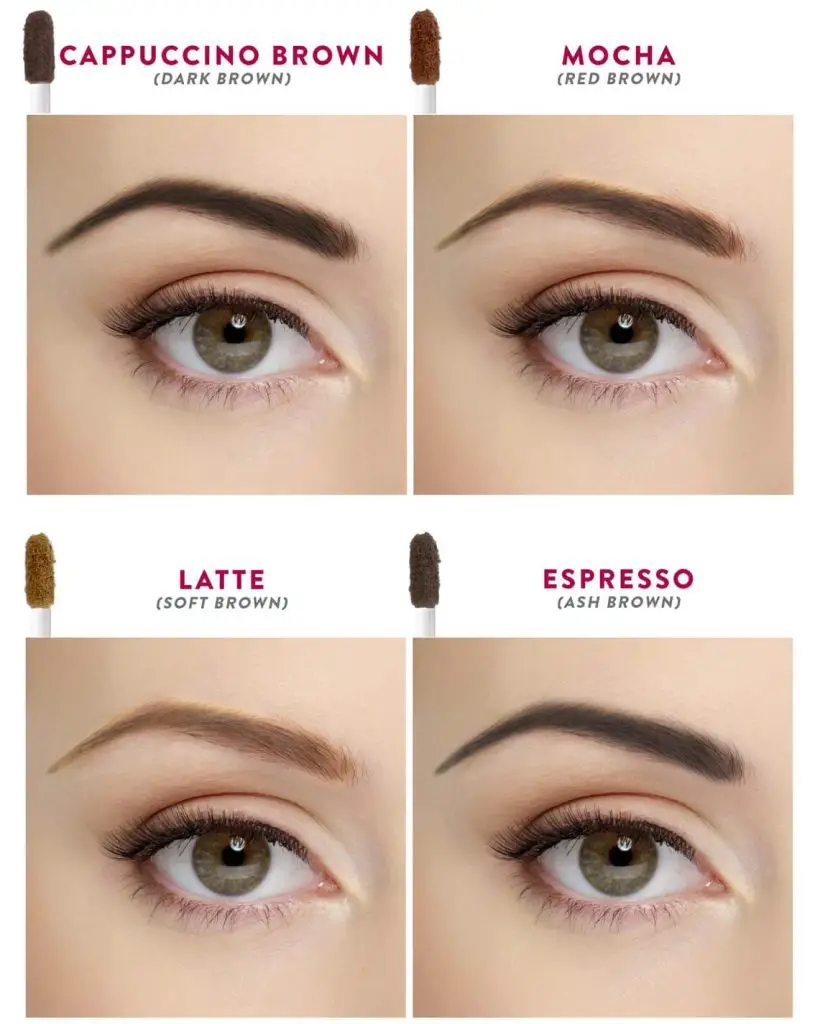 What is it?
Fibers are all the rage when it comes to both mascara and eyebrow products. Little fibers are mixed in this product, so when you apply it, your eyebrows also become fuller, just like fiber mascara makes your lashes look thicker.
How do you use it?
It's super easy to use, you just take the applicator out of the tube and apply the product like you would any other eyebrow gel.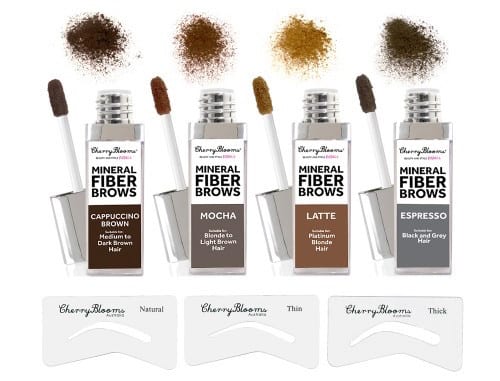 The Cherry Blooms Mineral Fiber Brow Kit also comes with a set of 3 stencils – thin, thick, and natural (the Goldilocks option) – which makes the whole shaping process a breeze.
You just choose the stencil of your choice, hold it to your browline, and sweep the fibers on.
How long does it last?
Like the previous product, this is meant for daily application, so it should last you an entire make-up day.
That being said, depending on your lifestyle – it probably won't last all day. So expect re-application at least once a day.
Pros
The fibers provide fullness
The product is easy to apply and quick to use
Cons
It's a little on the pricey side for a daily product
You waste a lot of product during application, making it a bit expensive for daily use
Getting the color just right can be a challenge
Doesn't last all day so you may need to reapply
Is it any good?
This one's actually not bad at all! It does its job well and fills in your eyebrows.
It can be a bit tricky to get the color that's just right for you so there is some trial and error here but this false eyebrows option is genuinely easy to use – it takes you 1 minute – and gives you thicker, fuller, and natural-looking brows. Definitely a keeper.
Stick-on Eyebrows: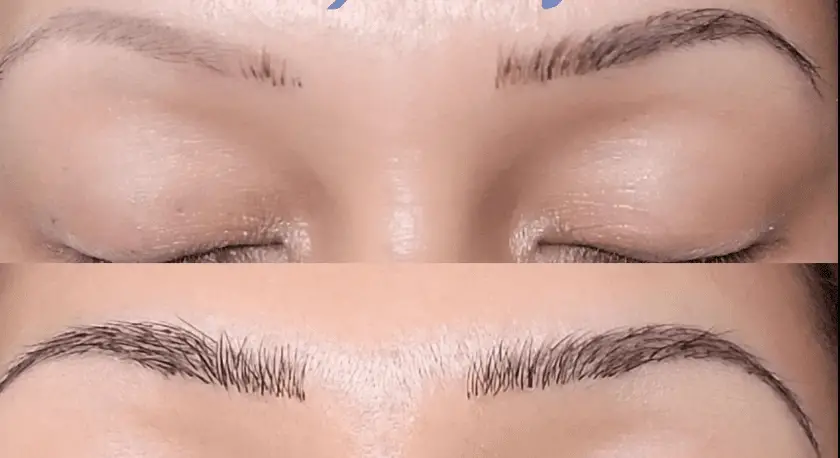 What is it?
Stick on eyebrows are exactly what they sound like – you stick the eyebrows on. But not in a ridiculous, Groucho Marx fashion. Nope, there go on looking as natural as your God-given eyebrows.
This option is the most similar to professional eyebrow extensions and follows the same process. You'll have to get the eyebrow hairs and then glue to stick them on with.
How do you use it?
Just like professional lash extensions, you put these eyebrow hairs on individually and secure them by gluing them to your natural brow hairs.
Please note that this procedure will require professional glue, similar to the one used for eyelash extensions – this is the one we recommend.
The process for applying these individual eyebrow hairs is a long and tedious one, as you can imagine. If you'll be doing it on yourself, expect it to take over an hour your first time. Once you get the hang of it, it'll probably take around 45 minutes to do both brows.
If you can get a friend to help you, it'll most likely be a shorter, easier process.
Still, it does take awhile – this is definitely not the easiest DIY eyebrow extension option. That being said, it also lasts much longer than most false eyebrows…
How long does it last?
This is a longer-term procedure, so, like professional extensions, this should last you a few weeks, granted that you don't scrub or rub your eyebrows. 
Pros
The effect is great and similar to professional extensions
It provides a long-term effect
Cons
The application is fairly difficult and requires some skill
It's inexpensive, but you don't get the glue so that's an extra cost
Is it any good?
From where we're standing, this is the best DIY false eyebrow solution, because it's the most similar to the professional service.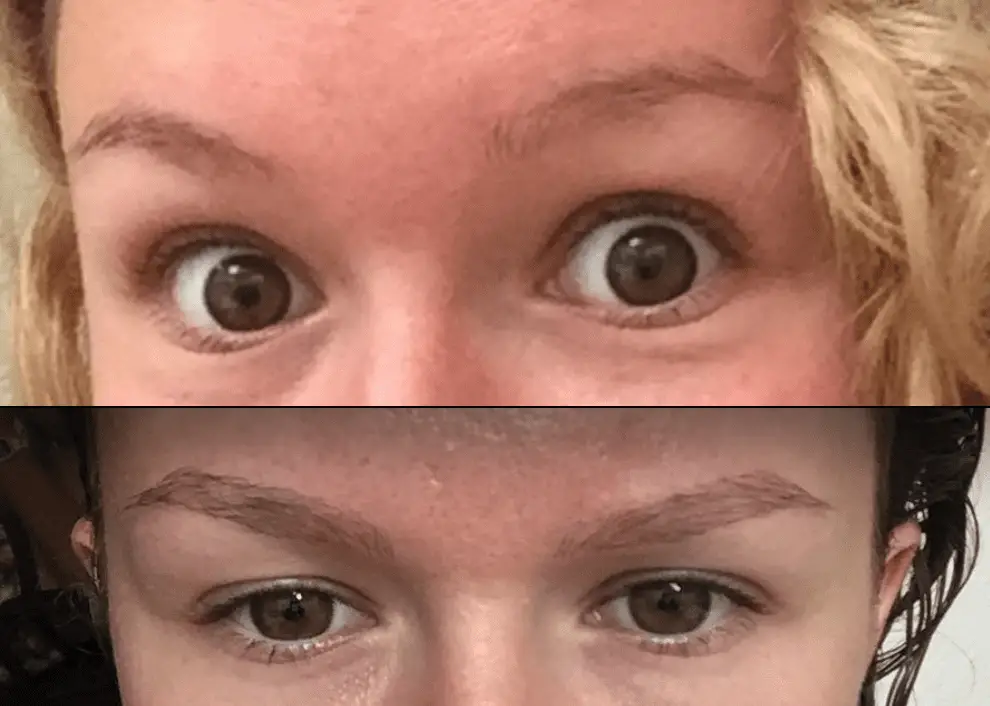 Yes, it takes a while to apply and get the hang of. But it'll pay dividends in the long run since once on, these stick-on eyebrows will last you a few weeks and plus, you'll have the skills to be able to do it all over again when you need to – without shelling out hundreds of dollars.
Eyebrow Extensions Kits:
What are Eyebrow Extension Kits?
Eyebrow Extensions kits are pieces of fiber that replicate a person's eyelashes.
These are attached over the eyes of the person with a medical-grade adhesive glue to the eyebrows which prevents them from falling out. 
These Eyebrow Extension Kits are way better than Eyelash Extensions.
With the help of these Eyebrow Extensions, a persons' look emerges more and the best part about this is that these Eyebrow Extensions look really natural. 
These Eyebrows Extensions thicken the natural eyebrows of the person and make them emerge and look more fuller.
Why You Should Choose Eyebrow Extensions:
The reason why a person should consider buying Eyebrow Extensions is due to the fact that it makes a person's eyebrow appear fuller and thicker.
A person can either choose to highlight their natural brows using dark eyebrows makeup, or they can just use it to increase their beauty using eyebrow extensions or techniques like Micro Balding. 
For the first option, if you want eyebrow extensions to make your eyebrows look thicker.
This process is not long-lasting at all and can be difficult for the people that prefer doing it on their own. 
A person will need to reapply makeup every time that they have to go out or whether they need to sleep.
If you are able to make it across this factor of having to remove and reapply the makeup consistently, you will have the benefit of having some freedom to play around with shapes. 
Now for Micro Balding, Micro Balding is a process of creating semi-transparent that makes the eyebrows appear thicker than they actually are by using hair-like strokes.
Micro Balding lacks dimensions though. There is no added volume which can make it as if the process is missing a defined arch. 
This is why using Eyebrow extensions is a safer method for eyes when compared to micro balding.
This is so because eyebrow extensions only come in contact with the skin over the eyes while in Micro Balding, a needle is used to sew it into the epidermis.
Micro Balding is a permanent process and contains a potential chance of a person catching an infection if not done right. 
To achieve the targeted eyebrows, eyebrows extensions are the perfect option as they look more fuller, they have minimal risk when applied.
Although these eyebrows extensions are not permanent they are likely to last 2 weeks before a person needs to maintain them again. 
Types of Eyebrow Extensions:
There have been two main kinds of eyebrow extensions that have been manufactured. 
The first type of eyebrow extensions is called proper extensions which use an eyebrow extension glue to attach the skin and eyebrows to the already existing skin or skin.
The eyebrow extensions are selected and picked up one by one gradually and they put into place on the eyebrow to create the shape of choice.
The application of this method is rather complicated and requires a steady hand and a lot of time.
Of course with some practice and flow of time, the time it stays on also increases, the time can increase up to two weeks before they come off! 
The second method is the fiber gel extensions. To the users, the manufacturer usually sells these as an all-in-one tool, with the tip brush soaked in the gel.
When unscrewed and applied, these eyebrows extensions can make the eye look bigger and thicker as they increase the size of eyebrows.
The gel is brushed on to the brows of the person and can be changed into the wanted shape by the user and the applicant. 
This method is rather quick and focused than the other method as in the aforementioned method, the applicant would need to pick up an eyebrow lash and apply it individually. 
The downside of this method is that it doesn't stay on for long. After 8 hours, the user will need to apply these fabric eyebrows.
The benefit however to these eyebrow extensions is that a person is able to make different shapes and styles just about every day with these fabric eyebrows extensions, and these eyebrow extensions can be used on the go and for quick touch-ups. 
The Best Eyebrow Extension Kits: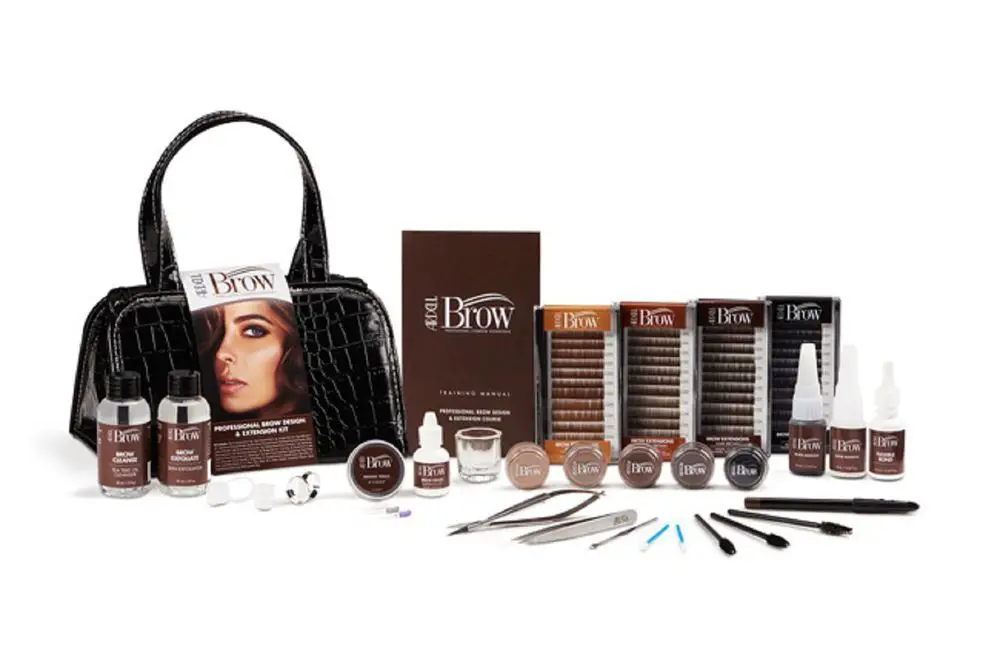 Coming at mixed lengths, these eyebrows are a solid choice when looking for Eyebrow extensions.
These extensions can be used over time and can be used multiple times before they serve no purpose. 
The tray that comes along has set mink eyebrow extensions which happen to be soft and durable as well.  Over time, the quality and performance of these eyebrows stay constant. 
The Glue adhesive that comes along with these eyebrows extensions is so strong that it keeps the eyebrows attached in a single place for as long as two weeks!
This kit is just about everything you need. 
Pros
These Eyebrow Extensions Come in multiple color options.
These Eyebrow Extensions come with a mink tray that makes the application process considerably easy. 
These Eyebrows Extensions come with all the necessary extension supplies that are needed for the application process. 
These Eyebrows Extensions can last up to 2 weeks after application. 
Using these Eyebrows Extensions can protect a person's eyebrows and eyes from Dirt and removes the excess skin oil.
Cons
The glue provided with these Eyelashes is very strong and needs prompt action from the person applying for these eyebrow extensions.
2. Eyebrow Extension Kit with Eyebrow Extension Glue Clear
Coming as a complete set, this kit includes 4 different eyebrows extensions. These all eyebrows extensions come in different shades and different styles.
These styles include Blonde, light brown, brown, and the standard black option. 
Coming with the four trays, the complete kit has all the necessary tools that you need for a successful application.
The Eyebrow glue that comes along is a solid one and can keep the eyebrows extensions in place for weeks.

The eyebrows extension is also waterproof and translucent and can be used with different color extensions. The removal process of these eyebrow extensions is rather simple as well.
Pros
Comes with extension kits that contain all the necessary tools for application. 
Comes with an Eyebrow tray to help the process of application 
Lists up to 2 weeks after being applied to a person's eyebrow
The application of this eyebrow extension helps in keeping the eyes clear from dirt and removes excess oil present in the skin. 
Cons
Few reviews suggest that glue with these extensions is rather sticky and requires quick operation.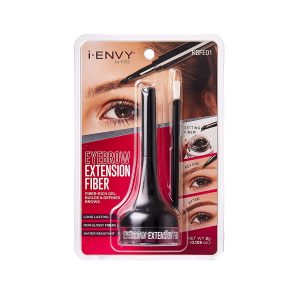 Fiber can be one of the best options when it comes to purchasing eyebrow extensions.
It gets even better when the product is manufactured by a few of the renowned brands in the boutique world.
These eyebrows extensions have a flexible and easy application which makes it easy for a user to choose them over any other option. 
Secondly, the use of these eyebrows extensions is so flexible that you can alter them into any shape as per your liking.
Moreover, the usage of these eyebrows extensions is rather simple and easy. 
Pros
Made by one of the renowned brands 
The Application is rather easy and flexible 
The Eyebrows can be altered into any shape desired by the users. 
Many users have declared that this product is very simple and easy to use. 
Cons
Although this product is a great one, some reviewers have complained that they have been receiving dried products. 
These eyebrows extensions go a long way when it comes to giving the eyebrows extra depths of volume. These artificial eyebrows are just exactly what a person would need. 
These eyebrows are made from a soft and comfortable tier fiber, which makes these eyebrows silky andl night and explains as to why this would make a sensible choice for users to pick these over so many other options. This accounts for a flawless and beautiful appearance. 
The length of their eyebrows is rather standard which makes these eyebrows extension a realistic touch. The only backside to this is that it doesn't come with an included kit.
Pros
These Eyelashes are made from a material that makes them soft and comfortable. This makes a person able to use them for prolonged periods 
These False Eyebrows are rather thick which makes a person's eyes look full and also make them look more beautiful 
These Eyelashes are reusable which accounts for prolonged usage and happen to be cost-effective. 
Cons
The Application process of these eyebrows is not easy 
Conclusion!
Eyes can really make a person's beauty comes out. Fake Eyelashes are one of the ways to make the eyes look beautiful and attractive.
These are the best eyebrow extensions for anyone that is looking for making them stand out by buying eyelashes.