Ever since big brows came back into vogue, finding the best eyebrow tinting kit to transform brows into full, dark beauties has become of paramount importance.
Because all things 90s are on trend right now. But while haltered necklines, chokers, and platform shoes are back in a big way, there's one aspect of the 90s that (fortunately) remained in the past.
Namely, the "thinner the better" eyebrows that claimed the faces of far too many in that decade have not managed to replace the desire for accentuated brows.
No, we're still in the era of the beautiful, thick brow line. But if you weren't blessed with those brows naturally, you could probably use a little help – and that's where eyebrow tinting comes in.
Keep reading to learn more about the semi-permanent option for enhancing your brows that's quick, inexpensive, and can even be done in the comfort of your own home.
What Is Eyebrow Tinting?
Eyebrow tinting involves applying semi-permanent dye to your eyebrows in order to shape, define, thicken, and/or enhance them. It's a solution for those of us who are paying for years of over-tweezing as well as for those with naturally sparse eyebrows.
Eyebrows also tend to lighten in the sun, leading to uneven shades, and age also impacts their appearance. So if you've had a bit too much sun or are noticing thinner eyebrows as you get older – eyebrow tinting is for you.
Not to mention those of us who are simply starved for time. If you spend more than a few minutes shaping, brushing, and filling your brows every day, tinting can cut back on that time significantly.
So how do you do it? You can have the treatment performed in a salon, in a medical office, or in your own home. At a salon, it takes between 10 and 15 minutes. But with 1 to 5 minutes and an at-home kit, you can have fuller, more youthful brows that last anywhere from 4 to 6 weeks.
And you don't even have to leave the house.
4 Tips to Choose the Best Eyebrow Tinting Kit for You
If you're venturing into the world of at-home eyebrow tinting, then choosing the right shade should be concern #1. And that's the first tip…
Go lighter
Don't choose something that matches your hair color exactly. Go with something 1 or 2 shades lighter than your natural color for more balance.
Blondes or redheads
Blondes and redheads should never choose extremely dark tints. That contrast isn't complimentary on anybody. Remember, the purpose of tinting is to enhance your eyebrows, not change them altogether.
Tinting greys or whites
Tinting grey or white hair will require a really high-quality tinting kit and someone who knows what they're doing. Grey and white hair is more stubborn, and it often rejects dyes. But with a little experience and a great kit, you, too, can have better brows.
Always patch test
Before using any testing kit, make sure you do a patch test. This way, you can determine if you're sensitive or even allergic to the dye before you endeavor to treat the most visible part of your body with it.
To conduct a patch test, place a tiny amount of dye behind your ear or in the ditch of your elbow and leave it for 24 hours. This will give you a good indication of whether your skin can tolerate the dye.
5 Best Eyebrow Tinting Kits
For the best eyebrow tint kits, look no further. We've reviewed your top 5 best options to get the brows of your dreams.
Godefroy Eyebrow Tint Kit
There's a good reason Godefroy is a staple name in the tinting world: this eyebrow tinting kit is super easy to use and once you're done, you're DONE. As in, you have salon-quality tinted brows for weeks.
Further adding to the ease-of-use, this professional tinting kit was made with small spaces in mind. Pre-measured capsule units for spaces as small as temples but as prominent as your brows make application easy, with very little mess and even less waste.
The complete kit includes everything you need to get started, is formulated for use on sensitive facial skin, and the no-odor dye is the option for covering even the most resistant greys.

Every kit contains 20 pre-measured capsules of semi-permanent dye –  meaning that just one box should last you more than a year. That's pretty darn good value.
Tip: If you leave it on too long, the color could come out too dark. Our recommendation? Apply it in increments. Leave it on for just half a minute and then wash it off and see how you like the color. If it's not dark enough, have another go and so on until you're satisfied with the shade.
Refectocil Eyebrow Tinting Kit
As far as eyebrow tinting kits go, Refectocil's is near perfect. It's easy to use and it works beautifully. The only downside is that it can be a little strong so those with sensitive skin should proceed carefully with this one.
Included in this kit is a natural brown cream hair dye, a professional-grade liquid oxidant 3%, a glass dish, and a side-angle mixing brush that's perfect for hitting all of the contours and angles of your brows.
Although your shade choices are limited, the kit is everything you need to start tinting your brows with one of the highest quality dyes available. In less than 10 minutes, you'll take sparse brows to full, defined arches.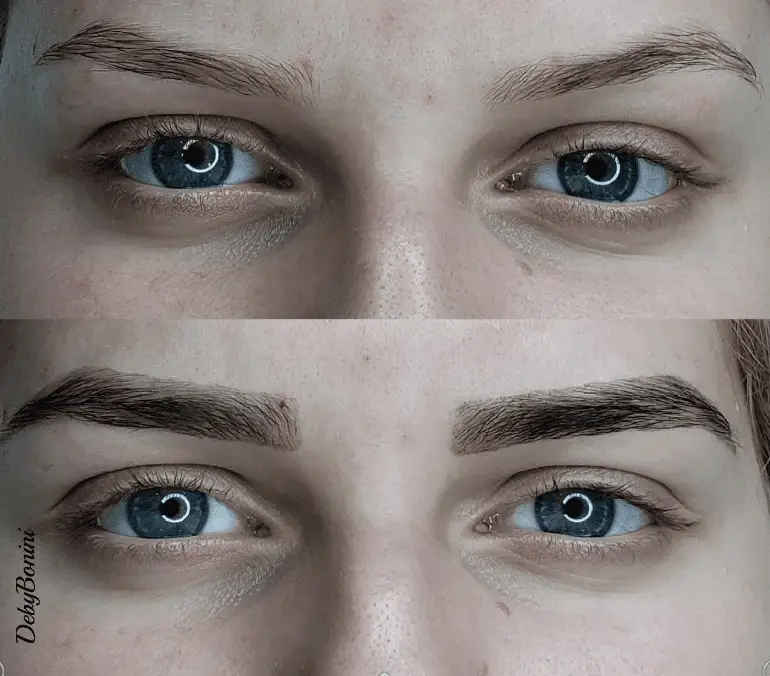 The best part, of course, is that it lasts for weeks. You can get away with just once-a-month treatments with this kit.
1000 Hour Eyebrow Tint Kit
If your eyebrows fall on the darker side, than 1000 Hour offers these blue black and dark brown kits that bring depth to even the darkest shades –  and for as long as 6 weeks.
Included in every kit are 12 applications that can be safely used on both brows and lashes (not to mention beards, mustaches, and side burns), developer, applicator wands, and a mixing cup.
You should note that this tinting kit has a learning curve but as you can see from the reviews, once you get it down – you get a beautiful, salon-quality brow tint that lasts you for weeks.
Henna Brow Tinting Kit
To stretch your dollar even further, this henna eyebrow tinting kit gives you 25 to 30 applications. A little different than the semi-permanent dye in other eyebrow tinting kits, henna is a natural hair dying product traditional to India.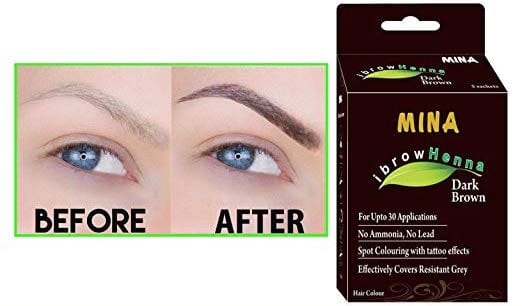 Mina Henna Eyebrow Tinting Kit
It leaves a deep, medium brown stain that can be used for spot coloring or thickening your brows for up to 6 weeks. Safe for use on your eyelashes and a great alternative for covering greys, henna dye is formulated without ammonia or lead and it's easier to use than traditional dye kits.
If you have sensitive skin or prefer green beauty, this is the perfect brow tinting kit for you.
Maybelline Brow Tattoo Longlasting Tint
For those not quite ready to take the plunge into the world of semi-permanent dyes, Maybelline offers this more temporary option.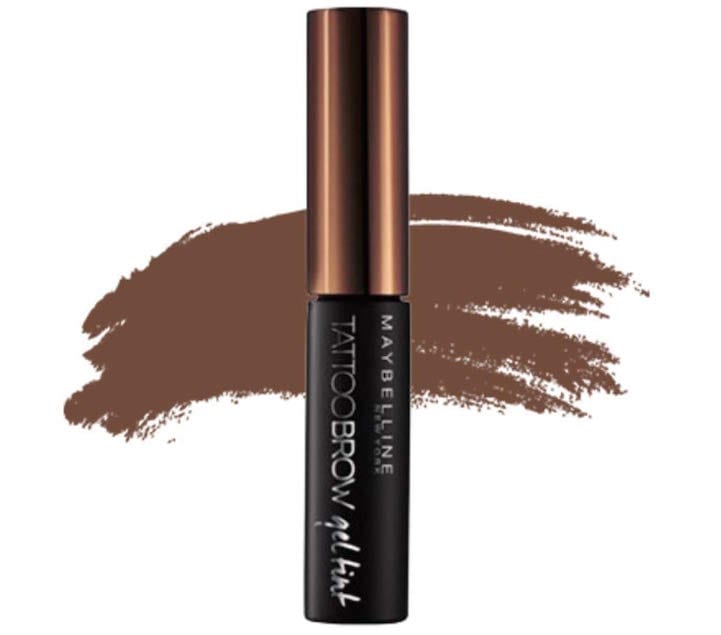 Maybelline Brow Tattoo Longlasting Tint
Their peel-off brow tint comes without any mess, any trip to the salon, and up to 3 days of wear. Even if you make a mistake, you can easily remove the Tattoo Brow with a cotton bud before it sets.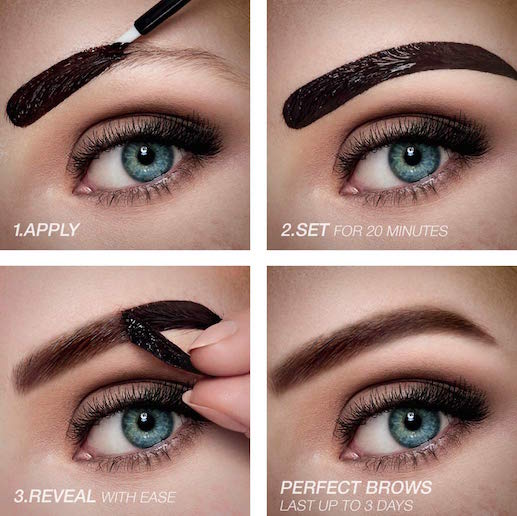 It's a brilliant way to dip your toes into the world of eyebrow tinting before you commit. And of course, if you decide this product works well enough for you, well, now you have a beautiful time-saving brow solution.
Tips on Using Eyebrow Tint Kits
Before tinting your brows, you should apply a thin layer of petroleum jelly (AKA Vaseline) to any skin around the brow you don't want tinted. In the case that the tint does reach your skin, any accidental stains will wash away in less than a day or two.
Also, to make the most of eyebrow tinting, avoid oil-based products that may strip the dye from your hair follicle over time. And definitely avoid exfoliating the area. To limit fading, try to reduce the amount of time spent in the direct sunlight. 
Dyes may also sensitize your skin, so don't use any products that may irritate the skin further. That means no retinoids, retinols, or other sensitizing skincare products.
Regardless of skin type, tone, or hair color, an eyebrow tinting kit can offer more defined, full, and compliment-worthy brows. If you have sensitive skin or you're trying to cover stubborn greys, keep in mind that there are kits designed for your needs.
And if you're not ready to jump into the world of semi-permanent dyes, start slowly with a less temporary option. Regardless of where you start, eyebrow tinting saves you time and effort and ensures your brows are always on point.