If you're a lash lover, you've most likely already heard of Bioluma. Now all that's left to do is to peruse Bioluma review after review to find out the one thing you want to know: Does Bioluma eyelash enhancer work?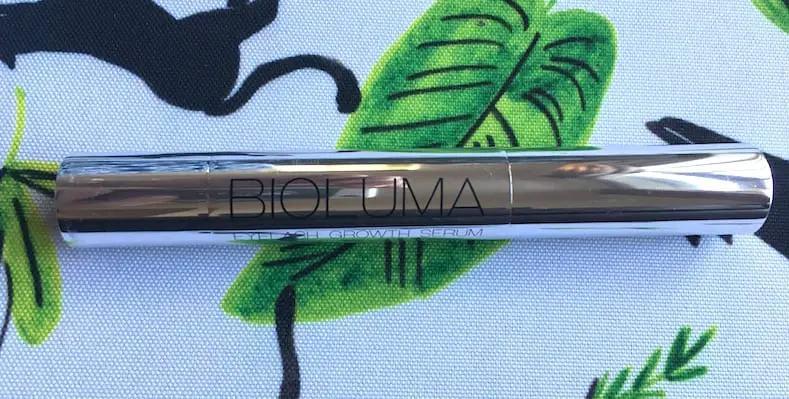 Because if you're anything like me, you desperately want it to. Not just because you crave longer, thicker lashes. But because it's not easy to find a lash growth serum that uses only natural, plant-based ingredients in its formula.
And without a doubt, that's one of the main things that drew me to Bioluma in the first place: its ingredients list.
What are Bioluma Ingredients?
Once you've been around the lash serum block and suffered everything from itchy eyes to red, irritated eyelids – you know how rare it is to find a lash serum that keeps it natural and manages to be effective.
So when I discovered Bioluma, I knew I had to try it. With its ingredients line-up, this lash enhancer seemed the perfect stuff for sensitive eyes.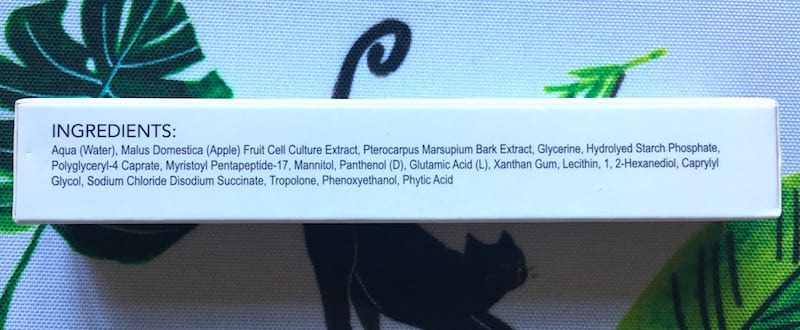 So what's in Bioluma? Well, a lot of goodness as you can see from its ingredients list. But mainly, this lash serum is bursting with lash strengtheners like panthenol and Malus Domestica (Apple fruit cell culture extract), as well as nourishing ingredients like glutamic acid and lecithin.
It's also got botanical extracts like pterocarpus marsupium bark extract, which both strengthens and nourishes to prevent hair loss in the long run.
But our favorite ingredient? It's got to be Myristoyl Pentapeptide-17, which is a botanically-derived lash boosting compound that goes to work on the keratin genes that are directly responsible for the length and thickness of your lashes.
When you remember that keratin in the key protein that makes up your lashes, then you realize how big of a heavy hitter this lash ingredient is.
Is Bioluma for Sensitive Eyes?
Bioluma has an awesome ingredients line up but just as important as what's in Bioluma is what is NOT in this eyelash enhancer. And if you've got sensitive eyes and have suffered eye irritation because of a serum, you know what a lash serum doesn't contain matters just as much.
I'm talking about typical lash serum irritants like fragrances, parabens, and chemicals that can cause red, puffy eyes.
Bioluma contains none of those nasties. In fact, its formula is hypoallergenic and is both ophthalmologist approved and dermatologist recommended. The result? You can rest easy applying it even on the sensitive skin around the eye without risking irritation.
That makes Bioluma one of the rare natural lash serums that's totally safe for even the most sensitive eyes.
Does Bioluma Work?
Bioluma's ingredients line up definitely checks out. So does the company behind it – Bioluma has been around for nearly two decades and they're card carrying members of the Natural Products Association, an organization for companies that use pure and natural ingredients.
But as important as all that is, you're here for an even more crucial reason: you want to know if Bioluma Eyelash Enhancer works.
Well, the short answer is: yes, it does. Here are the results that users have had with Bioluma serum…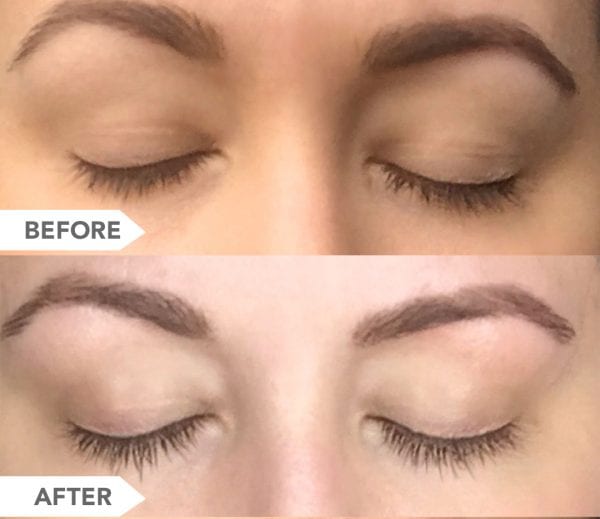 My skin is extremely sensitive, especially around the eyes. I'm so glad I came across this product. It's so gentle on the skin, easy to apply and best of all, IT WORKS!!. Thank you BIOLUMA for making a natural eyelash serum!

– Tinna C.Cambridge, UK.
I love this product. I tried a lot of eyelash serums. I was looking for something natural and no harsh chemicals. I didn't see any results for the first 7-8 weeks but I'm glad I stuck with it because the results were fast right after that. I'm scared to apply chemical based products to my eyes. This is natural and works amazing! LOVE IT!

– Sara T.San Jose, USA.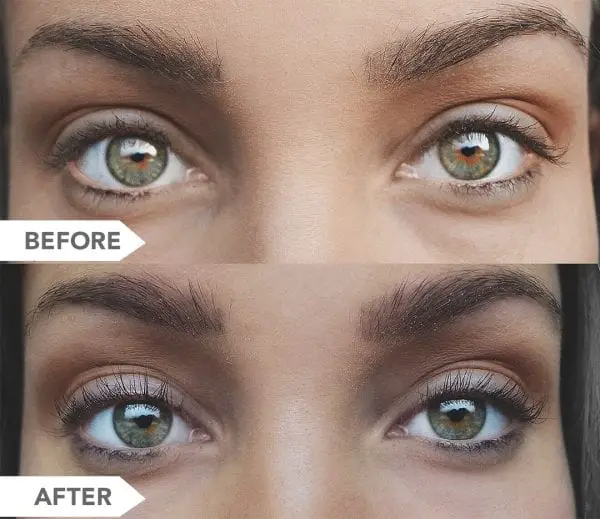 Check out Bioluma's site for more customer reviews and before and after pictures!
Especially for a lash serum that uses mostly botanical extracts, Bioluma works remarkably well – and it does so without causing irritation or other unwanted side effects.
But there is something else you should also know about what to expect from this lash serum.
My Honest Bioluma Review
For most of us lash lovers, the gold standard when it comes to lash serums is Latisse. That's because Latisse has been clinically proven over and over again to dramatically increase the length and thickness of lashes.
The downside to Latisse, though, is that it comes with side effects that many people are unaware of. Some of the potential side effects include itchy, red eyes, dryness, and even darkened eyelids or reddening of the thin tissue of the white parts of the eye.
But the most serious side effect that everyone should be aware of is that Latisse can actually change the color of your eyes by darkening the pigment of the iris. That may not matter as much when you have brown eyes already but if you have blue, green or another light color, this may be a side effect you're not willing to risk.
If you're aware of these side effects and wondering whether Bioluma lash serum has similar side effects – the answer is no.
Because Bioluma lash serum uses natural ingredients to cause eyelash growth, there's very little risk of irritation and absolutely no risk to the color of your eyes.
At the same time, it bears mentioning that while Bioluma lash serum doesn't have the side effects as Latisse, it also won't cause the sort of ridiculous, Snuffleupagus-proportion eyelashes that you typically see in before and after pictures of Latisse users.
As you can clearly see from the Bioluma before and after pictures above, this lash serum is amazing for producing thicker and longer lashes but the results are more subtle than the sort of dramatic, va-va-voom lashes you'll get with a lash serum like Latisse.
But this is not necessarily a bad thing. And here's why: lash serums like Latisse and Latisse alternatives are able to produce such drastic lash results because they rely on a class of ingredients known as prostaglandin analogs, which is what is responsible for the kind of side effects mentioned above.
Let's deep dive into what exactly prostaglandins are…
Can Anyone Use Bioluma?
Prostaglandins are essentially a group of compounds with varying hormone-like effects that can produce the sort of lashes that make people ask you if you're wearing falsies. The effects are that dramatic.
But they also come with a serious drawback: they can alter the color of your eyes.
That means that lash serums that contain prostaglandins are an automatic no-go for lash-seeking beauties with light-colored eyes, i.e. blue eyes, green eyes, hazel eyes.
And even for brown-eyed beauties, whereas the color of your eyes may be unaffected, prostaglandins have also been shown to cause side effects like irritation as well as affecting the color of the skin around the eyes.
So all in all, the fact that Bioluma is free of prostaglandin is a very good thing. You'll get beautiful lash growth and thickness and sure, your lashes may not grow to Snuffaluffagus proportions, but you also won't suffer any irritation of unwanted side effects to your precious peepers.
It also means that anyone and everyone can use Bioluma, whether your eyes are blue or brown or sensitive as can be.
How to Use Bioluma
The first thing you'll notice about Bioluma Eyelash Enhancer is that it's pretty fancy. And the applicator differs from the typical lash serum applicator and is a soft swab that allows you to apply a generous amount of product on your lash line.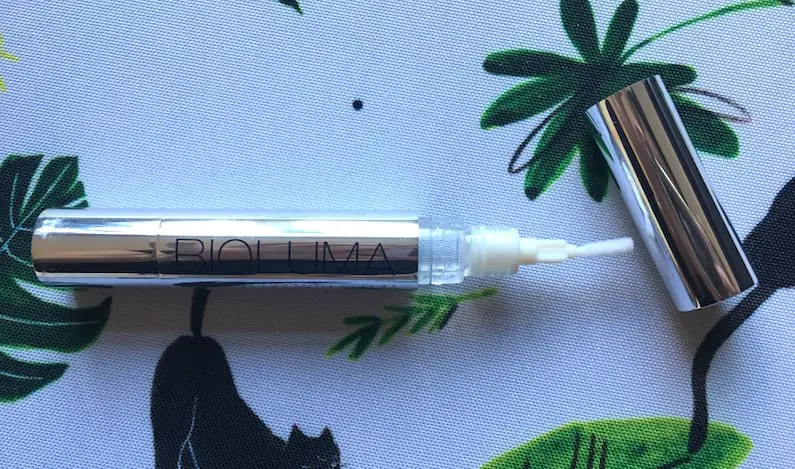 What I really like about the applicator is that it made it easy for me to apply the lash serum on both my lash line and my brows.
The softness was also very welcome and although the applicator is thicker than most, it didn't feel uncomfortable. I actually started using this lash serum while I had eyelash extensions to help undo some of the damage caused by the extensions and the applicator didn't interfere with the extensions at all.
So how do you apply this lash serum?
First things first, make sure you remove all your makeup. Be especially thorough about getting all eye makeup off since you don't want to transfer bits of mascara or eyeliner to the pristine cotton end of the applicator.
Next, you simply twist the bottom of the Bioluma bottle which releases the serum onto the applicator.
And then all that's left is for you to apply the serum to your upper and lower lash line. Of course, you can also use it for your brows.
Bioluma wears well under makeup so for best results, I highly recommend applying it twice a day. You won't see results right away, but that's true of all lash serums.
Keep at it for at least a couple weeks. You'll start seeing the difference by week four and yes, it will be very worth it.
Click here to go to Bioluma's website to purchase.