Using oils for eyelashes is booming in popularity. And it's no wonder why. After all, our eyelashes have been through a lot.
We smother them with mascara, we harass them with curling tools, and many of us have even subjected our precious fringes to the harsh glues used for eyelash extensions.
Now it's time to give your lovely lashes a little TLC.
If you want to pamper your eyelashes and get them to grow longer, thicker, and stronger, one of the best ways is to lavish your lashes with all-natural, nourishing oils that condition and strengthen your lash follicles while simultaneously promoting lash growth.
Read on to find out which oils do exactly that.
What are the Best Oils for Eyelashes?
Avocado oil, grapeseed oil, sunflower seed oil and so much more. The list of oils that we love and use in our cooking, moisturizing, and overall beauty routine is pretty lengthy.
But while most oils are full of nutritious goodness, it certainly doesn't mean all of them are okay to use on your eyes. Essential oils, in particular, are concentrated versions of plant sources and whereas they come with a bevy of benefits, they're absolutely not recommended as oil for eyelashes.
So which oils are? Read on for the absolute best oils for eyelashes – as well as exactly why they rock!
Castor Oil for Lashes: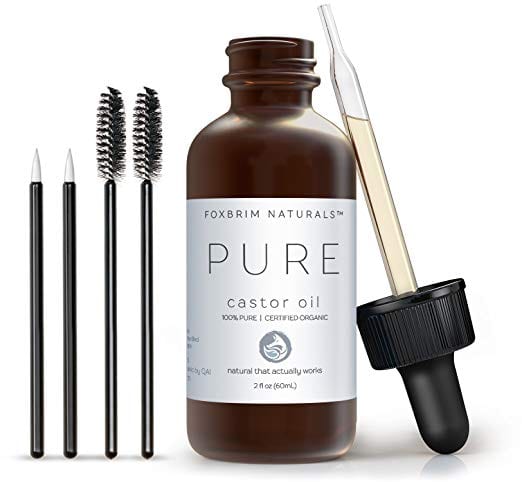 People have been using castor oil for lashes and hair for ages. In fact, rumor has it that men in ancient Egypt rubbed the stuff into their scalp to prevent baldness.
And it's no wonder why – this thick, viscous oil is chock full of omega-6 fatty acids, vitamin E and proteins – all of which are incredibly nourishing for hair follicles.
Although I've known that castor oil is great for your hair – I often sleep with a mixture of castor oil and EV olive oil applied to my roots – I only got the idea to try castor oil on my lashes after both my mom and sister reported thicker lashes and brows after months of doing the Oil Cleansing Method (OCM).
The OCM, in case you don't know, is a popular method of cleaning your face with oil. I never had the guts to try it 'cause I have acne-prone skin but my mom and sister are braver than I and they've been doing it for months.
One unexpected side effect they have had from OCM is that their eyelashes and brows are a little fuller and a little thicker.
They both attribute it to the castor oil that touches their eyelashes during every oil cleansing and stays on their lashes overnight (since they only wipe the oil off their face with a towel and then use cleaning grains afterwards).
Although I've only tried castor oil for a few weeks, I can say I love the feeling of it on my lashes. It's thick and heavy and I apply a light layer over my lash enhancer and I feel like it helps to lock in nutrients and prevent eyelash shedding.
And, of course, you can always whip up some homemade eyelash growth serum with this stuff!
Oh, and did I mention that a huge bottle of castor oil is cheap as chips and will last you forever?
Coconut Oil for Eyelashes: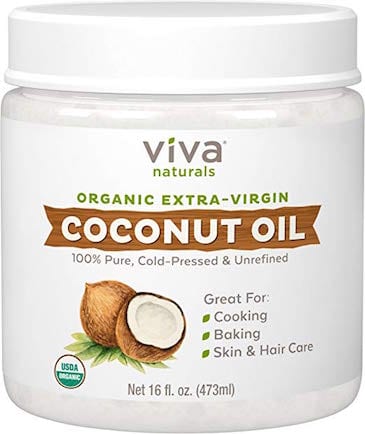 Using coconut oil for eyelashes is a brilliantly yummy-smelling way to deep hydrate your lashes. It's has a much lighter consistency than castor oil and does not "weigh down" your lashes as much when you apply it on your eyelashes.
This stuff is one of the best home remedies for longer eyelashes since it also has a natural pulling action that draws out impurities and finds its way into your eyelash follicles to stimulate regrowth.
If you've ever used coconut oil on your skin, you'll also know that coconut oil has fantastic absorption. The oil is really light while nourishing at the same time – making it a perfect eyelash nourishing oil to wear during the day.
I like to add just a dab of pure coconut oil to my eyelashes – with or without mascara – to keep them moisturized throughout the day.
Make sure you get the best coconut oil for your lashes – I like Viva Lab's Organic, GMO-free, Extra Virgin Coconut Oil for my skin and lashes!
Emu Oil for Lashes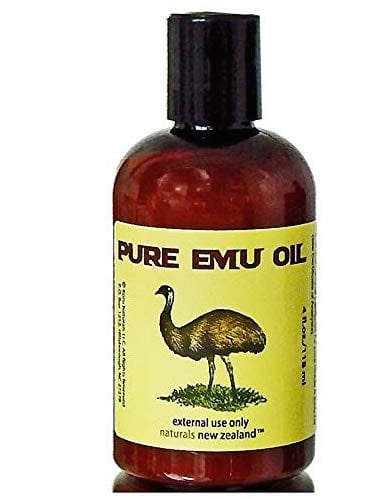 I absolutely love, love, love Emu oil – this stuff is a godsend for scars as well as for natural eyelash growth. It is all-natural and incredibly nourishing for your lashes. I used this stuff for a month straight after I lost a lot of my lashes thanks to eyelash extensions and it really made a difference.
Emu oil won't be for everyone since it's not a plant-based oil. It actually comes from the rendered and refined fat of the emu bird so if you're a vegan (and only use vegan beauty products), this is a lash-enhancing home remedy you'll want to avoid.
That being said, emu oil is fantastic. It deep conditions lashes since the stuff easily penetrate and stimulates dormant hair follicles into producing hair again. Very nourishing, very rich – great for your skin, hair, and your eyelashes.
I like this brand of Emu oil as it is 100% pure, undiluted oil that is non-comedogenic and hypoallergenic.
Burdock Oil for Lashes: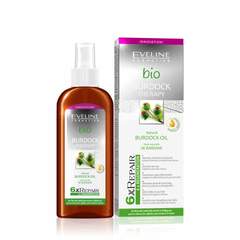 You might not have heard of burdock oil – this is probably the least well-known oil on this list. Burdock is simply a root that's been used in Chinese medicine for centuries but is relatively unknown to the Western world.
I had the good fortune of tasting burdock tea ages ago when I visited a very health-conscious friend of mine but totally forgot about this root until I began researching natural hair-loss prevention shampoos for a cousin who has started losing his hair.
I noticed again and again that burdock root was on the ingredient list for pretty much every natural hair loss shampoo or solution.
Naturally, I was curious so I did a little research and I discovered that burdock root is rich in phytosterols and essential fatty acids, nutrients that are key in maintaining healthy hair follicles and promoting natural hair growth.
To be honest, I haven't used burdock oil alone on my eyelashes. I mix it with a few other oils – you can see my recipe here.
Pure burdock oil is a little tricky to find since most will contain other ingredients (like pepper or ginseng) that you really don't want near your eyes. I'm currently using an organic, 100% burdock root oil that's been infused in sweet almond oil that I am satisfied with but would consider trying another brand if it was as good a quality but a little more affordable.
Almond Oil for Lashes:
Sweet almond oil is another lovely hair growth-promoting oil. It's also rumored to have been used since the times of ancient Egypt to promote hair growth and cure baldness.
This oil is great for eyelash growth since it's a rich source of monosaturated fats, vitamin E, magnesium, and calcium. It moisturizes and conditions your eyelashes and in addition to promoting growth, prevents your lashes from falling out.
Now Foods' Sweet Almond Oil is my favorite for skin, hair, and lashes.
Olive Oil for Lashes:
Ah, good ole' olive oil. This is one natural oil you're likely to have in your kitchen cabinets already.
And we all know the many benefits of this rich, nutritious oil – it's been used for ages to soften the skin, condition hair as well as to promote thick and long hair growth.
It also happens to be one of the most popular home remedies for longer eyelashes since it moisturizes your lashes, helping to protect it from damage and shedding as well as to promote the growth of strong, healthy lashes.
If you're using olive oil on your eyelashes, make sure you opt for the best kind. Zoe's Organic Extra Virgin Olive Oil is my favorite for beauty purposes as it has a lovely smell, especially for olive oil (I love the moisturizing effect of olive oil but usually can't stand the smell on my skin or hair).
How to Use the Best Oils for Eyelashes?
Okay, now that you know which oils are best for lashes, how do you go about using them?
Here are the easiest ways to effortlessly integrate oils into your beauty routine…
Make a DIY Eyelash Serum:
You know those eyelash serums we're always raving on and on about? Well, you can whip one up of your own using a combination of the above oils. Of course, you can also get fancy and add in even more beneficial ingredients!
For ideas on what to mix and match, check out these lash serum recipes!
Use as a Makeup Remover:
The most annoying part of wearing eye makeup is having to get all the gunk off at the end of the day, right? This is where the best oils for eyelashes come in.
Simply drop your choice of oil(s) onto a cotton pad or Q-tip and use it to wipe off your eye makeup. This is hands down the best way to use oils for lashes since it takes pretty much no effort and does double duty.
Oils are excellent makeup removers by nature and you get the nourishing benefits simply through the cleansing routine. Win-win.
When NOT to Use an Oil for Eyelashes
So oils for lashes are great but there is one instance in which you absolutely should not be using any oils on your eyelashes, no matter how awesome that oil may be.
And that is when you are wearing eyelash extensions.
Oil and extensions don't mix. In fact, oils tend to weaken the glue that holds your extensions in place and will expedite the process of losing those precious lash extensions. Nobody wants that, especially considering the cost of extensions!
So if you have lash extensions, skip the eyelash oil and go for a serum instead. There are several eyelash growth serums that are great for extensions.
Everyone else? Carry on with those oils!
What Health Benefits Does Castor Oil Have?
Castor oil is the most common oil that people have used for a long time. It is vegetable oil and has multiple benefits. By extracting the oil from the Ricinus Communis plant seeds, castor oil is made.
There is a toxic enzyme known as ricin found in these seeds. Castor beans are another name for these seeds. You can easily use the oil because castor oil deactivates its heating process.
There are multiple benefits of castor oil for this reason you can use it in industrial, pharmaceutical, and medical uses.
But the most common use of castor oil is in foods as an additive. Moreover, it can be used for skincare products and meditation. If we see its use in industries then castor oil is used as a biodiesel fuel, and industrial lubricant component.
Nowadays, castor oil is widely used as a conditioning component because of its amazing advantages. Let's have a look at these advantages.
1. Boost your Eyebrows and lashes:
You can boost the growth of your eyelashes by applying an appropriate amount of castor oil to it regularly. Take an old mascara brush and wash it completely. Dry it and put it in castor oil.
Now, apply castor oil in the same way you apply mascara. Do not use a too extra amount of oil because it can blur your vision. Moreover, due to oil, your eyelashes become thick and soft. For best results apply oil at night.
2. Get shiny, Healthy Eyelash:
Castor oil also makes your lashes shiner and made your eyes attractive. You have to be consistent with it to see results because it is a natural oil and takes time to give results. Apply castor oil on lashes end 2 to 3 times a week.
3. Moisturize Rough Skin:
Due to less quantity of water inside the body, our skin becomes dry. Especially in the winter season, skins become rough and dry. To moisturize your skin you can use castor oil. Take a small amount of oil and put it on the cotton piece.
After that apply it to the areas where you have dryness. Castor oil makes a layer on your skin and locks moisture in it. That makes your skin soft and fresh.
4. Conditions Your Cuticles:
You can also use castor oil to condition your nails. Use 1 to 2 drops of oil and put them on the cotton swab. For extra nourishment gently apply it to your nails.
5. Tame Flyaway:
By using a little amount of castor oil along your hairline you can also get a smooth hairstyle.
How To Use Castor Oil On Your Eyelashes?
Although castor oil is a natural oil it does not harm anyone. But some people have sensitive skin that can react even with natural oil. So here are the guidelines to help you with applying castor oil to your eyelashes.
First, if you have sensitive skin then do a patch test. It will tell you whether you can use castor oil or not.
For better results, people mix castor oil with other natural oils or with vitamins.
Before applying oil, thoroughly clean your eyes with clear water and make sure that no amount of mascara and dirt is left in your eyes.
Put some castor oil in an empty bottle and then put a cotton swab in it. Remove access oil from cotton and gently apply it to your eyelashes. Make sure that you close your eyes while applying so that no drop can go into your eyes.
Apply at night before bed and wash it in the morning with warm for better results.
Is There Any Research To Support Using Castor Oil For Eyelash Growth?
There is no scientific research about using castor oil on eyelashes for growth. But it is proved that ricinoleic acid helps to grow the hairs and we know that castor oil contains 90% ricinolein acid. So, we can say that castor oil also helps in eyelash growth. 
Things To Know Before You Apply Castor Oil To Your Eyelashes:
Make sure that not a single drop of castor go into your eyes. It does not have a serious effect but can create irritation. If somehow oil goes into your eyes then rinse it with clear water.
Moreover, some people are allergic to castor oil. If you are not about it then on any area of your skin apply castor oil for 24 hours. After you will irritation and redness on the skin then do not use castor oil for eyelashes.