Wondering how to make eyelashes grow but hesitant about trying a lash growth serum just yet?
You're in the right place! There are a bunch of home remedies for eyelash growth that you can try out in the comfort of your own home.
Instead, these all-natural oils for lashes penetrate into your eyelash hair follicles to nourish and moisturize your eyelashes, restoring health, minimizing eyelash fallout, and setting the stage for eyelash growth.
The awesome thing is that you don't have to just use one oil – you can combine several of these wonderful natural lash growth oils into your own homemade eyelash growth serums!
These are one of my favorite homemade beauty treats and I'm going to share 3 of my favorite recipes here.
They're perfect for deep conditioning your eyelashes and providing nourishing relief to over-stressed lashes. Find out how to make 'em!
Eyelash Growth DIY: 3 Homemade Eyelash Growth Serum Recipes
These recipes are super easy to whip up and will last you a really long time. Before we get started, here's what you'll need to make your own homemade eyelash growth serum:
Empty, reusable mascara tube and wand – shop it here!
The ingredients for your homemade eyelash growth serum.
That's it! Let's get started…
1. Deep Nourishment Lash Growth Serum:
This is the easiest eyelash condition you'll ever make and it'll help you thicken out your lashes within just a few weeks!
Here's what you need:
Castor oil – shop it here! This thick, viscous oil is super rich in fatty acids, vitamin E, and proteins. It gets deep into the hair follicles and your lashes will drink it right in for instant hydration and nourishment. It's been used since ancient times to prevent baldness and will help plump up your lash line.
Coconut oil – shop it here! This yummy-smelling oil is full of nourishing vitamins and fatty acids that bind to the protein in lashes to protect both the roots and strands. The fatty acids found in coconut oil are mostly lauric acid, which also comes with antifungal and antibacterial properties that'll protect your eyelashes from falling prey to infections that limit hair growth.
Here's how to make it:
Pour equal parts castor oil and coconut oil into your empty mascara container.
Close the tube and shake it to mix the formula.
Dip the mascara wand into this DIY lash growth serum and gently brush it onto your lashes from root to tip – use just a small amount because the castor oil is quite heavy and can weigh down your lashes.
2. Big Boost of Lash Growth Serum:
This recipe takes things up a notch by adding a few all-natural lash growth ingredients that give your lashes a huge boost.
Here's what you'll need:
Argan oil – shop it here! Argan oil is chock full of antioxidants like Vitamin E (which is also an amazing moisturizer) as well as essential fatty acids that nourish, hydrate, and promote healthy lash growth. This rich oil is especially great for reversing the damage done through harsh chemicals (lash glue and mascaras) and research shows that argan oil can even promote faster longer hair growth!
Liquid biotin – shop it here! Know why Biotin is called Vitamin H? Well, the "h" in Vitamin H actually stems  from the German words Haar and Haut that mean "hair and skin." Yes, that's how good this vitamin is for all things hair (and skin). It's an especially beneficial lash growth ingredient to have if your lashes are prone to thin, breakage, and brittleness – biotin will nip that in the bud!
Here's how to make it:
Pour argan oil into your empty mascara tube.
Drop-in around 5 to 10 drops of liquid biotin.
Seal and shake the tube to mix well.
Dip the mascara wand into this DIY lash growth serum and gently brush it onto your lashes from root to tip.
3. Sweet Strength Lash Growth Serum:
You should be warned – this DIY lash growth serum is amazing for strengthening and lengthening lashes…but it's not the sweetest-smelling thing around.
Neem oil has tons of beauty benefits – like promoting faster natural lash growth – but it does not smell very good.
I personally find the smell terrible but its lash growth perks more than make up for its lack of yummy-centeredness.
Now that you're in the know, on with the show…
Here's what you'll need:
Neem oil – shop it here! Neem oil is one of the best oils for eyelash growth, period. Actually, it's great for all kinds of hair growth, that's why you'll find it in pretty much every hair loss/hair growth shampoo there is. It's rich in fatty acids like linoleic and oleic acids that deep condition and moisturize dry, brittle lashes back to health and it has regenerative properties that support healthy hair cells and stimulate hair follicle growth and function.

Sweet Almond Oil – shop it here! Light and lovely, sweet almond oil is the perfect oil to mix with Neem. It's also super rich in monosaturated fatty acids, lash-growth-boosting Vitamin E, and even growth-promoting calcium. It'll moisturize and deeply hydrate your lash hair follicles and prevent them from breaking off and falling out!
Here's how to make it:
Pour a 70:30 mixture of sweet almond oil to neem oil into your empty mascara tube.
Seal and shake to mix well.
Dip the mascara wand into this DIY lash growth serum and gently brush it onto your lashes from root to tip.
Use any of the above DIY lash growth serums daily!
Note: The above DIY lash growth serums are great for growing healthy lashes but if you're looking for a much longer length and thickness, these won't do the trick.
The point of these lash conditioners is not so much to provide eyelash growth but to nourish, moisturize, and restore your eyelashes to health.
For dramatically longer lashes? Choose one of the best eyelash growth serums.
I personally use these DIY eyelash conditioners along with a potent eyelash growth serum.
They each serve a different purpose and together, I think they do the best work 😉

How Much is Safe And Secure to Use These Eyelash Growth Serums?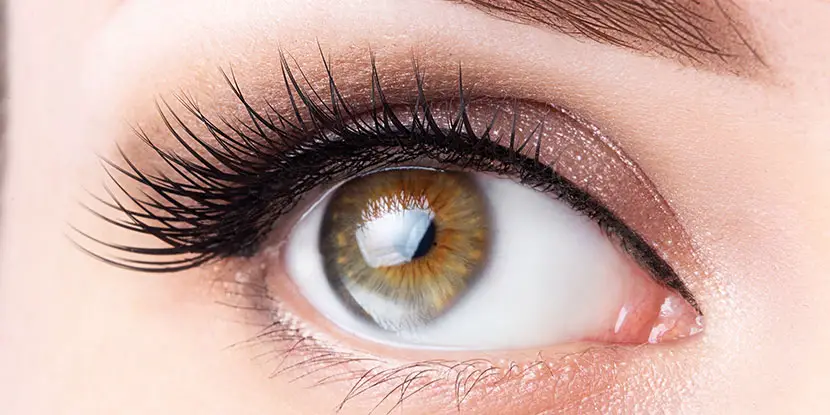 You might be wondering how much it is safer to use and apply these eyelash growth serums, here we are going to tell you.
There are many reliable and top-notch serums available in the market that are FDA approved.
Furthermore, they are safe to use and do not damage your eyelash part.
But whenever you feel that these serums are causing any itchiness or any sort of redness on your lashes and eyes, then you need to stop using them right away.
There are many low-quality lash growth serums that bring reduced eye pressure as well as darken your eyelid skin tone.
So, you have to be of utmost care while you shop for a lash serum.
The proper and simple way of applying an eyelash growth serum
The first step is that you have to make sure that your eyelashes and face are completely clean. They have to be free from any makeup traces.
It is advised to apply such a serum during your bedtime routine. In other words, you can add this beauty product to your night skincare regimen.
Take hold of an eyelash wand. Dip into the serum and apply it gently on your lashes. You need to apply it in a way likewise you are applying mascara.
Just sparingly apply this serum on your lashes. Once you apply this serum, you should avoid rubbing your eyes.
If you rub your eyes right away, then this serum may cause a high amount of irritation.
How to take out the most and maximum benefit from eyelash growth serums?
If you want to see the maximum use and benefit of an eyelash growth serum, then there are certain tips that you have to follow.
Most importantly, you have to use this serum on a daily and routine basis so that you can maximum desired results at your end.
Whenever you apply this serum, then make sure to clean your lash brush beforehand. In this regard, you can make use of a makeup brush cleaner and properly clean your lash brush.
Moreover, it is seen that these kinds of serums can also be applied by you on your eyebrows. If you have thin brows, then apply this same serum on them.
In the morning, make it a practice to comb your eyelashes right after you have applied the serum. This way, your lashes may become saturated enough with that serum.
Common oils and ingredients that are used in making eyelash growth serums:
Castor Oil:
This is common oil that is used in the making phase of lash growth serum. It helps in growing your lashes.
Furthermore, this oil is packed with Vitamin E and also lots of proteins and minerals, and even omega-6 fatty acids.
Coconut Oil:
This is common oil that is massively used in preparing lash growth serums.
It is injected with deep moisturizing abilities and instantly helps your lash grow more and more.
For the information, coconut oil is infused with a large number of fatty acids and vitamins and all these ingredients further strengthen your lash hair growth.
Essential Oils:
You can go on using some of the essential carrier oils like castor oil and coconut oil to make DIY eyelash growth serum.
These essential oils have the tendency to make your lashes fuller and thicker. Some people like to go for rosemary oil and lavender essential oil.
Vitamin E Oil:
The last important oil that you can use in making a high-quality lash growth serum is this vitamin E oil.
This is excellent oil and marked as an all-around ingredient that completely makes your lashes fuller.
Besides, this oil repairs your eyelash hair follicles and at the same time encourages the highest and maximum amount of hair growth.
Conclusion!
Now, you have received enough information on making DIY eyelash growth serums. You can let us know how specifically and generally you make these serums.
It is highly important for you to show maximum care of your lashes and this can be possibly done if you regularly apply these serums.
You can keep tuned so that more simple ways of growing and strengthening your eyelashes can be provided to you.