You've decided to scrap the pricey salons and dye your eyelashes at home. Congrats! Eyelash dye is hands down one of the best ways to instantly transform barely-there, translucent lashes into a lush, dark, glossy fringe.
Plus, you'll only have to do it around once a month which is good news for those of us who aren't big on the DIY thing.
And in case you're wondering, it's also pretty darn easy to do. Tinting your lashes can sound intimidating at first, but once you have the steps down, it's a simple process that slides right into your monthly beauty routine.
The only thing you need? A great eyelash tint kit. Here are the top 3 lash tints to go for – and why!
If you've looked into eyelash dye at all – you've heard of Godefroy. They've got the most well-known range of DIY eyebrow and eyelash tints around.
Most of their products are solid but when you're tinting your lashes, go for Godefroy's 28 Day Mascara rather than the Tint Kit or the Instant Eyebrow Tint since it'll come with everything you need for the entire eyelash tinting procedure. Convenience is awesome, yes?
Here's what you get: a packet of cream color, a packet of gel activator, an applicator wand, a tiny eyelash comb, and eye protectors.
It'll also be helpful to be prepared with a magnifying mirror, some Vaseline, Qtips, tissues, and disposable mascara wands, in case you find the provided applicant wand insufficient. The applicator wand that comes in the package seems to work great for some and not at all for others – we all have different types of lashes, after all.
As for the process, it doesn't get easier. There is a total of just six steps to get your eyelashes tinted – make sure you do one eye at a time since you actually want to see what you're doing. It does sting if it gets into your eyes (the same sort of sting you feel from shampoo), which can be totally avoided thanks to the gel consistency – no-drip, easy to apply.
We especially love how the actual color and activator come in multi-use tubes with caps so you can use just what you need and save the rest for later, making it super affordable.
The results are also great – keep in mind that you may not get the same sort of super dark, va-va-voom effects as you would from a good bottle of mascara, but it definitely darkens and defines your lashes so that you don't need mascara every day. Oh, and the color darkens slightly over the next few days following the treatment so that's a lovely surprise 🙂
As for longevity, it easily passes the promised 28 days. Yup, that's like a full month of dark, glossy lashes that don't clump or smudge when you get them wet. Trust us when we say you'll be ordering more.
A few tips for getting the most out of the eyelash dye:

If you want to go darker, rather than leaving it on for longer than the recommended time, simply do another application. That way, you avoid risking irritation and/or stained skin and you get darker lashes.
Be a tad more conservative with the activator than the dye 'cause it's the activator that causes the sting if it gets in your eyes.
If the eye protector pads annoy you, just skip them – instead, apply Vaseline around your eyes. This will prevent the skin from staining.
If you do get some stained skin in the process, wiping it down with a bit of oil followed by a tiny bit of clarifying shampoo (be careful – this also stings) will get care of that.
Ingredients: Water, Cetearyl Alcohol, Sodium Laurethe Sulfate, Pyogallol, Ascorbic Acid, CI 77499, Silver Nitrate, Ammonium Acryloyldimethyltaurate/VP Copolymer, Ammonia
It's a complete mystery why Strictly Professional's Eyelash Tint hasn't made a big splash in the US market yet 'cause this formula is one of the best and has been popular for ages in the UK. Their eyelash tint kit is a little simpler in terms of supplies than Godefroy's above but you still get almost everything you need to tint your lashes at home.
In each kit, you get the tint color, tint developer, an applicator brush, and a dish. The applicator brush may look like a dinky little paintbrush thing – but it's actually pretty perfect to use since the texture for this tint is really creamy and the paintbrush allows you to spread it on your lashes quickly and thoroughly.
Thanks to this, this eyelash tint is super time efficient and also makes it really easy to do just root or just tip touchups in a record amount of time whenever you need it.
But where this eyelash tint kit really stands out is its color. If Godefroy's colors were just a tad too light for you or you simply love deep, dark, rich colors for your lashes – this is the perfect tint for you. Expect deep, rich tones that are wonderfully dark – without being that scary, cartoon villain sort of dark.
The color also sticks around beautifully, is water-resistant, and lasts for up to 6 weeks. In fact, when it comes to lasting quality, this is top-notch, even for those with lashes that don't hold tint too well.
This eyelash tint is also suitable for sensitive eyes but still take caution to keep it out of your eyes 'cause yes, it will still sting if it gets in!
A few tips for getting the most out of this eyelash tint kit:

We love the applicator brush that comes with this, but not everyone does. Have some disposable mascara wands handy in case this brush doesn't work for you.
This eyelash tint kit doesn't come with eye protector pads. You can either use Vaseline to protect the skin around your eyes from staining or whip up some DIY eye protector pads by cutting a pantyliner into curved shapes to fit around your eye.
If you do get a stain, this color comes off pretty easily from the skin – just wipe it off right away with a makeup wipe or a cotton pad soaked with makeup remover.
Ingredients: Aqua, Cetearyl Alcohol, P-phenylenediamine, Sodium Cetearyl Sulfate, Sodium Laureth Sulfate, Resorcinol, M-aminophenol, Diamonophenoxyethanol, CI77449, Hydrogen Peroxide, Disodium Phosphate, Phosphoric Acid, Disodium Edta, Styrenevp Coplymer, Sodium Laureth Sulfate, Sorbic Acid
Yet another super simple eyelash tint kit that's great for at home applications, the 1000 Hour Eyelash & Brow Dye Kit is just about the most popular eyelash tint kit on Amazon and it's no wonder why – this stuff is super convenient.
Every kit comes with: color cream, the color developer drops, and an applicator stick.
And this is where we find the only real downside of this tint kit – the little stir stick is pretty insufficient. It's not the best to actually apply the tint to your lashes – you'll want to get some disposable mascara wands for that – and it also doesn't do a great job mixing the tint so you might not end up with a perfectly creamy mixture to apply to your lashes.
That being said, the dye is nice and thick, which makes the application go smoother and reduces the risk of it getting in your eyes.
One thing you should know: The color errs more on the lighter side so is better for those who're looking for a natural – rather than dramatic – look.
The brown-black color is more of a dark blonde so only go for that if you have pale hair and prefer a lighter shade. The black goes on truly natural, making your lashes look like you're wearing mascara but not so black to be shocking. But if you like dark, deep colors – go for the blue-black.
Oh, and in case you're wondering if the product lives up to its 1000 hour claims…well, it's a big claim. After all, 1000 hours is almost 42 days! So no, 1000 hours is a bit overhyped (although an easy-to-remember number), but it does last a while. Expect to reapply every 3 to 4 weeks.
A few tips for getting the most out of this eyelash tint kit:

This eyelash tint can sting a bit even when it doesn't get into your eyes so absolutely make sure you do a test patch before you go ahead and apply it near your eyes.
Have eye drops handy as your eyes can sting when you wash it off.
The mixing is a bit of a pain with this product – it's not easy to get a perfect consistency. What helps is those little dental picks that look like mini mascara wands. These have fine enough "teeth" to evenly coat the tint onto your lashes – get some!
Ingredients: Aqua, Cetearyl Alcohol, p-Phenylenediamine, Sodium Cetearyl Sulfate, Sodium Laureth Sulfate, m- Aminophenol, m-Phenylenediamine, Resorcinol, CI 7749, 3% Hydrogen Peroxide
One of the best, absolute best selling products you can get hands-on is this. Who would not want to get longer, fuller, dark lashes at such an affordable price?
So you can toss away the mascara and get this dual tint to enjoy 6 weeks of bliss. With a simple 1:1 mixing ratio, it is pretty simple to use.
There are no hard and fast rules for this product. You need to add the tint and cream developer and voila! It requires minimal development time, a few minutes to say.
Don't forget to do a patch test beforehand for any allergies. Also, remove any makeup, residue before starting the procedure.
Here is another amazing eyelash tinting kit that any professional would recommend. It claims to have guaranteed, stunning results.
The whole kit comes with pretty much everything you need for tinting. It has a cream hair dye in natural brown color, a mixing brush. Then liquid oxidant and even a glass dish for easy mixing of the products.
This single tint kit serves for both eyelashes and eyebrows that is a brownie point. It has all-natural ingredients and a wide range of shades to choose from.
You can either buy a certain color or try to mix and match for the desired results. A dark brown shade would be optimal for a natural effect. A mix of black and blue would bring definitions, and so on.
This one is another affordable eyelash and eyebrow product. It would color the lashes that last around for weeks before fading. Hence you can bid farewell to those mascaras and enjoy a makeup look 24/7.
The kit includes all the required items to carry out the procedure. From color gel to liquid, cotton buds, eye pads, and color comb. Also, the leaflet has detailed instructions on how to so you can even go for a DIY.
Use the cotton buds to apply the liquid on the eyelashes and rest it for a minute. With the help of the comb apply gel color and remove any excess. All you need to do is follow up on these steps but do a patch test beforehand.
Imagine being able to get voluminous, fuller eyelashes with perfect curls. And that too without any mascara or eyelash curler. Sounds appealing right? Well, this next product will surely fulfill your dream.
This tint and curl kit can do wonders and comes with a clinically tested formula. Hence the results are not only guaranteed but long-lasting. A single application can last at least for 4 weeks before starting to fade. 
Unlike various either lash tints, it doesn't have any hydrogen peroxide. Also, the ingredients are completely natural and free of synthetic dyes.
Last on the list we have another hot selling eyelash tinting kit in the market. The best part about this brand is that it's owned by women, so you can rely on them. The manufacturers already know the struggle and came forth with a high-grade product.
It is a lash tint that can give you the dream eyelashes. Now, you never have to worry about thin, pale lashes. With the DIY kit, you can do it all within a few minutes.
Not only it saves you from the hassle of buying mascaras. But also, you save yourself time and money. Even the application is pretty simple thanks to the tools in the kit.
Other Popular Eyelash Tints:
As you can see, we're only recommended the top 3 eyelash tint kits at the moment.
In case you're wondering why some others – like the popular Refectocil or Roux eyelash tints didn't make it on the list.
Here's why…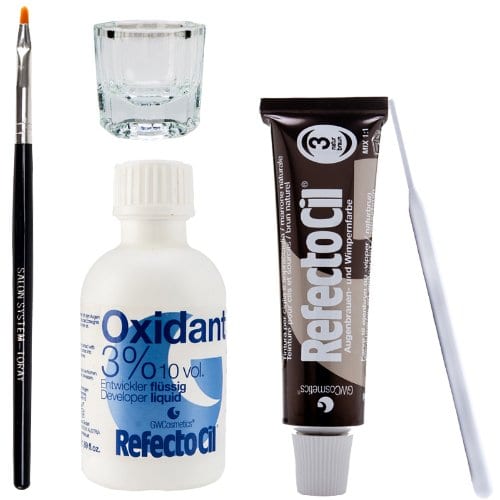 Refectocil Color Kit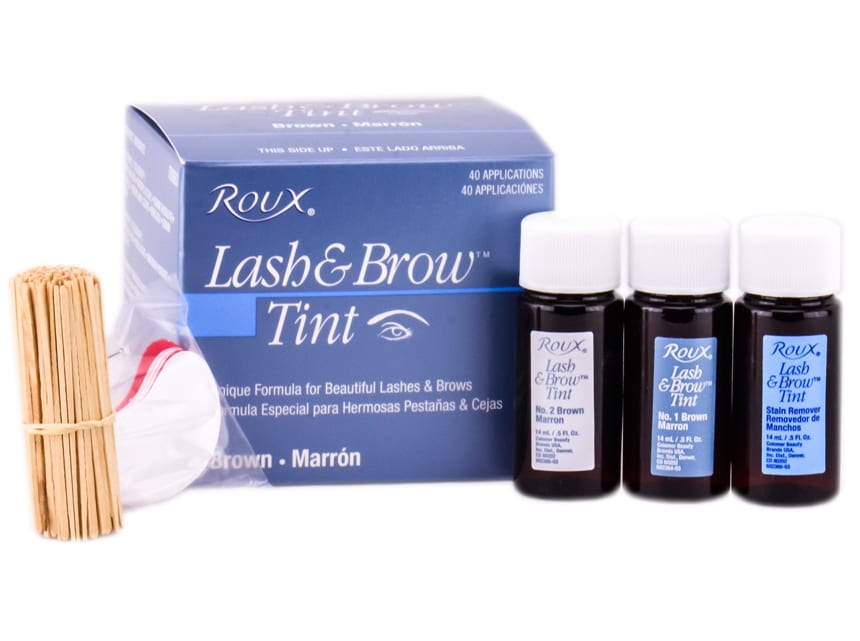 Roux Lash & Brow Tint
Refectocil is a pretty good choice – they have a solid range of color, they're fairly affordable and the dye is long lasting. But we wouldn't recommend it for eyelashes.
It's harsher than the eyelash tints above and even for those who don't have particularly sensitive skin, it can hurt and sting a lot more than an eyelash tint needs to.
When it gets to the point where you're positively dreading your monthly eyelash tint application, you know it's time to switch to a better, more gentle tint. This is why we recommend keeping Refectocil for your eyebrows and opting for one of the above for your lashes.
As for Roux, it is a bit gentler  but the application is inconvenient. Instead of allowing you to mix the tint and apply it to your lashes, you put on one solution first and wait for it to dry, and then apply the second solution. Since Roux's tint is already thin, this process increases the risk of the solution dripping into or smudging around your eyes – no bueno.
And to add to the difficult application process, Roux eyelash tint doesn't last. The color, which is light, to begin with, stays on for around a week – 10 days max – and then it's the whole shenanigan all over again. Ain't nobody got time for that, especially when the price tag is higher than pretty much every other eyelash tint kit. 
So stick with the top 3 eyelash tint kits above – they are the best, at least when it comes to eyelashes.
Eyelash Tinting Benefits and Safety:
You might feel all thrilling and exciting as it saves you from a whole lot of hassle. You get to enjoy long-lasting, fuller eyelashes but before that what are the benefits? What are the plus points of eyelash tinting? Is the treatment safe?
If you also have all such questions in mind then don't worry. We have jotted down some of the key benefits of eyelash tinting. Also, the highlighted safety aspects to ward off any concerns you have.
Eyelash Tinting Benefits:
One thing that you must know and keep in mind is, tints are not permanent. When the growth cycle of your eyelashes ends, they fall out. So you are then left with those lighter eyelashes as the dark ones fade out.
This treatment would last between 4 to 6 weeks before fading out. But you do get enough time to enjoy some real benefits after the treatment. Here are a few of these brownie points you can look forward to.
1- Tinted Eyelashes Means No Mascara:
Mascara is something that brings a sudden fuller look and instant lift up to the eyelashes. But the regular use can be a real pain as it requires some real effort.
From wearing out soon to smudging, we have all been there. A single mistake and you get raccoon eyes. But thanks to eyelash tinting, you can now enjoy a smudge-free look. 
2- Eyelash Tinting is a Gentle Product:
Eyelashes are such a delicate part of our face that they need extra care. Many mascaras and other eyelash products can cause serious damage over time.
If you are someone with cosmetic allergies or simply sensitive the eyelash tinting is for you. The dye used in tints is derived from vegetable fats that reduce irritation around the eyes. Hence your eyelashes are free from any sort of damage.
3- Eyelash Tinting Suits Those with Pale Complexions:
It is common to witness women with pale having pale, delicate, thinner eyelashes. But with eyelash tinting is a perfect solution for such problems. It won't counteract the softer facial features and would rather suit them.
With this simple treatment, you can add not only a definition to the face. Also, it results in an improved frame and structure of a person's features.
4- Eyelash Tinting is Suitable for those with an Active Lifestyle:
Those with hectic, busy routines and lifestyles find it tedious to go throw a beauty regime. It can take a lot more time and in some cases, one simply lets it be.
This is where eyelash tints play a vital role and save you a whole lot of time. For instance, an athlete can't wear much makeup but eyelash tints are a great deal.
These are long-lasting, and waterproof so even in sweat and heat, you won't need touch-ups. In short, you get to enjoy a 24-hours makeup look that cuts you some slack from hectic routines.
5- Eyelash Tinting Products Are Affordable:
The best of them all is the sum of money you get to save with eyelash tinting. Try to calculate the total money spent on mascara and then compare it with eyelash tints. The results will surely blow your mind making eyelash tints an affordable choice.
Is Eyelash Tinting Safe?
A lot of you might have doubts about getting eyelash tinting, or is it a safe treatment. It is completely normal to have concerns because eyelashes are sensitive and so are eyes.
So we have jotted down a few safety concerns and answered them for you.
Carry Out a Patch Test:
The best approach is to try out a patch test to check for any allergies. Forearm or behind the ear are the best options for this test. In case the dye ends up getting in your eyes, wash it out with cold water immediately. If pain, redness, or irritation continues then see your doctor right away.
Research a Certified Esthetician:
For the sake of safety concerns, you can't get the treatment done from spas and salons. This is in fact a major issue these days and women are doing it.
The recommended thing to do is first visit a certified, trained esthetician. Check out if the esthetician has enough experience and training.
Remove Contact Lenses:
While going for the procedure, don't wear any contact lenses. If you already are, then remove the lenses beforehand.
Those with sensitive eyes can use lubricating eye drops once the procedure is over. This would keep the eyes safe and dye away from any contact.
How to Carry Out Eyelash Tinting at Home?
If you are all set to get rid of mascara and money spent on buying tons of it. You can get the eyelash tinting done even at your home without a hassle. Being an effective solution that cuts you some slack, every woman wants to get it done.
For at least 4-6 weeks, you would be able to have fuller eyelashes. So what is the deal with the procedure? Well, we are here to help you out, follow these steps to get started.
But before getting on the steps part, there are a few tools you will need.

Mascara wand
Cotton pads
Petroleum jelly
Tinting dye
After getting these essential tools, simply follow up on these steps. In no time you will be all done and that's pretty much it.
Clean your Eyelashes – The first step is by far the most important one. Clean up your eyelashes. Remove any mascara or residue and wipe them dry.
Apply Petroleum Jelly – To protect your eyes from the dye, apply some petroleum jelly. Cover the area around the eyes and put a paper towel beneath each eye.
Mix the Tinting Dye – Now, follow up the instructions/directions mentioned on the box. Use a small container and mix the tint in it.
Dip the Mascara Wand – Once you have everything set, take a mascara wand for application. Dip it into the mixture, and gently roll it over the lashes.
Apply the Tint – Cover up each strand with even coats of the dye. The application is pretty much like applying mascara. Go for the lower lashes first and then move on to the upper lashes.
Wait – Now, that you have applied the tint, let it work its magic. Wait for at least 10 minutes before the next step.
Wipe Away – With the help of a damp cotton pad, wipe off the tint/residue but be gentle. Voila! 
Frequently Asked Questions:
Eyelash tinting is not only time-saving but actually a convenient option. Pretty much like the 1-time investments we make that turn out to be beneficial.
Before you decide to finally take a step and get the procedure done. Here are a few most common questions that you must read beforehand.
How Do I Prepare for Eyelash Tinting?
First, you need to visit a qualified esthetician. Then you need to be make-up free even if the foundation has to go off.
Contact lenses are the next thing that you should not wear while tinting. And the most important of them all is doing a patch test. You never know if you are allergic/sensitive to any ingredient.
How Long Does Eyelash Tinting Last?
The initial application will result in 4-6 weeks of lasting tinted eyelashes. But the growth of your eyelashes also impacts the duration.
As the tint is permanent so it won't actually fade with time. The fact is, with the growth of eyelashes, the tinted ones would fall out. In the end, they will be all replaced with new eyelashes in a lighter color.
Can You Still Wear Mascara With Eyelash Tinting?
Mascara on tinted eyelashes is completely your call. If you want to add up a bit you can but it is not a necessity. In fact, you won't even see much of a difference. There might be a slight lift of your lashes but that is pretty much it.
Do I Need An Eyelash Tint?
If you have anything from light hair to fair hair, eyelash tint is your thing. Even if you have darker lashes, tint can make them noticeable.
But in such a case, a lash lift is a better option compared to tint. All you need for eyelash tinting is a patch test at least 48 hours prior.
Are Eyelash Tints Bad For Your Lashes?
Eyelash tints pose no harm to your lashes so you can relax a bit. But the regular use of tint can dry out the lashes. So, it is best to use some lash serum to condition the lashes. It also helps to maintain and stimulate the growth of the eyelashes.
Conclusion
We hope this article would turn out to be helpful. Though there are several DIY eyelash tinting kits available in the market. But we would still suggest visiting an esthetician first. Then a patch test is also an important step before this procedure. For further details or queries, feel free to reach out.