Dyeing eyelashes – aka, eyelash tinting – has become a monthly must-do for many fair-haired beauties around the world who want the freedom to be able to go mascara-less while still having a fringe of dark, defined lashes.
And it's no surprise why. Eyelash tinting is a quick process that instantly transforms barely-there, translucent lashes into lush, dark, glossy eyelashes. No smudging, clumping or other silliness involved.
It's also really straightforward and easy to work into your beauty routine.
But if you're first dipping your toe into the waters of eyelash tint, it can all seem rather intimidating. Plus, you probably have a dozen questions swirling in your head about dyeing your lashes. So to clear it all up and get you started on the right foot, here's everything – literally, everything – you need to know about eyelash tinting!
Do You Really Need Eyelash Dye?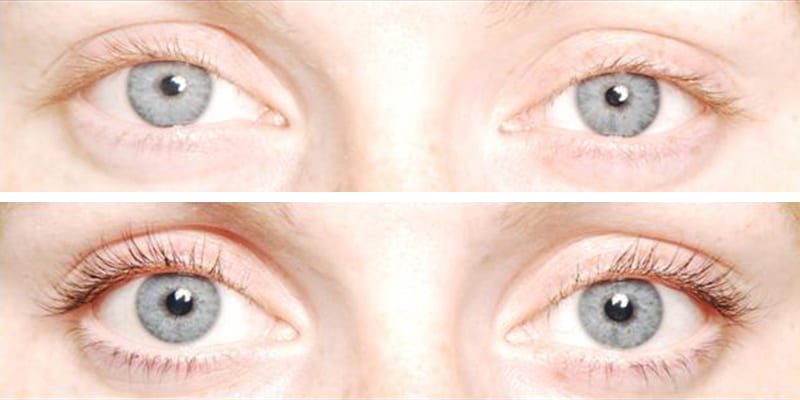 Before we get into the nitty gritty of how eyelash tinting works – let's go over a key point: do you really need it?
We only ask because there seems to be a common misunderstanding that eyelash dye is sort of like a permanent mascara that somehow makes regular lashes thicker, longer and fuller.
It's not. The only thing that eyelash dye does is make lashes darker. For pale haired people, this makes it look like their lashes suddenly got thicker, longer and fuller – but that's only because their lashes were like that to begin with and the darkness simply provided the definition needed to make it noticeable.
So if you have super light eyelashes – eyelash tinting is a godsend…and a little addicting, if we're honest. After all, once you experience the definition that a dark fringe of lashes can give you all without the inconvenience of daily mascara, you get hooked.
Even for those with slightly darker – think light to dark brown lashes – dyed eyelashes can also be fantastic, giving your eyes a subtle lash boost while remaining mascara-free.
But if you've got eyelashes that are already dark and you're looking for more of a punch in the length and fullness department, eyelash dye won't do much at all for you.
So dark-lashed beauties: you'll want to skip this article and check out the best eyelash growth products.
As for all of you with naturally pale eyelashes – this guide's for you. Read on!
What is Eyelash Tinting?
Whether you call it eyelash dyeing or eyelash tinting – it refers to the same thing: using a hair dye that's specifically for use on the eyelashes in order to visibly darken your lashes.
It provides the huge benefit of dark lashes that don't smudge, clump or rub off. Thanks to the definition, your lashes automatically look longer, thicker and fuller.
And of course, you don't have to do it daily, as with mascara. In fact, eyelash tinting lasts for a good while – several weeks – so daily maintenance becomes a thing of the past.
How Long Does Eyelash Tint Last?
Eyelash dye lasts a helluva lot longer than plain old mascara – but it's not forever. It typically lasts for around 2 to 5 weeks.
There's quite a lot of variance since how long an eyelash tint lasts depends on…
The aftercare

: what you do to make the color stay longer, which you have control over

The natural cycle of your eyelashes

: the natural process by which your eyelashes fall out and are replaced by new, un-dyed ones, which you typically don't have much control over.
Since you have the most control over the aftercare, that's where you'll want to concentrate your efforts – see below for tips on making eyelash tint last as long as possible!
How Much Does Eyelash Tint Cost?
If you get eyelash tinting done at a salon, the price ranges from around $10 to $40 depending on the salon and not including tips.
Since the typical eyelash tint lasts around a month, it's safe to say you'll probably only need to factor in the cost of treatment around once per month.
That being said, $10 to $40 per month does add up – quick. If you have a bit of time and don't want to add to your beauty costs, you can also do your own eyelash tinting in the comfort of your home, in which case the prices get a whole lot cheaper.
This way, you get all the benefits of salon eyelash dye job at a fraction of the price.
How Does Eyelash Tinting Work?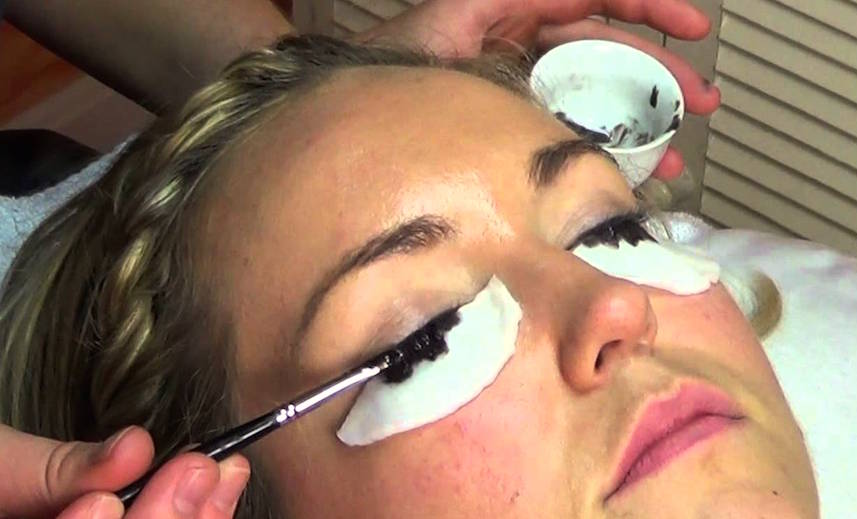 If you do it at a salon, the typical lash dye procedure goes a little something like this: you choose the best eyelash tint salon in your area.
Once you go in, you get to select a color, usually brown, black or the more dramatic blue-black, which is a super dark black.
The whole process only takes around 20 to 30 minutes, during which time you can rest and relax since your eyes will be closed the entire time.
The dye process begins with prep, during which time Vaseline is applied around the eyes so you don't end up with tinted eyelids and protective pads are placed under the bottom lashes so the color doesn't seep onto your under-eye skin.
Then the esthetician applies the eyelash tint with a fine brush and you both wait for at least 10 minutes for the color to soak in.
Afterwards, the dye is removed with a damp cotton pad and voila! You've got dyed eyelashes!
Tip: If you're going to get your lashes dyed at a salon, book in advance of the summer rush. The summertime is the most popular time to get your eyelashes tinted and the best salons can book up quick!
Can You Dye Your Eyelashes by Yourself?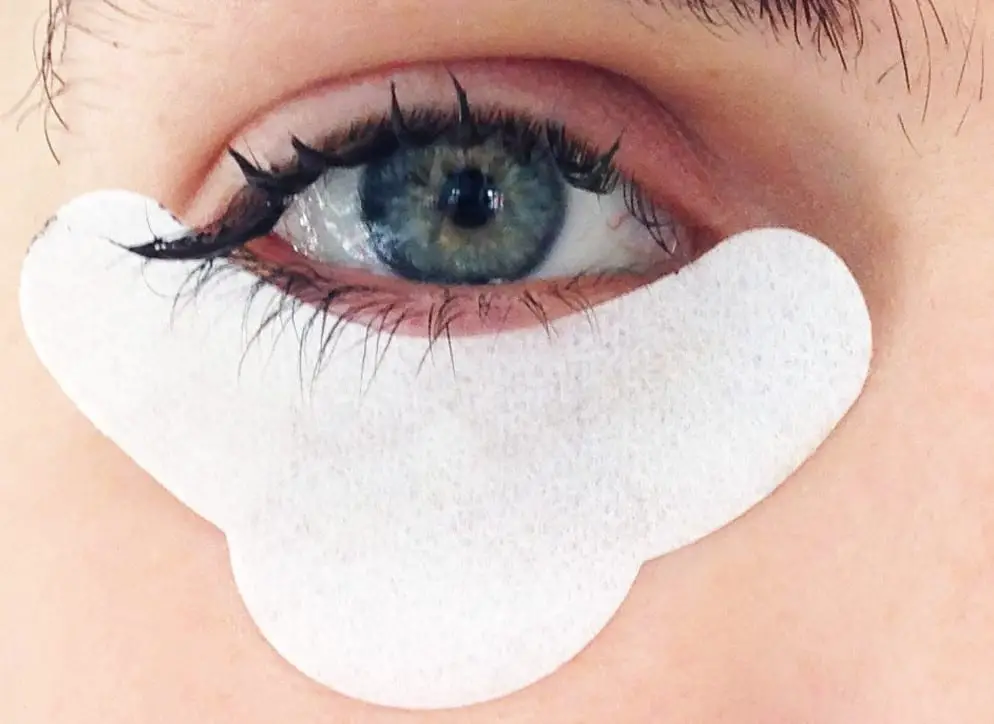 If you've got barely-there, "clear" lashes – eyelash tinting becomes a must-do beauty routine. The downside, of course, is the price tag. Paying $10 to $40 per treatment adds up after awhile.
The good news is that if you've got a bit of time, you can do the whole lash tinting procedure right at home. There are several great eyelash tint kits that allow you to DIY the treatment and even come with pretty much everything you'll need to get the job done.
The whole process may take a bit longer than at a salon since you'll have to do one eye at a time, but the home treatment option makes up for that with the savings – with an at home eyelash tint kit, you'll be paying around $1 per treatment or less.
But the best part is that eyelash tinting can actually be easier when you do it yourself. It seems counterintuitive but when you are tinting your own lashes, you can easily control factors like how close the applicator gets to your eye whereas at the salon, there's a feedback loop that's not always timely enough to prevent unnecessary stinging.
And the process is not difficult at all. It's a similar procedure that's slightly modified to make it easier to DIY – here's how to dye eyelashes at home!
What's the Best Eyelash tint kit?
The main thing you need in order to dye your eyelashes at home is an eyelash tint kit. It's smart to go for a ready-made eyelash tint kit 'cause it'll come with pretty much everything you need to dye your lashes yourself.
But which one do you choose? If you do even the slightest poking around, you'll find that there are a whole lot of these out there which can be pretty confusing.
To make it easier, you can check out our best eyelash dye reviews and find out exactly which ones perform the best (and worst) in terms of color, longevity, ease of application and risk of irritation.
If you decide to scope out the variety out there, here are a few things to keep in mind…
Longevity.

Eyelash tinting is straightforward and pretty easy but it's still not something you want to do every week! Keep in mind that certain brands are more long lasting than others if you're looking for something that will require just a monthly treatment. For example, Roux Eyelash Tint lasts around a week – maximum 10 days – while Godefroy's 28 Day Mascara sticks around for a good month.
What Color is Best for Eyelash Tint?
The most popular color for eyelash tint is actually black, but that's most likely due to the fact that there are more brunettes than blondes or redheads.
When it comes to choosing the best color for eyelash tint, it totally depends on your coloring and your preferences.
The first place to look is your hair color, since you'll want lashes that match your hair. For brunettes, black or black blue eyelash tint works well. For redheads, black brown or chestnut are good choices. Blondes can go even lighter and aim for a dark blonde or dark brown.
Keep in mind, though, that your eyelash color doesn't have to dictated by your hair color. Some people prefer dramatically dark lashes, no matter how blonde their hair is. And others want to go as natural as possible.
An easy way to see which color you'll be most comfortable with is to check your mascara – if you love it enough to wear everyday as a mascara color, you'll probably love it just as much when it becomes your natural eyelash color.
Lastly, you'll want to take color into consideration when choosing the perfect eyelash tint kit for you since color can vary depending on the eyelash dye.
If you're looking for deep, dark colors, Strictly Professional's Eyelash Tint is the best. If you prefer lighter, more natural colors, 1000 Hours Eyelash & Brow Kit is ideal.
How to Make Eyelash Tint Last Longer?
You just went through the rigamarole of tinting your eyelashes and you want to make sure it lasts a good while before you have to do it again. Here are a few tips to make the lash tint last as long as possible!
Go darker.

When it comes to longevity, going a shade (or two) darker than the eyelash tint color you want is a smart way to make the color fade more slowly.

Don't wash your lashes.

It sounds gross but as long as you're not wearing makeup, there's no reason to use make-up removers or oil-based cleansers on your lashes. Washing your eye area with just water or a gentle soap does just fine and will help your lash tint last longer.

No picking.

If any lashes are unnecessarily plucked – new, un-dyed ones will replace them, making the overall effect less tinted. So be extra careful when removing falsies or rubbing your eyes.

Use different applicators.

We find that a mascara wands applicator works well for the middle to the tips of lashes while a thinner, more precision-point applicator works better to apply dye to the lash roots. Using applicators that are best suited for each purpose reduces the risk of getting dye in your eyes.

Prevent stains on skin.

If you use self-tanner, don't apply it for at least a week before you tint your lashes as it can react badly with the dye.