Many green beauty lovers with translucent lashes have wondered the same thing: Can you dye your eyelashes without dye?
The appeal is undeniable: you get the dark, defined tinted lashes that you crave…without having to mess with eyelash dye near your eye.
Because as great as eyelash tint is, it can also be messy, potentially irritating to your eyes and come with either a big price tag or a huge learning curve. Which means, it'd be great if there was an option to get dark lashes without a dye kit.
So if it possible? Let's find out…
Can You Dye Your Eyelashes with Coffee?
Most of us are pretty dependent on this caffeinated stuff to keep us running but can we also use it as an all-natural eyelash tint?
It sounds promising at first: coffee is dark and it has been touted to be a way to naturally darken hair.
But alas, when it comes to the lashes, it just doesn't make a big enough difference to work.
You can brew up the strongest, most concentrated cup of coffee and then apply it to your lashes all day, but the best thing that's going to happen is your face will smell like a delicious cafe.
Sure, your lashes may appear a bit darker but frankly, it's just not enough to make a noticeable difference – it's like a very slightly darker sort of eyelash stain.
Plus, even if that smidgen of coffee tint is worth it for you, you'll have to do this brew-and-apply process fairly often which can become bothersome.
Can You Dye Your Eyelashes with Henna?
Tinting your eyelashes with henna sounds like the perfect, all-natural solution for defined lashes. After all, henna not only tints your hair but it also helps strengthen, thicken, and nourish each strand. Win-win, right?
Reality says differently. Tinting your eyelashes can be done, sure, but it's neither easy nor effective.
For starters, henna is grainy and when mixed with water, it becomes mud-like. Applying globs of henna mud to your lashes is harder than it sounds.
On top of that, henna has to stay moist and stay on the hair for at least around 2 hours if you want a deeper color, which is impractical when it comes to your eyelashes.
Overall, if you try it, you'll find that the majority of the henna application will end up on just the tips of your lashes and since you'll have to wash it off fairly quickly, it'll make pretty much no difference to the color of your lashes. Not worth the effort, in our honest opinion.
That being said, henna could be a good option for a natural eyebrow dye – but skip it when it comes to the lashes.
Can you Dye Your Eyelashes with Lash Tint Mascara?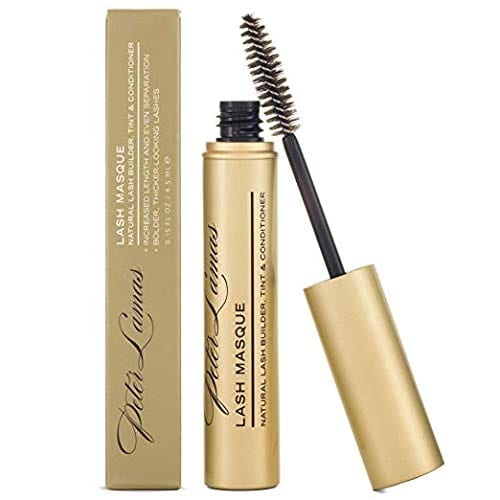 Okay, so coffee and henna are both out of the picture. Are there any other, natural ways to darken your eyelashes?
Enter lash tint mascara.
A lash tint mascara looks exactly like a bottle of regular old mascara – with one crucial difference: it's all-natural.
In essence, a lash tint mascara is a lash conditioner that's stocked with nourishing ingredients like plant extracts, vitamins and oils to boost lash health and protect your lashes from damage.
In contrast to clumpy mascaras that can irritate sensitive eyes, a lash tint mascara does the opposite: it hydrates, conditions and helps your lashes become softer, healthier and fuller while providing a hint of dark color that's perfect for a "no make up" make up look.
The only downside is that there isn't a great variety of lash tint mascaras out there – yet. And of the ones that are on the market, there's only one that is absolutely, positively fantastic: Peter Lamas's Lash Masque Natural Lash Builder.
You'll still have to apply it every day but it comes without the clumpy, smudgey, irritating effects of normal mascara. And yes, the tint does help – especially if you've got very light lashes.
What Is Lash Tinting?
An eyelash tint is a unique dye that you apply to your eyelashes. It gives you full lashes with a dark shade without using mascara. It does a quick job and is also very easy to apply.
Within just 10 mins it will give your eyelashes a dark shade. Applying tint is a painful process. Always use trusted and licensed products to apply on your face or sensitive areas. Also, there is some knowledge required to use professional products.
The eye is the most sensitive part of your face so try to go to the best saloon in your area. Moreover, check the products before a professional applies them to your eyelashes.
It is not necessary to use any dye on your eyelashes. But still, if you want it then make sure your stylist uses a vegetable dye. Because it does not harm you in any way.
If you have an eye infection then try to avoid any dye even do not use vegetable dye. Because it can cause more harm to your eye and make the condition worse and worse.
But if you still want a tint then approve it from your doctor. In some cases, people feel irritated or burned near their eyes due to the tint. This is because professionals use saline before the process.
Saline is used to remove pain in the early times after applying the tint. But you can avoid saline if you have sensitive skin.
Before using any die, it is better to remove your contact lens. Because the lens can trap fumes and get dry. It will surely irritate the eyes and make you uncomfortable.
For tint service, you pay almost $20 to$40 but it depends upon the nature and facilities of the saloon that it provides.
How Long Does Lash Tinting Take?
Your lashes will be shaded black in just 15 minutes. Tint does not take more time than this. For this reason, it is the fastest shading material.
But the tint shade remains for 3 to 6 weeks. It all depends upon how many times you use face cleanser or just wash your face with water. In this polluted environment, everyone wants to get clear skin that's why they use the best cleanser.
But with the cleaning of dirt, the cleanser also washes out your tint shade. So, try to use less cleanser to make sure your tint shade remains for a long time. Because it is much better than other dyes. It does not put weight on the lashes and keeps them soft.
By using tint, you can get rid of mascara. Your eyelashes will remain black and do not wash out when to clean the face with simple water.
How to Dye Your Own Eyelashes: 5 Ways?
Using a tint is the best way to dye your eyelashes for a long time. It is an easy and quick job for a professional to apply a tint shade. But if you try it yourself then you find it a difficult job.
Especially, if you dye lashes for the first time. Because there are many chances of error. Your one mistake will simply lead you to an eye infection.
But by using some parameters you can get rid of these errors.
1. Choosing the Right Dye and Color:
There are many options available in the market for dying purposes. But always invest your money in a trusted and authentic product. It will help you to get good quality eyelashes.
Try to get a suitable shade according to your skin color. Do not go for any random shade that you see. Because it will ruin your complete look.
Here are some parameters that you should keep in mind before buying a shade.
Match tint color with your hair color.
Although it does not matter if your hair has a light shade then go for a light shade tint. It gives a classy look.
If you are a regular user of mascara then you know which shade suits best to your eyelashes.
2. Patch Test Your Choice Before Going for the Eye:
There are many cosmetics that you have and use without any tests. Tint shade is one of those products. But it is necessary to test the strong part of your body.
So that you can make sure it does not create irritation. As eyes are the most sensitive part of the face. It is necessary to keep the eyes safe from any allergic reaction and irritation.
To avoid such issues, it is always advised to consult professionals. You can even ask them about product details that they apply on your skin.
3. Get Prepared:
Make sure that you have all the necessary products with you that you might need during the process.
Here are the items that you need for dying your eyelashes:
To mix colors and activators a small tray is used.
To protect your skin apply eye pads.
To dye lash roots a brush is needed. Any size of makeup brush is acceptable.
To apply the applicator for the dye, a separate brush is used.
Wipes, cotton, and tissues to wipe off extra tint drops.
4. Clean Eyelashes:
If you want to get the best results then wash your eyelashes first gently. You can use a cleanser to remove dirt or makeup. When your eyelashes are clean, it becomes easy to apply tint on it.
The tint will cover all the areas and generate amazing output.
5. Dye Eyelashes:
An additional dye is mixed with the tint depending on its type. You can follow the instructions that are available on the pack. Before applying the tint solution, mix the applicator in the tint.
Always apply tint on one eye at a time. It will help you to see the progress. When one eye is done wash it out and apply tint on the other eye.
If somehow a tint solution goes into your eyes, rinse it immediately.