Looking for a no holds barred Idol Lash review before you pull out your wallet? Here's an in-depth look at this popular lash serum and whether it's worth your time or dollars.
What Idol Lash Claims
Longer, thicker, darker, and fuller lashes in just two to four weeks. If you think that sounds too good to be true, you might be right. Idol Lash promises the quadfecta of lash results – everything you could possibly want your lashes to be with the help of a serum. But sometimes, with big promises come big letdowns.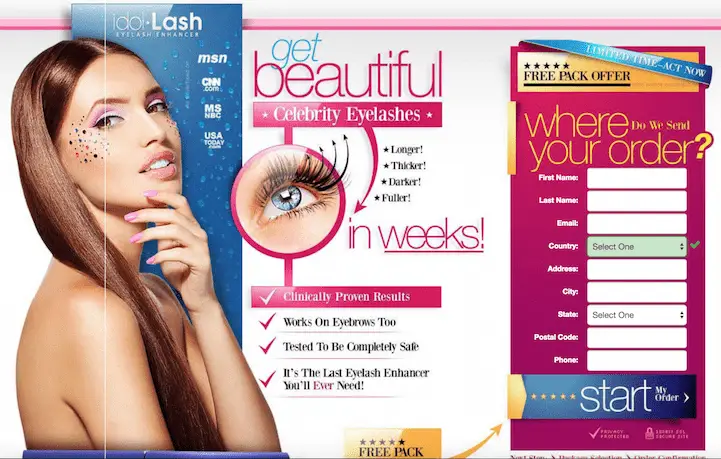 One look at the (somewhat busy) website reveals a lot of buzzwords that we do appreciate in a legit lash product. Idol Lash says it is verified and recommended by doctors, able to be used with eyelash extensions, and made in the USA. We find it interesting that Idol Lash also markets itself as the "least irritating" eyelash product, but we'll see how these claims turn out.
Idol Lash Ingredients
Water, Butylene Glycol, Glycerin, Hydroxyethylcellulose, Panthenol, Allantoin, Alfalfa Extract, Arnica Extract, Propylene Glycol, Honey Extract, Chamomile Extract, Kelp Extract, Sodium Hyaluronate, Acetamide MEA, Hydrolyzed Keratin, Propylene Glycol, Sorbitol, Sodium Cocoyl Collagen Amino Acid, Cocoyl Sarcosine, Wheat Germ Acid, Triticum Vulgare (Wheat) Germ Oil, Linoleic Acid, Linolenic Acid, Sulfur, Polysorbate 80, Oleth-10 Simmondsia Chinensis (Jojoba) Seed Oil, Tocopheryl Acetate, Hydrolyzed Glycosaminoglycans, Nettle Extract, Myristoyl Pentapeptide-17, Phenoxyethanol, Ethylhexylglycerin, Bitter Orange Flower Oil, Polysorbate 20 Tetrasodium EDTA
Idol Lash Review
Unfortunately, there is a lot to be skeptical about when it comes to this product. We're even skeptical of Idol Lash's claim to be clinically tested. There are no citations of the study and in Idol Lash's explanation of the clinical trial, only 15 participants were used. Other lash products use similarly small test groups, and that isn't the most effective way to see how a serum could impact lashes.
Idol Lash is made partly with natural ingredients, and some can help stimulate or assist lash growth. Kelp extract can improve hair health with the vitamins and nutrients it contains. Idol Lash lists these vitamins as iodine, calcium, vitamin A, B1, B2, C, D, and E. Another natural ingredient, honey extract, may be linked to giving hair follicles a boost in strength and moisture retention, though that has yet to be tested.

While the kelp and honey extract may be helping your lashes, other natural ingredients such as nettle extract, alfalfa extract, and chamomile extract will likely not have a great impact despite Idol Lash's claims.
Even though Idol Lash says nettle extract is essentially the backbone of the formula, helping to give lashes strength and length, the bottom of their website holds a disclaimer about the entire product.
Not to mention, none of what Idol Lash claims to do has been tested or approved by the FDA. Without the FDA evaluation, we are a bit skeptical about using this product. That aspect is something you should take into serious consideration if you have sensitive skin or eyes – you don't want to be using an unapproved product if you're likely to have a reaction.
Because of the lack of FDA evaluation, we're also concerned about Idol Lash's claim that the formula is the least irritating on the eyelash serum market. Of course, if you read into that statement, you realize Idol Lash isn't claiming to be a totally non-irritating product. That being said, the product is known to sometimes cause a burning sensation on the skin and in the eyes. After looking into the ingredients list, one that stands out as a potential irritant is sulfur, though natural ingredients may cause allergic reactions and irritation in some.
One of the biggest red flags for us about Idol Lash, though, is the arbitration agreement you make when you purchase the product. Simply put, you give up a lot of legal rights you could've had when purchasing this product, including your right to get involved in class action lawsuits. It seems as if Idol Lash is taking a big precaution here that demonstrates a lack of faith in their product. If you have any severely adverse reactions while using this serum, you would be unable to take certain legal actions.
Finally, Idol Lash isn't known for great customer service. Participating in a free trial offer turns out to charge you unexpected fees and send you products you didn't ask for. Trying to contact the company proves difficult as it's hard to find contact information or to hear anything back if you do reach out.
So our overall verdict? We say pass. At best, you're likely to see somewhat healthier lashes but if you're looking for va-va-voom growth and companies that actually follow through with their promises, there are much better eyelash growth serums out there. Do yourself a favor and spring for one of the below lash serums instead – your lashes will thank you.