Stronger, longer, and fuller – the holy trinity of improvements lash serums promise to make. Bea Luz Eyelash Serum adds to the list of lash products making those claims. On top of that, it says you can expect results in two to six weeks with the hypoallergenic and clinically tested formula.
That's a pretty quick time frame, especially for a product that offers the trifecta of results. Does Bea Luz Eyelash Serum crack under the pressure? Let's find out.
Bea Luz Eyelash Serum Ingredients
Aqua, Hair follicle growth factor, Ascorbic Acid, Bio-enzyme "EPM", Hyaluronic acid, Tocopherol, Urea
Bea Luz Eyelash Serum Review
We'll start off by saying it's good Bea Luz Eyelash Serum comes with a money back guarantee (though the site is vague about the details like how to contact the company or how many days you have to make a claim for your refund).
Unfortunately, some lash products just aren't up to the task of providing the results they promise, and that seems to be the case for Bea Luz Eyelash Serum. Even playing the waiting game with this product and using it longer than the two to six weeks won't provide any spectacular or dramatic results.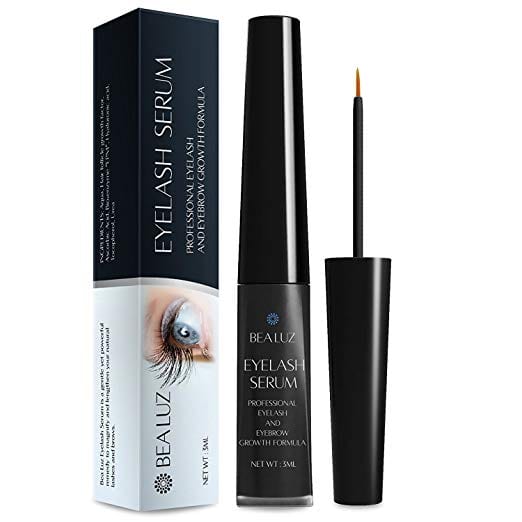 While Bea Luz Eyelash Serum is modestly priced for a fairly generous bottle, you may not even get your money's worth when you order the product. Bea Luz Eyelash Serum has an unfortunate record of arriving incorrectly sealed or even spilled. You definitely should use caution using any lash product that arrives this way. It would be risky and unsanitary to use especially since it goes near something as sensitive as your eyes.
Our biggest concern with Bea Luz Eyelash Serum (other than the poor packaging) is the fake reviews. This serum isn't the only lash product to attempt to boost its ratings with fake reviews, but that doesn't excuse the tactic.
The false feedback makes it clear that Bea Luz Eyelash Serum is trying to hide the fact that the product just doesn't work like it says it will, despite how promising its "hair follicle growth factor" ingredient sounds.
We can't say for sure what Bea Luz Eyelash Serum's "hair follicle growth factor" ingredient is, but we can explore the other ingredients. Ascorbic acid is a form of vitamin C, good for creating collagen which is an important protein in hair structure.
Bio-enzyme "EPM" appears in some other lash serums which all claim it helps lashes to grow. Hyaluronic acid is typically used in skin care and dietary supplements, often to help joint pain so it doesn't seem all too vital in the lash growing process. Tocopherol, or a form of vitamin E, can make hair healthier and promote growth. Unfortunately, these ingredients don't seem to do the job in Bea Luz Eyelash Serum.
While it is currently unavailable, you can normally find Bea Luz Eyelash Serum on Amazon. Based on how the product arrives sealed incorrectly, we suggest saving your money or at least ordering through a different provider if you really, really want to give Bea Luz Eyelash Serum a shot.
Even better, though – just go with one of the best eyelash growth serums below. They're the most effective on the market…
Our Picks: 3 Best Eyelash Growth Serums
| Preview | Product | Shipping | |
| --- | --- | --- | --- |
| | RevitaLash Advanced | Free Shipping | |
| | LashLuxury Daily Eyelash Serum | Free Shipping | |
| | M2 Beaute Eyelash Activating Serum | Free Shipping | |
Also Read: The 10 Best Hairspray For Fine and Thin Hair