On the hunt for an Ardell Brow and Lash Growth Accelerator review that'll help you decide whether to opt for this budget serum or not? Here's the full scoop of everything you need to know about this multi-tasking serum.
If you struggle with putting on liquid eyeliner and hate how eyelash serums have a similar applicator to the dreaded eyeliner brush, you might find Ardell Brow and Lash Growth Accelerator to be a game changer. Since Ardell Brow and Lash Growth Accelerator is listed as a brow product first, it features a spoolie brush applicator (basically a mascara wand).
In terms of application, Ardell Brow and Lash Growth Accelerator is like other serums. Simply apply to your brows – and lashes if you'd like – before bed. Its multi-protein containing formula will work to condition lashes and/or brows in addition to repairing weak lashes. And in time, the promise goes, is that you'll see an improvement to the thickness of your lashes and patchiness of your brows.
But does this budget eyelash serum live up to those promises? Let's find out.
Ardell Brow and Lash Growth Accelerator Ingredients
Water, paeonia suffruticosa extract, panthenol, polytetrafluoroethylene, hydrolyzed soy protein, hydrolyzed wheat protein, VP/DMAPA acrylates copolymer, polyquaternium 37, propylene glycol dicaprylate dicaprate, PPG-1 trideceth-6, ricinus communis (castor) seed oil, iodopropynyl butylcarbamate, DMDM hydantoin
What We Like About Ardell Brow and Lash Growth Accelerator
The first thing we should mention about the Ardell Brow and Lash Growth Accelerator is that it's more of an eyelash and eyebrow conditioner than it is an actual growth serum.
What we mean by this is that it won't dramatically grow your brows or lashes so don't be expecting results like you'd get with Latisse or one of the many Latisse alternatives that make your lashes grow like weeds.
But that doesn't mean it's worthless. As an eyelash or eyebrow conditioner that can gently nurse sparse, over-assaulted lashes and brows back to life, this lash serum is pretty darn good.
The spoolie applicator brush that Ardell Brow and Lash Growth Accelerator features is great for those who aren't a fan of the small brush applicator most eyelash serums tend to have.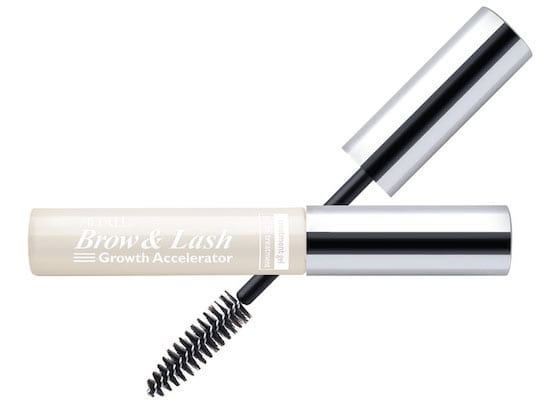 Plus, the price for this product is among the cheapest of eyelash serums. Like under ten dollars cheap. That makes it the perfect starter eyelash conditioner for anyone who'd like to dip their toes into this world of lash serums without emptying their wallet.
What We Don't Like About Ardell Brow and Lash Growth Accelerator
Again, like we mentioned above – if you're looking for an eyelash growth serum that's going to give you va-va-voom lashes – this lash serum is not for you.
Another downside is that the serum is a bit more difficult to apply because of the larger applicator – not for the brows, but for the lashes. We suggest you let the serum dry completely before closing your eyes and going to bed. Try to get as close to the base of your lashes as you can without risking getting the product in your eye.
May irritate eyes, especially if you aren't careful with application.
Ardell Brow and Lash Growth Accelerator Review: Final Thoughts
As long as you don't expect the world and you're careful with applying this product, we believe it's a great option for improving your lashes and brows while on a tight budget. Be sure to wipe excess product off of the spoolie brush before applying it to your lashes so you don't risk getting any in your eyes.
Again, at its current price point for a huge bottle of the stuff, Ardell Brow and Lash Growth Accelerator is an undeniable deal. We recommend giving the product a chance since you won't be risking that much money on the product, and you can always use it on your brows if you aren't happy with the results on your lashes.
And of course, if you decide at any point that you'd rather spend your time and money going after the longest, fullest lashes your body is capable of growing – you can always check out one of the best eyelash serums below…