Ah, the eyelash curler. It can be so many things. For the ones who choose wisely – picking the perfect one to suit their unique eye shape and needs – it results in wide open doe eyes, beautifully framed by longer and thicker looking lashes.
But for the uninitiated, eyelash curlers can lead to misfortune: L-shaped crimps, uneven curls, fragile and broken lashes, pinched eyelid skin, and the worst of the worst – having a heap of eyelashes ripped out by a rogue eyelash curler. Shudder.
Amazon Bestsellers

Bestseller No. 1
Bestseller No. 2
Bestseller No. 3
Sale
Bestseller No. 4
Of course, we only want the best for you, which prompts the question…what is the best eyelash curler?
The thing is – the lash curler may be a simple device but we've all got different eye shapes and personal preferences, which has translated to a whole lot of variety in the lash curler market.
Do a quick search and you'll find that there are literally hundreds of lash curlers to choose from. So how do you decide which ones are the best eyelash curlers?
With this trusty guide, of course. Here's everything you need to know about choosing the best eyelash curlers so you can get your curve on – without the mishaps!
How Curvy is it?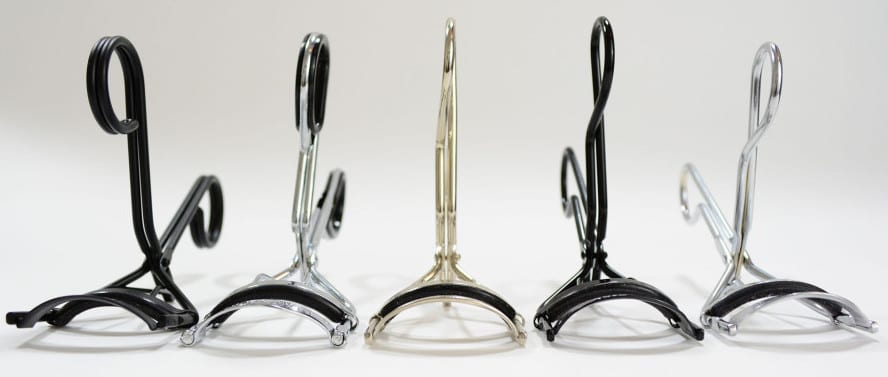 When it comes to lash curlers, the curve matters – a lot. Lash curlers tend to range in curvature so you want to choose one that suits your facial structure.
For example, flatter curves are much better for people with flatter eyelids and smaller eyes since it can fit from end to end of your lash line.
Shiseido's lash curler, for example, has the perfect shape for almond eyes – the arch is not too rounded, featuring a more universal, flattened curve that allows you to position it right against your eyelid so you can curl directly from the root.
For those with rounder, bigger eyes, however, a flatter curve won't wrap well enough around the eye to grab all the lashes, which means a curler with a deeper curve is easier to use for larger, rounder eyes.
Kevin Aucoin's lash curler is ideal for rounder eyes, with a curve reaches around to get the lashes at the corners of your eyes.
That being said, flatter curves are great for getting as close to the lash root as possible – and this applies for pretty much the whole range of eye shapes – so it's a good option for those with rounder eyes as well.
Is it Going to Pinch Me?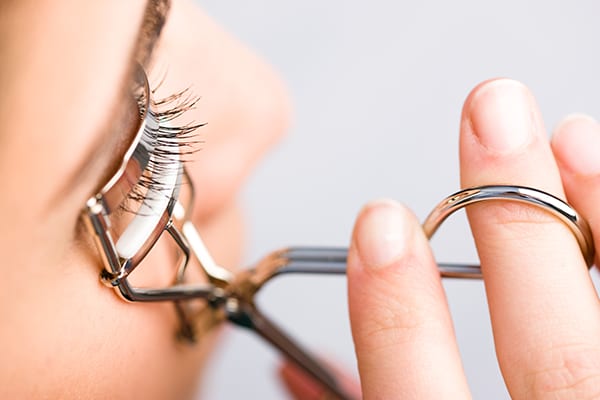 It doesn't matter how tough you are – having your delicate eyelid skin pinched is enough to make anyone cry. It may be just a small pinch but it's an absurdly painful feeling and best avoided.
Here's how:
If you've got wide eyes, make sure you get a lash curler with a wider clamp.
If you've got smaller, flatter eyes, go for a lash curler with a flatter curve. Too much of a curve makes it more likely your eyelid skin will get caught in the corners.
If you're very pinch-avoidant, it can be smart to err on the side of flatter over curvier going too curved also increases the risk of pinching at the corners. 
Other great ways to avoid eyelid pain? Opt for a plastic lash curler over a metal one since these tend to pinch much less.
Or get a metal lash curler that's designed to prevent pinching altogether – Suratt's Relevée curler is designed so that the only part that touches the corners of your eyes is the silicone pad, with the scary "squeezy" part set beyond that so that there's no way it can pinch your skin.
How Deep And Big Are Your Eyes?
If you've got deep set eyes, the typical lash curler isn't going to be able to reach deep enough to curl every last lash.
This is where the pinch-less, precision mini eye curlers come in – like the Shu Uemura S Curl Eyelash Curler (Tip: Preo's Curler actually works better and is the same price).
These mini curlers require a bit more of a learning curve but they have an unhindered design that allows them to reach in and grab every little lash, no matter how deep set your eyes.
They're also ideal for smaller eyes and for eyes with monolids since the smaller size of the curler allows better positioning and reach.
And of course, the lack of sides means they're a lot less likely to pinch you!
What About Short Lashes?
Mini point curlers like the Preo are also great for those whose lashes are especially short, since the flatter clamp makes it easier to position close to your lash line. It'll also make it easier to get all the hard-to-reach inner lashes that a regular lash curler may miss.
If you'd prefer a regular curler, go for one that has a flatter curve as this will make it a lot easier to place close to your lash line and get even the shortest lashes.
Shiseido's lash curler is the best for this, with a flatter, more universal curve that lets you curl right next to your lash line.
Metal vs plastic?
Both metal and plastic lash curlers have their pros and cons. Metal is sturdier, more durable and lets you press more firmly without risk of breaking the curler.
But if you've got sensitive skin and eyes or a metal allergy, plastic lash curlers are obviously much better. They're not as sturdy, of course, so you'll have to replace them more often but it's worth the lack of irritation if you're allergic or sensitive to metals.
Plus, plastic curlers tend to be tiny, compact and portable – perfect for traveling!​
Heated or Not?
Ooooh, this is the stuff of hot debate amongst lash freaks, but we won't bore you with all the details.
Instead, here's a quick roundup of the main perks of a heated eyelash curler over a traditional lash curler:
Perfect for fragile lashes.

If you have fragile lashes or lashes that are falling out, the last thing you want to do is subject them to the tug-and-pull of traditional clamp curlers. Heated curlers, on the other hand, simply lift up your lashes for a gentle curl – without any force.

No pinch, no pull.

This is by far the most wonderful perk of heated lash curlers. Unlike traditional clamps, the majority of heated curlers are wand-like, which means there's nothing pulling or pinching at your eyes (or eyelids, thank god).
Curls and tames. Got lashes that like to stick out in all different directions? A clamp-style curler is just going to accentuate that. A heated curler, on the other hand, helps tame and curl those stubbornly wild lashes.

Great for after mascara.

You go through all the effort to curl your lashes but as soon as you put a layer of mascara, they droop again. You can't curl them with a regular lash curler after mascara because that causes lash breakage but you can do it with a heated lash curler. The heat slightly warms the mascara so you get an extra bend and lift and then it 'sets' when the mascara hardens again.
In essence, a heated lash curler is not a necessity for everyone. But it is an absolutely useful device to have if you have fragile lashes, unruly lashes or love getting that extra lift after mascara.
And guess what? Heated and non-heated lash curlers are definitely not mutually exclusive – in fact, heated and traditional lash curlers work amazingly well together and make the perfect tag team to take your lashes to extreme levels.
Don't Forget Replacements:
Eventually, the pads on your curler are going to wear out and you'll need to replace them so consider in advance how easy – or difficult – it is to find replacements pads. Many of the best eyelash curlers come in an extra pad (or six) but others can be really hard to track down replacements for.
For example, the Shu Uemura lash curler is a great, solid device but they don't sell replacement pads – you'll have to buy a whole new curler once your pad runs out. Shiseido's curler, on the other, offers plenty of replacement pads you can find and purchase easily.