Most of us have one common goal when it comes to makeup and beauty: to make our eyelashes look longer.
It seems like such a simple thing but it wouldn't be an overstatement to say that there is no other feature on your face that you can so easily enhance for such a dramatic effect.
Thankfully, there are more than a few options on the market to maximize the length of your natural lashes or enhance them with the help of falsies or extensions.
Here's the nitty gritty on how to make your eyelashes look longer!
Make The Most Of Your Natural Lashes Everyday
Before resorting to the rigamarole of falsies and lash extensions, you might want to enhance what nature already gave you. We mean, of course, the easiest option – simply boosting the look of your natural lashes. The easiest option, of course, is to simply boost the look of
So how do you do that to the best effect? Let us count the ways…
Curl your eyelashes
The simplest way to give the illusion of longer lashes – and the method that is most convenient to most women – is to use an eyelash curler.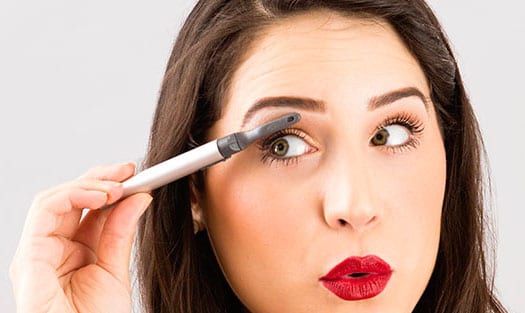 Curling your lashes gives them a little lift and opens up your eyes, making them look wider, and the eyelashes longer. You have a choice of a traditional mechanical eyelash curler, or a heated one.
Mechanical curlers are certainly more common, but a heated one may be more effective – it works in the same way as a hair curler, in that the heat helps curl the lash, and then it "sets" when it cools down. 
Level of effort: It's a minimal amount of effort, as it's just one step you need to add to your routine in the morning. A few quick squeezes, with or without mascara, and you're out the door.
Price: $
Use a lengthening mascara
Mascara is the other super quick, super easy, super affordable thing you can do for your lashes. Mascara is the most common makeup product women use, because it can make such a dramatic difference to one's look.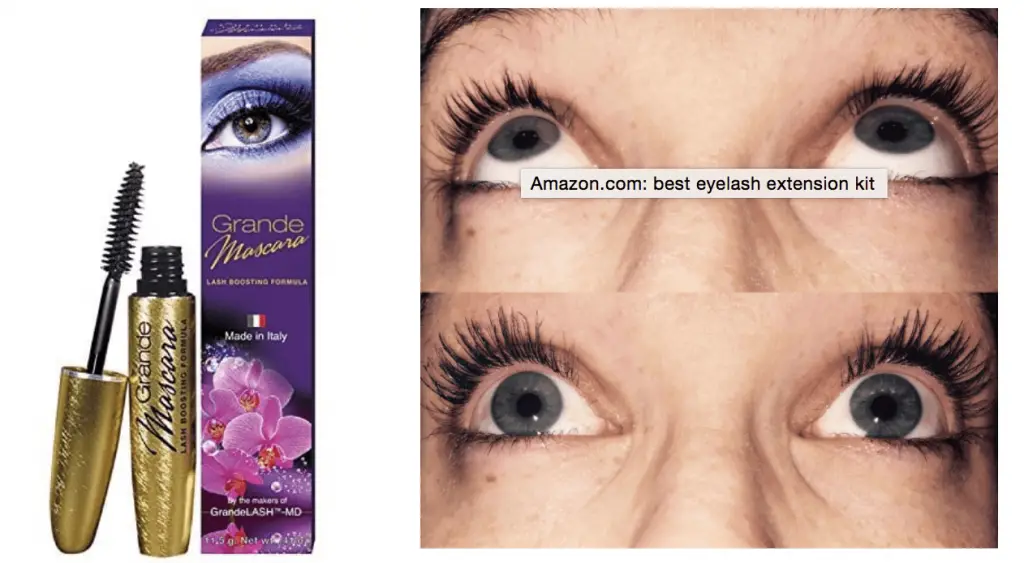 Just a quick swipe opens up your eyes and coats each and every lash so that they're more visible.
If you pick one with lengthening properties, the effect will be even better. Fiber mascaras can also help, as the fibers cling to the lashes, helping with both volume and length.
Another smart option is to choose a lash growth mascara. These contain ingredients that help your natural lashes grow longer and fuller – all while you get the benefit of mascara.
Level of effort: Mascara only takes up a few seconds of your day, but you will enjoy longer lashes for the entire day.
Price: $
Use a mascara primer
Did you know that mascara doesn't necessarily have to be the only step, here? If you're familiar with makeup primers, you know that they go under the products, in order to offer a base and "prime" the area in question.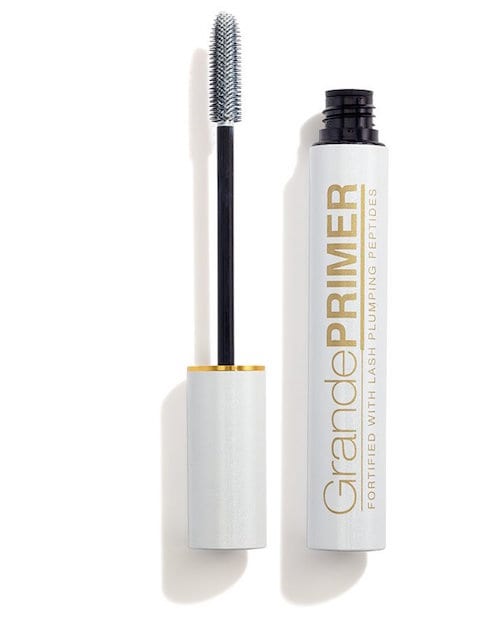 It's the same with the best mascara primers: they prime the lashes and coat them in a white base that helps mascara go on more smoothly and – you guessed it – makes your lashes appear longer.
Level of effort: This is super quick and easy, as it only adds one step, before mascara. One coat is not a lot of effort for the effect it gives.
Price: $
Enhance Your Natural Lashes
The above ways to make your lashes look longer require daily work. And frankly, who has the time?
If you're a busy bee – or just lazy like us – and want to skip the hassle of making your natural lashes look amazing everyday, you might want to look into these more long-lasting options of enhancing your natural lashes.
Get a lash perm (aka lash lift)
If curling your lashes is a hassle for you, or you have straight, stubborn lashes, we have a great, slightly more permanent solution for you that saves time in the long-run: a lash lift, or perm.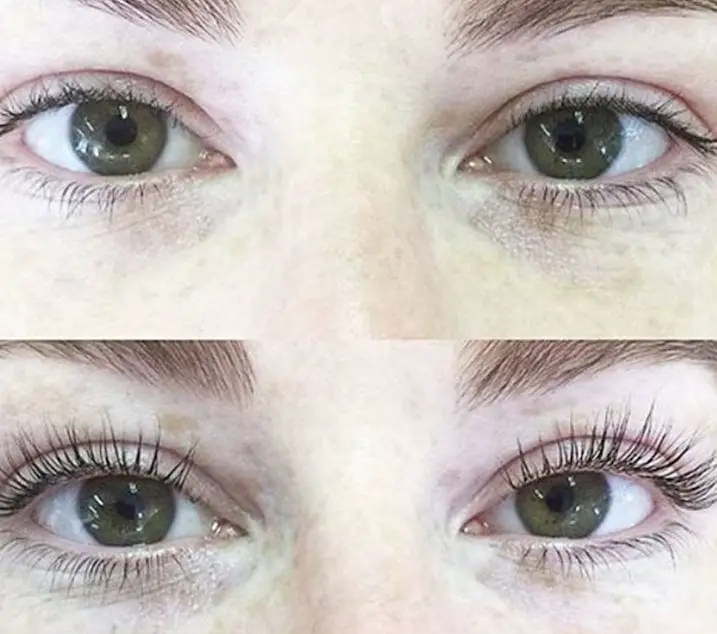 Image via Pop Sugar
Like the name says, this procedure involves a chemical perming solution (yes, like the hair one) that fixes your lashes in a permanently curled position, thus giving them a lift, as well.
You get beautifully curled lashes all day, every day, no effort required. 
Level of effort: A lash lift is done at the salon, so it requires a quick visit, and the effects last up to 3 months, so you have to go back for a refresh. 
Price: $$
Use an eyelash growth serum
If nature didn't see fit to give you excellent lashes, there may be a cheat you can use: a lash growth serum.
There are serums you can buy – like the popular Latisse and a bunch of great Latisse alternatives you can get without a prescription – which you apply every night and result in dramatic growth.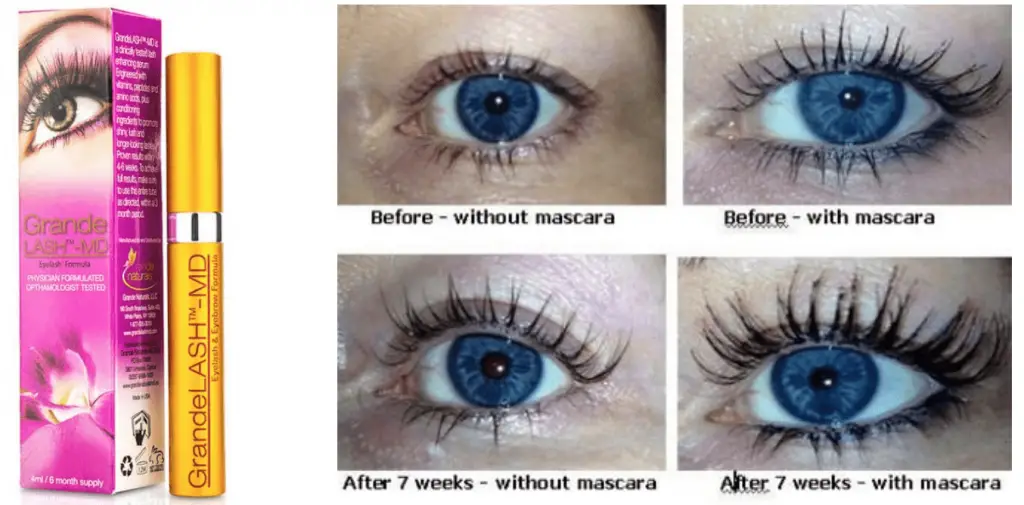 It doesn't happen overnight but nothing great does. You should start seeing growth in a few weeks, not only in length, but also in density. Your eyelashes will be longer, fuller, and more luscious – what more could you want?
Otherwise, you can also make your own serum at home, including ingredients like biotin, argan oil, castor oil, and other oils with nourishing properties. These DIY lash serums won't give you the va-va-voom lashes that the Latisse alternatives will but they certainly help.
Level of effort: It doesn't take much to make this or purchase it, and then you just need to apply it every night and clean your lashes in the morning. 
Price: $-$$
Fake It With Falsies
Okay, you say, lash curls and mascara is all good. But you want lashes that POP! Like, pronto.
Use false eyelashes
Of course, if nothing gets your natural lashes to the level you want them to be, then perhaps it's time to bring in the big guns and get yourself some falsies.
You can use strip lashes, which are the most common type, or you can opt for something a bit more subtle.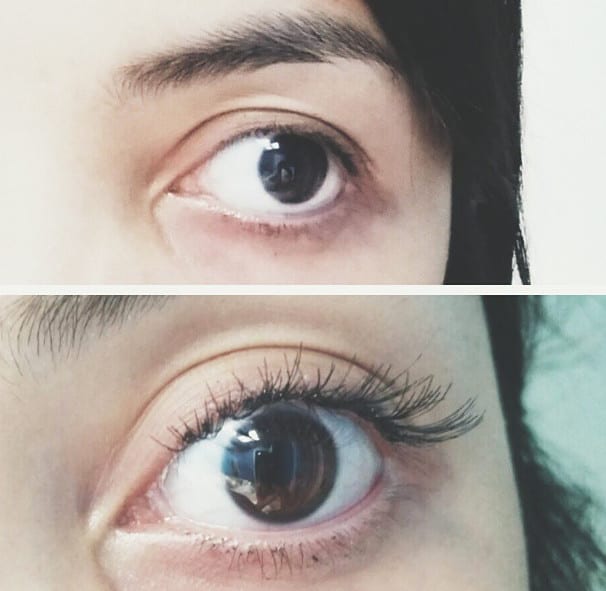 Accent lashes (half lashes) or cluster lashes are more discrete and can even look natural. If you just apply a few of these towards the outer corner of your eye, they will make your eyes appear bigger, your lashes look longer, and they will give a bit of oomph to your entire look.
Level of effort: The application process is a bit more involved with falsies, because there is glue involved, and there's definitely a learning curve to it.
You just need to practice for a bit with placement, application, amount of glue, what looks best on your eyes, etc. and once you get the hang of it, it'll be as quick and easy as applying mascara.
Price: $$
Go for eyelash extensions
The ultimate lash enhancement is to go for an eyelash extension procedure. This is just like wearing falsies, but so much better.
Not only do they last longer than fake eyelashes – up to 4 weeks! – but they also look more natural, and you don't have to apply them yourself.
You get to wake up looking beautiful everyday, but there is a price to pay, both finance-wise and maintenance-wise.
Level of effort: They may be low-effort, but not completely maintenance-free. Yes, there is eyelash extension care involved.
Mainly, you need to be careful while wearing them, which includes avoiding oils, rubbing, pulling, etc. and remembering to brush them to keep them looking pretty.
You also need to go back to get them filled in when they start looking a bit raggedy, which means your new fluttery addiction is an ongoing expense.
Price: $$$
Make Your Lashes Longer…Permanently
If nothing else will do it, there is one more option, albeit a bit of an extreme one: eyelash implants. They are long and beautiful, and you get to keep them forever, because they're permanent.
The doctor implants hair from your head on your lash line, so they will grow, just like regular hair. Especially if you've suffered trauma-related eyelash loss, this can be a good option.
Level of effort: Because this is hair from your own head, it will grow like it, which means it will require trimming and curling, in order to blend in with your natural eyelashes.
Also keep in mind that it's a type of surgery and there are risks, so it's a pretty big deal.
Price: $$$$
As you can see, we have so many ways to make our eyelashes look long and fluttery. There are options for everyone, regardless of budget and no matter how low-maintenance you are. Everyone deserves long, beautiful lashes – and now you know every trick in the book on how to get them!