On the hunt for the best eyelash primer? Join the club. Since the makeup market exploded a few years ago, we've been seeing some new steps and new products being added to regular routines.
One of the products that make the biggest difference is primer. They make primers for everything, now: face, eyelids, lips – even brows! But the most essential one of all, at least in our humble opinion, is the eyelash primer.
So let's go over everything you ever wanted to know about them. What are they? How do they work? Why do you need one? And what are the best primers on the market?
What Is an Eyelash Primer?
At its simplest, an eyelash primer is a product that goes on your lashes before mascara in order to prime (prepare) your lashes and set the base for mascara.
It comes in a tube with a brush, just like mascara, and the product is usually white. You apply it like you would put mascara on normally, and it makes your lashes longer, thicker, and stronger, in preparation for the next step: mascara.
Yes, primer will coat your lashes in a white substance, but that's okay, because it's covered up by mascara afterwards. The result is significantly longer, more fluttery, and volumized lashes with this two-step process. 
You may have seen products before that include primer and mascara in one – one end is the white primer, and the other is the black mascara.
While these products do work, from experience we can tell you that the shelf life on these is shorter because the tubes are smaller, so you get less product. 
You know how every time you open your mascara and expose it to air, it dries out a bit? Imagine how quickly it dries out if it's just 1/3 of the usual product. That's why, if you're interested in experimenting with primers, it's best to pick out a standalone one.
What Should You Look For in the Best Eyelash Primer?
Okay, so you know what a primer is supposed to do, but do they all have the same results? And what should you be looking for when choosing an eyelash primer?
Volume
First thing's first – we use primer to improve the look of our natural lashes and get them as fluttery as possible without the need for falsies. So, the ability to offer extra volume is at the top of our list.
When you coat your lashes in primer, it should make them look thicker and denser, and get even better when you apply mascara. 
Length
Length is the other non-negotiable, for most women. Very few of us are blessed with amazingly long lashes, so most of us need a little bit of help in that department, and that is something that primer and mascara should be able to help with.
You want a formula that's thick enough and has special waxes to add to your length without leaving them looking spider-y, instead. 
Nourishment
Ideally, a primer will also contain several ingredients that offer hydration and nourishment to your lashes. You see, mascara can often dry out and dehydrate your lashes, especially if you use a waterproof formula.
You need to put that nourishment back in somehow, and the best eyelash primers on the market have ingredients that ensure your lashes are healthy.
Strengthening properties
Strength can also be an issue, because we're always rubbing our eyes, pulling at them, aggressively scrubbing, curling our lashes with metal contraptions – there is only so much our poor lashes can take.
They can use some strengthening vitamins and special ingredients to help keep your lashes healthy and ready to grow long and thick.
Extra benefits
When looking at luxury products, you'll notice that in addition to priming your lashes, they also promise to help them out in other ways. Some of them help your natural lashes curl more or easier, and women swear they see results after a few weeks of use. 
Others also double up as a lash growth serum, so you can grow your lashes as you prime them every day.
Whether or not you want these extras is up to you; if you're not interested in paying for these added benefits, you can always pick out a simple primer that does the job, and nothing else. It's up to you, of course – but we say…always get the extras.
What are the Best Eyelash Primers?
Want specific recommendations? We got you. Here are our favorite lash primers at every price point!
Especially if you've never tried eyelash primer before and you're just looking to dip your toes and see what it's like, you can't go wrong with this one. A 2-pack of this miracle product is cheap as chips and these instantly net you longer, thicker lashes, which is our favorite magic trick.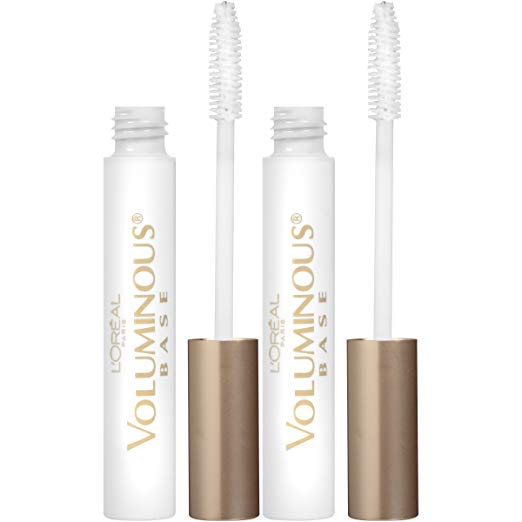 Voluminous is already a cult favorite in the mascara world, and for a drugstore pick, it's mind-blowing. Now, if you pair it with the primer, your lashes will be out-of-this-world amazing.
This primer contains jojoba oil and rosehip oil for nourishment for your lashes and to help your mascara go on smoothly. Is it the best thing since sliced bread? Well, there are certainly better primers out there, but you can't beat the price on this one.
Price: $
We like using mascara and primer from the same company, because they are often formulated to work together – makes sense, right?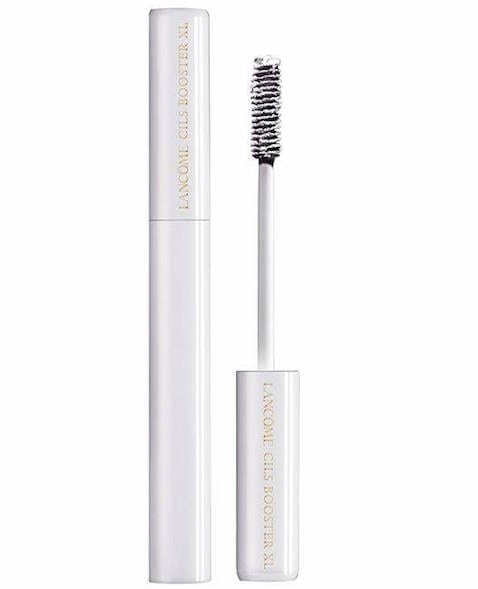 So, especially if you're using a Lancome mascara, the Lancome Cils Booster can boost your eyelash game. It's quite a bit more expensive than Voluminous, but it doesn't really approach insanity levels in terms of pricing.
You can't put a price on a good pair of lashes, and this isn't even the most expensive one on the list.
This mid-range primer lengthens, volumizes, and generally makes your lashes look incredible. Plus, it's French, and that packaging is to die for, which adds to our personal enjoyment of the product. 
Price: $$
The Grande Primer has quite the name, and it better live up to it. It's up there with Lancome in terms of pricing, and the tube isn't as cute, but the results speak for themselves.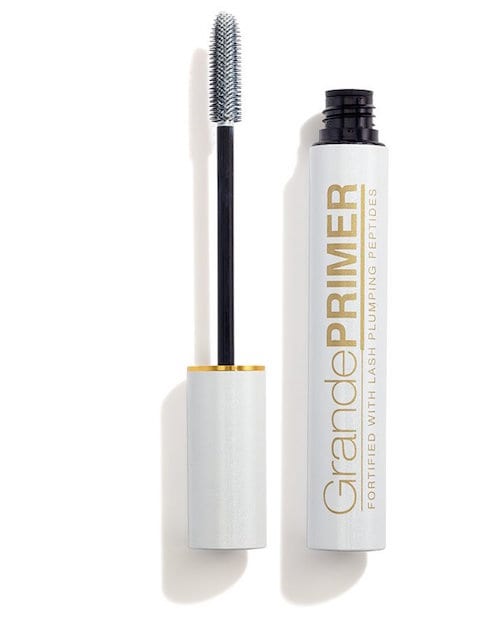 This WORKS, which is all you really want from a primer, right? This pick from Grande Cosmetics has tiny fibers that are meant to stick to your lashes and make them look thicker, as well as add length. When you come in with your mascara coat on top, boom! – great lashes, instantly.
We'd be lying if we said we weren't into that, which is why this primer made the Best List. Additionally, this thing is full of peptides and amino acids to nourish and strengthen your lashes, and who doesn't like that?
Price: $$
That's a lot of words in that title, but the hype is worth it. Paying Dior prices for a lash primer may seem like overkill – after all, is it really necessary? This is hardly a luxury product, and if you're gonna pay $30 or $40 for something, it better be a fancy lipstick you can show off. 

But that hefty price tag is paying for the luxury of having a long, thick fringe of lashes that can't be beat. You can certainly see a difference in quality from other more affordable products on the market: the tube is heavier, the formula is smoother, and the ingredients are better quality.
Plus, 73% of women reported more curl in their lashes after a few weeks of using this, and who doesn't want that? Perhaps this isn't necessary, but if you wanted to pamper yourself, why not make sure your lashes are in the best care possible?
Price: $$$
All in all, primer may not be an essential step in your routine, but it's certainly one that can make a real difference. If the focus of your everyday look is on your lashes, why not offer them a little boost with primer?