Mascaras are an instant way to transform short, stubby lashes into thick and full, luscious fringes. But they come with a downside: their effects are short-lived.
Well, not so with a mascara that makes your eyelashes grow! These lovely multi-taskers do what good mascaras do and provide instant length and thickness while also working to make your natural lashes grow and thicken.
Result? You get instant gratification and help your lashes grow so that when you take off your makeup, your lashes are still long, thick, and glorious.
Make sure that you go through the article carefully, because we don't want you to miss some important information that may affect your purchase of getting an ideal eyelash growth mascara for yourself.
Now, let's get started!
But wait…which eyelash growth mascara actually excels at both parts? It is a tricky task, after all, to serve as both an effective mascara and promote eyelash growth at the same time.
Well, that's what this guide is for. Let's take a quick look at what you should look for when choosing an eyelash growth mascara!
What to Look For in an Eyelash Growth Mascara:
There are some truly awful ingredients in mascara (coal tar on your eyes, anyone?) and this is really crappy news when you're trying to grow healthy lashes.
And there's no mistake about it – your lashes must be healthy to grow long and thick.
Luckily, more and more people are catching onto this fact and demanding safer, better alternatives.
And as consumers grow more savvy, certain cosmetic brands are responding by formulating mascaras that work beautifully and are filled with lovely, nourishing ingredients to condition and moisturize your lashes.
This is crucial since regular mascara has a tendency to dry out the lashes, leading to course, brittle lashes that are more prone to breakage – moisturizing elements help to condition and nourish the lashes, reducing eyelash loss and breakage.
Plus, you typically wear mascara all day long so why not treat your lashes to a little pampering while you're at it?
So when choosing, look for lash-growing mascaras that contain helpful ingredients.
Nourishing, natural oils: I love finding things like Abyssinia Oil, Argan Oil, Neem oil listed in the ingredients of any mascara tube. These are great natural oils for lashes are great for providing deep conditioning and moisturizing – which goes a long way toward keeping your eyelashes moisturized and resiliently healthy.
Silica: We all know silica is great for hair and I love the fact that there's a bit of it in the mascara I'm wearing.
Panthenol: Otherwise known as Pro-Vitamin B5, this stuff provides a lot of volumizing action while also hydrating and strengthening the lashes – nice to have.
Aloe vera: We all know how soothing aloe vera is – another little moisturizing soother I like finding on the list of my mascara ingredients.
Also, lookout for the best minerals and vitamins for eyelash growth like Biotin, B vitamins, and antioxidants to further boost lash growth.
Advantages And Disadvantages:
Advantages:
There many advantages of using eyelash growth mascara. Some of the most significant advantages are given:
1. They Give A Natural Look:
If you use eyelash growth mascara it will give you natural-looking eyelashes. Moreover, you always looked awake and refreshed. Your eyes look very cool and healthy.
2. They Last For About Three Weeks:
This is a big advantage. If you apply the eyelash growth mascara it will last for almost three weeks and you do not have to fuss with curling your eyelashes.
Moreover, you also do not need any heavy amount of eye makeup. You can go outside whenever you want without worrying about your eyelashes.
3. More Beautiful Appearance:
Many women have naturally long and beautiful eyelashes but many do not.
This eyelash growth mascara allows those who do not have naturally long and beautiful eyelashes to look as beautiful as those who already have the naturally long lashes.
4. The Convenience Factor:
This is also a very big advantage that you do not have to put any effort to have long and beautiful eyelashes.
It makes it very convenient for you when you wake up and you already have the eyelashes that you require.
This makes your life significantly much more convenient when you do not have to do a huge part of the morning beautification process.
5. Versatility:
These eyelash growth mascaras offer you huge versatility and many choices on what to do with them.
There is a wide range of colors and lengths from which you can choose.
This allows the woman to select the eyelashes growth mascara that suits her appearance in the best way.
Disadvantages:
As everything has its pros and cons. Nothing is perfect.
So these eyelash growth mascaras also have some of the disadvantages which are given below:
1. Health Risk Factor:
Unfortunately, every woman cannot enjoy the convenience of eyelash growth mascara.
It is not suited by every woman. Some of the women with the most sensitive eyes can also suffer from infections in their eyes due to the lack of proper eyelash maintenance.
The glue that is used in the eyelash mascara whose purpose is to fasten your eyelashes can also sometimes cause allergic reactions. So you must always keep the condition of your eyes in your mind.
2. Increase In Maintenance:
I agree that these eyelash mascaras eliminate the huge part of your morning beautification process but it is also true that they add another regular apartment to your busy schedule.
You will have to apply it once properly while getting the time from your busy routine.
3. Cost:
This is a big factor. Not everyone can afford these eyelash growth mascaras. A woman can save a lot of money if she finds an alternate independent technician.
The makeup-related items cost a lot. Moreover, the flash growth cycle for a person naturally takes about six to eight weeks, which requires mini eyelash mascaras which will ultimately break your bank.
So if you cannot afford it easily, then you must find an alternate way.
Don't want to do all the research yourself? Here's a list of our top eyelash growth mascara picks to get you started!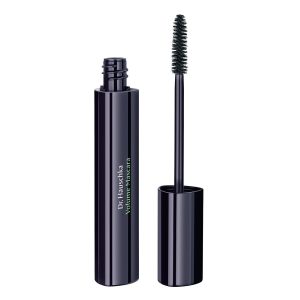 I really like Dr. Hauschka's line of skin and beauty products, 'though his name is impossible to spell.
Anyway, his volume mascara is one of the best eyelash growth mascaras I've tried, both for its performing prowess and its uniquely lash-health-boosting ingredients.
This is one of the most thoughtful ingredient lists I've seen on a tube of mascara, with the likes of Castor oil and Neem oil – both exceptionally great for conditioning and naturally promoting longer lashes, as well as the antioxidant green tea – another awesome natural ingredient for longer lashes.
Also love the fact that it contains eye health-boosting ingredients as well like Euphrasia Officinalis (aka Eyebright) which counteracts inflammation and reduces mucous drainage – something you'll want to have if you're prone to eye styes, inflammations or having your eyelashes fall out due to blepharitis.
This is almost a "medicinal" mascara that is also great for lengthening and defining your lashes. It's also clump and flake-free and very rarely smudges.
The only downsides to this mascara are that it takes a while to dry so the application might take a minute longer than with other mascaras and honestly, it doesn't do the best job of volumizing your lashes – for this, pair it with a lash-boosting mascara primer.
That being said, I love the unique ingredients featured in this mascara and it's a great, non-irritating, nourishing, and lash-defining and lengthening mascara for everyday wear.
It is pricey, as most of Dr. Hauschka's products tend to be – but also worth it, again as Dr. Hauschka's products tend to be.
Ingredient List: Water/Aqua, Alcohol, Sorbitol, Ricinus Communis (Castor) Seed Oil, Cetearyl Alcohol, Camellia Sinensis (Black Tea) Leaf Extract, Melia Azadirachta (Neem) Leaf Extract, Hectorite, Euphrasia Officinalis (Eyebright) Extract, Hydrogenated Jojoba Oil (Jojoba Wax), Beeswax/Cera Flava, Rosa Damascena (Rose) Flower Wax, Rosa Damascena Flower Oil (Rose Essential Oil), Citronellol, Geraniol, Linalool, Xanthan Gum, Lysolecithin (Hydrolyzed Lecithin), Maltodextrin, Silica, Iron Oxides, Titanium Dioxide/CI 77891, Ultramarines/CI 77007, Carmine/CI 75470.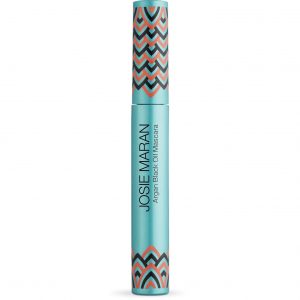 Another fantastic (and natural) lash growing mascara, Josie Maran's Argan Oil-Infused Mascara goes on clump-free and defines lashes well while lengthening and filling out individual lashes.
As you know, I regularly use eyelash growth products so my lashes are quite long already and I like the fact the Josie Maran's mascara helped to extend and define my already-long lashes without making them look unnatural.
The brush is also a big plus for this mascara – it helps the mascara go on perfectly the first time – and one of the biggest benefits of this mascara is that this is actually quite smudge-free.
I like to double up when using this mascara and the double coats really help in the volume department.
But the best part about this mascara is that it supports the growth of your own lashes with nourishing ingredients like Argan oil that conditions and strengthens for lush, supple and most importantly – healthy lashes.
Oh, and as you can see from the below ingredients list, this lash growing mascara is fine for sensitive eyes – it has a lot of naturally nourishing ingredients that support lash growth and health while lacking the yucky stuff like parabens, synthetic fragrances, or dyes as well as petrochemicals and toxins like triclosan.
Ingredient List: Aqua (Water)**, Cera Alba (Beeswax)**, Sucrose Stearate**, Propanediol**, Cetearyl Alcohol**, Oryza Sativa Bran Cera (Oryza Sativa (Rice) Bran Wax)**, C18-36 Acid Triglyceride**, Acrylates/Ethylhexyl Acrylate Copolymer, VP/Eicosene Copolymer, Phenoxyethanol, Hydroxyethylcellulose**, Myrica Pubescens Fruit Cera (Myrica Pubescens Fruit Wax)**, Silica**, Panthenol, Argania Spinosa (Argan) Kernel Oil*, Ethylhexylglycerin, Laureth-21, Glycerin**, Bambusa Vulgaris Extract (Bambusa Vulgaris Leaf/Stem Extract)**, Potassium Sorbate**. May Contain: Iron Oxides (CI 77499)**.*ORGANIC **NATURAL.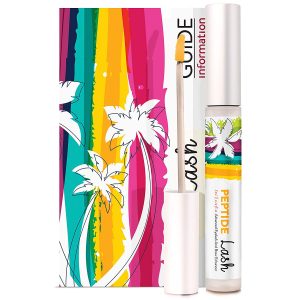 This isn't a mascara, per se – as in, it has no color and won't provide the same look as regular old mascara.
That being said, within a few weeks of using this elixir – you won't need regular old mascara.
You see, this is actually a gentle, effective eyelash conditioner that's chock full of the best lash growing ingredients like Biotin, B vitamins, and potent peptides that help you grow longer fuller lashes. In a few days, you'll start to notice changes in your individual lashes – they'll look stronger and thicker.
To be honest, I noticed the most difference in thickness of lashes than in length, which is totally and completely worth it for me since it's the fullness that allows me to skip the eyeliner 🙂
I also really like the fact that it goes on very thin and absorbs super fast so it doesn't drip into your eyes as some serums can. Because it's so fast-drying, you can also apply your mascara on top as well.
Oh, and yes, it is kinda pricey but a bottle of this stuff will last you around 3 months of daily use so you get plenty of lash growing bang for your buck!
Ingredients List: Cucumis Sativus (Cucumber Hydrosol), Cassia Angustifolia Seed Polysaccharide (Botanical Hyaluronic Acid), Aloe Barbadensis Leaf Juice (Aloe), Algae Extract, Camellia Oleifera (Japanese Green Tea) Leaf Extract, Kosher Vegetable Glycerin, Palmitoyl Oligopeptide, Palmitoyl Tetrapeptide-7, Globularia Cordifolia Callus Culture Extract (Plant Stem Cells), Biotin, dl-Panthenol (Vitamin B5), Cucurbita Pepo (Pumpkin Seed Oil), Organic Rosa Canina (Rosehip Seed Oil), Punica Granatum (Pomegranate), Caprylyl Capryl Glucoside, Butylene Glycol, Carbomer, Polysorbate 20.

Ingredients Eyelash Growth Mascara Contains:
Here is the ingredient that most eyelash growth serums hold so that you get a better understanding of them:

Ingredients in Mascara are usually black carbon or iron oxide pigment to for providing dark texture to lashes; a film polymer that coats lashes; a preservative; and waxes or oils to thicken such as lanolin, castor oil, biotin mineral oil, paraffin, petrolatum, carnauba, and candelilla wax.

Two simple options exist water-free formulations, water, and oil emulsions. The waterless formulas are less likely to smudge or flake and are less water-resistant.

However, they can be hard to clean. The emulsion may flake or smudge on lashes but is easier.
During the 1930s period, lash darkeners were made of terrifying ingredients like turpentine, lead-containing charcoal, and aniline, all of which lead to the loss of eye-sight of more than one woman.
Regulations are now strictly restricting the ingredients to the ones that can be protected in the eye, but thimerosal, a preservative capable of causing conjunctivitis and eyelid dermatitis, should be looked at.
For certain mascaras, thimerosal is still used.
How to Find Out If Your Mascara is Water-Proof?
To verify if your Mascara is water-proof and if it will flake or run, first check out the quantity of water in it.
The less water it contains the fewer chances are there for it being smeared.

But experts recommend that you restrict the use to waterproof, dry, waterproof formulas.
The additional effort required to remove these products can damage lashes that can break down or fall off.
Wrapping It Up!
With this article, we aim to provide you with all the important things you need to know before you buy eyelash growth mascara.
All the details mentioned in this article are important and can determine the quality of the mascara you will be buying.
Make sure that you keep the points mentioned in this article while shopping for eyelash growth mascara so that you get the best one for yourself.

The only reason that we emphasize considering these things is that you can risk your eyes if you get the wrong product.
Buying the wrong product may end up with itching in the eyes, redness and many other complications.

Having said that, we come to the end of our article. We hope that you are satisfied with the information we have provided.
Lastly, we would like to thank you for taking out precious time and reading our article.