If you like to imagine your lashes as little plants that need the proper nutrients to grow, you may already find the name of LashFood appealing.
This product was created by a team of cosmetic scientists. This is the world's first natural eyelash enhancer.
By using this revolutionary and the Only Ecocert natural eyelash enhancer, your lashes look stronger, thicker, and longer. It provides the nutrients which feed the lashes with the most powerful ingredients in nature.
LashFood Review (
GUIDE

)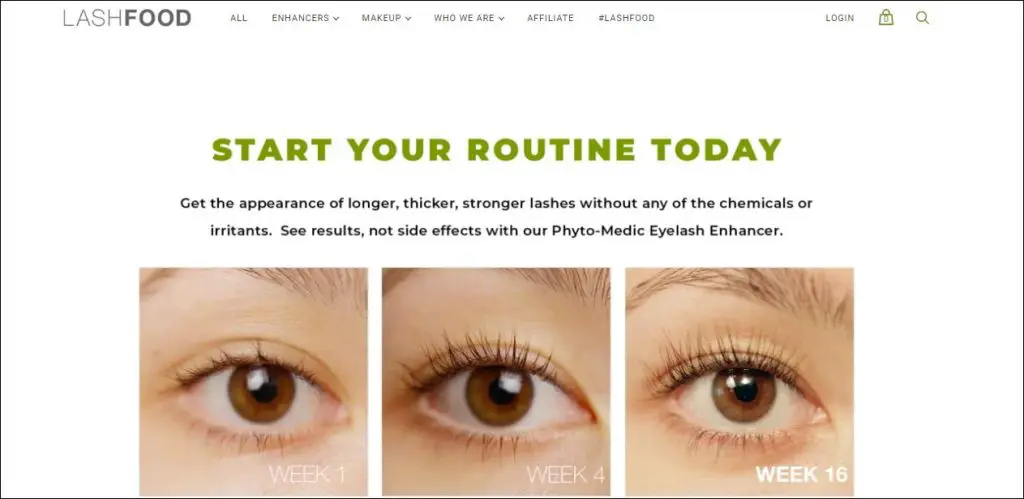 It is 100% effective natural and safe. It requires no prescription. This product was tested and approved by the dermatologists and vegan. It is Ecocert certified.
 It does not have any chemical compounds such as prostaglandin, synthetic fragrances, mineral oils, silicone, synthetic dyes, petrochemicals, and formaldehyde donors.
LashFood packing is made up of sustainable materials as well as Ecocert compliant. A good evaluation of the ingredients has been done for its environmental impact before packing.
99.49% of the total ingredients originated from natural sources whereas 25.0 2% of the total ingredients originated from organic sources.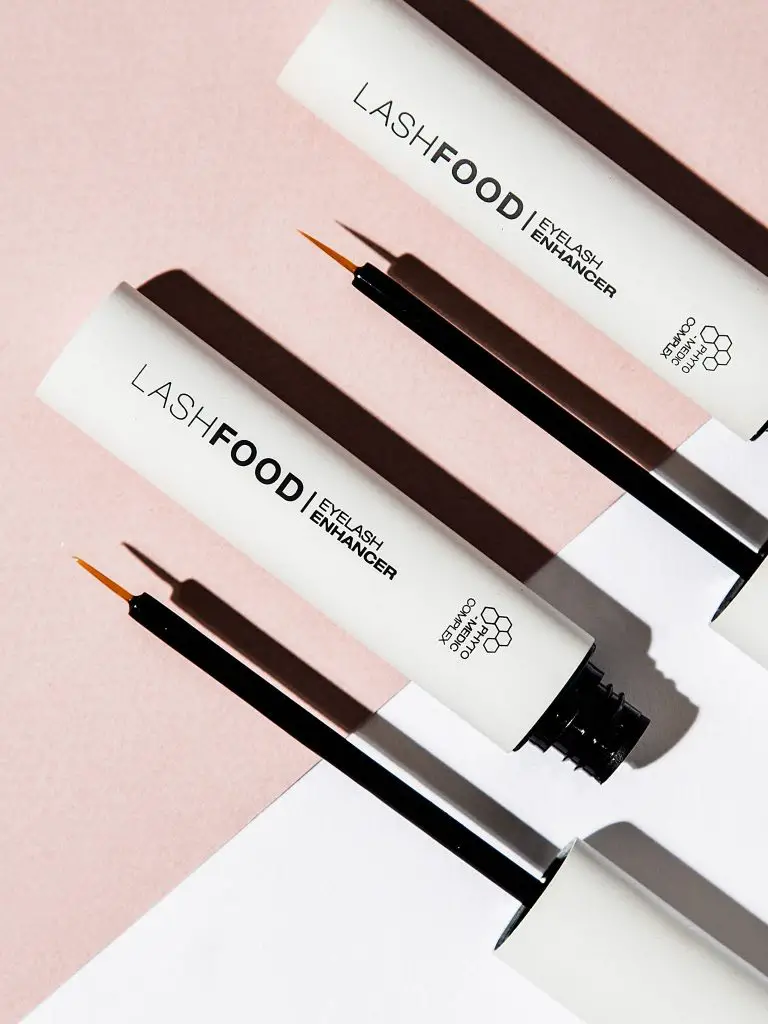 LashFood claims both a natural and effective formula that is free of prostaglandin – which is either very good or very bad, depending on how you look at it.
For example – while this ingredient in other lash serums darkens lighter color irises, it is also what makes those lash serums so dramatically successful, so the true test is if the natural ingredients of LashFood can live up to the effects of prostaglandin.
Research Results:
According to an independent study, it is concluded that:
There is 85% of an improvement in the fullness of eyelashes by using this product.
There is a 100% improvement in the length of the eyelashes by using this product.
There is a 100% improvement in the density of the eyelashes by using this product.
There is 0% irritation while using this product.
According to this study, this product has been proved very successful, so you must go for it.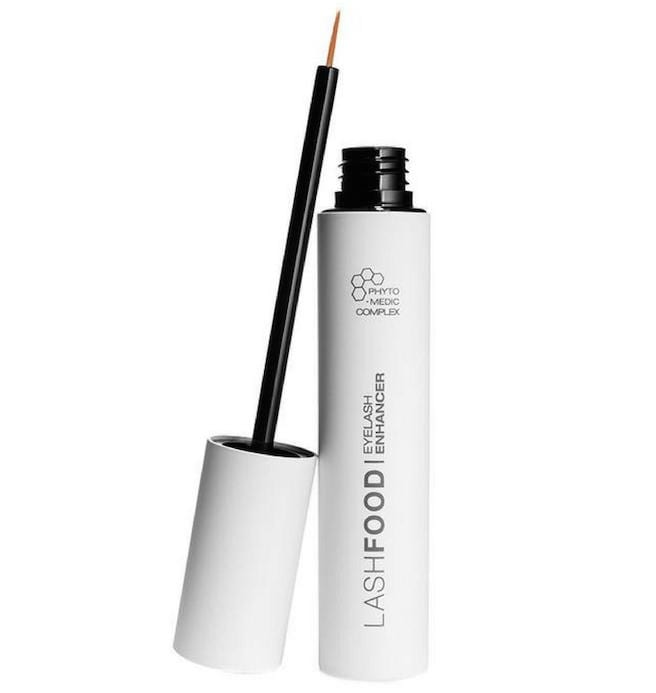 Especially when you consider that this is one lash serum that has ingredients that are legitimately certified organic.
The line-up of natural ingredients is great news for those of us with sensitive peepers but can this all-natural team compete with lash serums that boast stronger formulas like prostaglandins?
Let's find out – but first, here's a look at what exactly is in a bottle of LashFood…
LashFood Ingredients
Water, Bergamot Peel Water, Lavender Flower Water, Citrus Orange Fruit Water, Butylene Gylcol, Paeonia Albiflora Root Extract, Panax Ginseng Root Extract, Trehalose, Aloe Barbadensis Leaf Juice, Hydrolyzed Rice Protein, Portulaca Oleracea Extract, Prunus Mume Fruit Extract, Xanthan Gum, Phenethyl Alcohol, Sorbic acid, Hydrogenated Phosphatidylcholine, Potassium Sorbate, Arginine, Hydrolyzed Soy Protein, Adenosine, Lecithin, Coconut Fruit Juice
What We Like About LashFood
Now that you know what's in LashFood, let's get down to the nitty gritty of what it actually means for you and your lashes!
Here are the perks you can expect from LashFood:
Strengthens eyelashes, which means less breakage and shedding
Improved strength makes lashes more receptive to extensions and mascara
Conditions lashes which help them grow longer and thicker
Isn't as likely to cause irritation as other lash enhancers can
Easy application with a small wand and brush
One bottle should last about three months
Organic and Ecocert certified
Can use with lash extensions thanks to its oil-free formula
The last bit we especially like – especially since lash extensions can do a number of your natural lashes.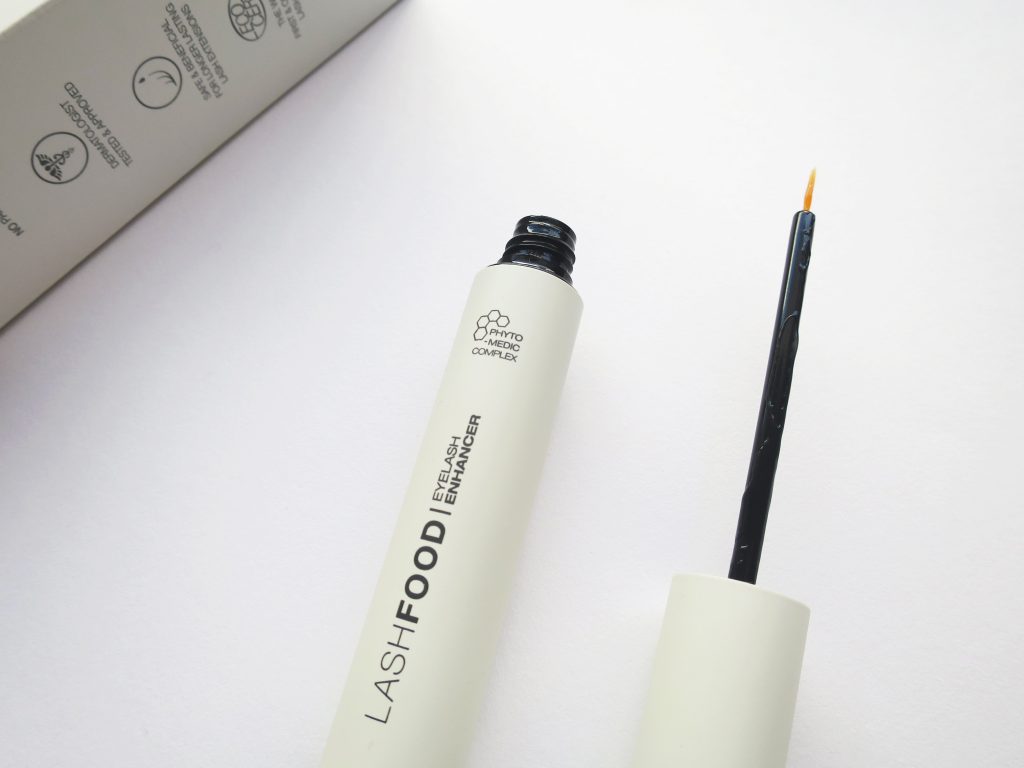 Having the option of using a gentle, natural, and oil-free formula to strengthen your eyelashes while donning extensions is a seriously smart way of coming out of the extension experience stronger than before.
That being said, LashFood has some downsides, too…
What We Don't Like About LashFood
May take a while to see any visible results, possibly up to 16 weeks
Just remember to use diligently or you risk not seeing any results
While rare, natural ingredients can cause allergic reaction or irritation, so be sure to check the ingredients list before purchasing
LashFood Review
Based on the positives and negatives of the LashFood eyelash enhancer, it seems the pros make the product worth it.
As long as you don't mind spending a bit extra for quality ingredients, you're likely to see impressive results – which is especially impressive considering the natural line-up of ingredients found in LashFood.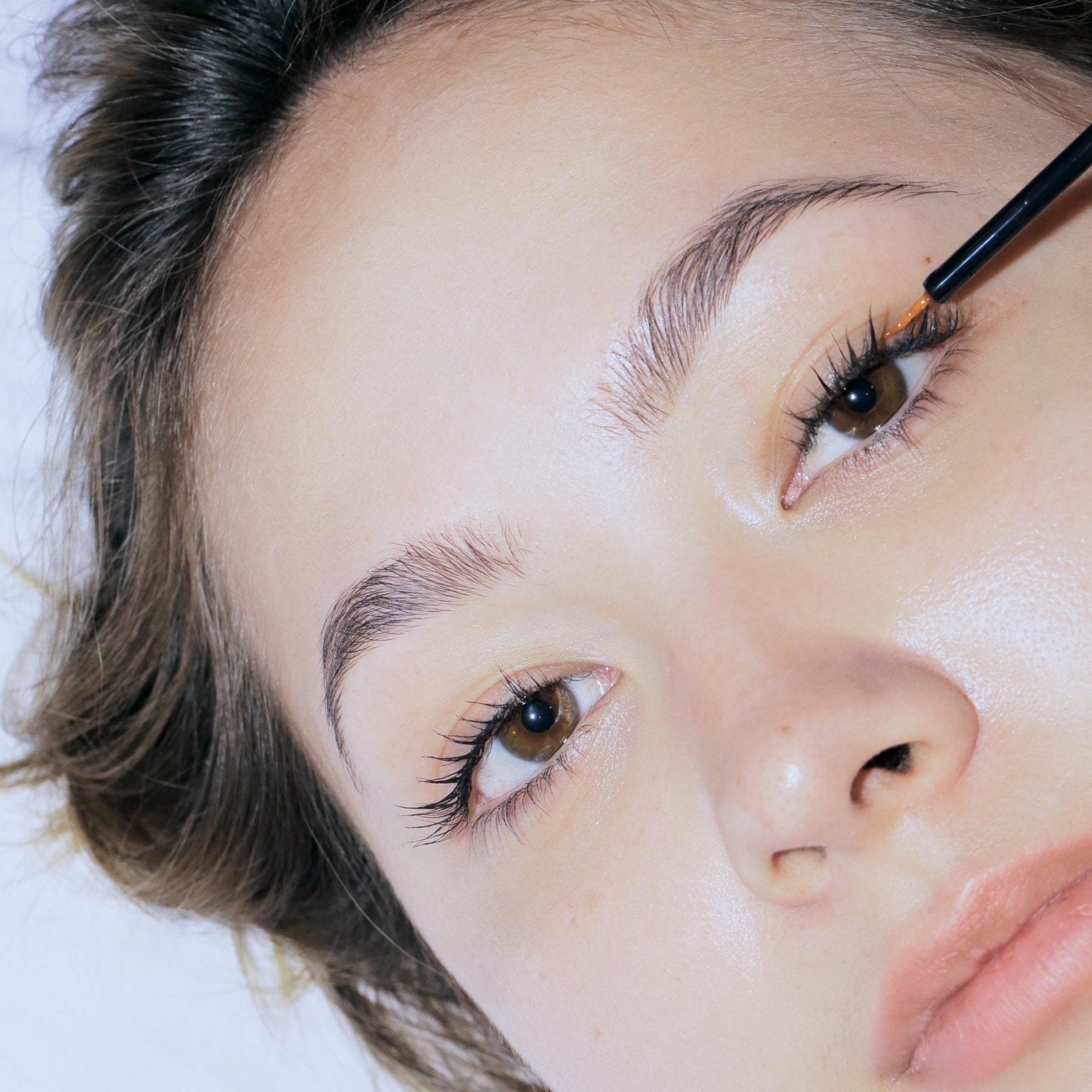 From stronger to longer lashes, LashFood can deliver, all while using natural and organic ingredients.
Being able to use LashFood with eyelash extensions also guarantees you can have the lashes you want while waiting for the product to work its magic.
LashFood is among the pricier serums, but based on the results and the natural ingredients, LashFood is a great and effective option, especially for those with sensitive eyes or those who prefer organic products.
If you're looking for a lash enhancer that fits those requirements, you can check out LashFood here.

How To Use It?
We will also try to you how to use this eyelash enhancer properly. First of all, you must wash your face.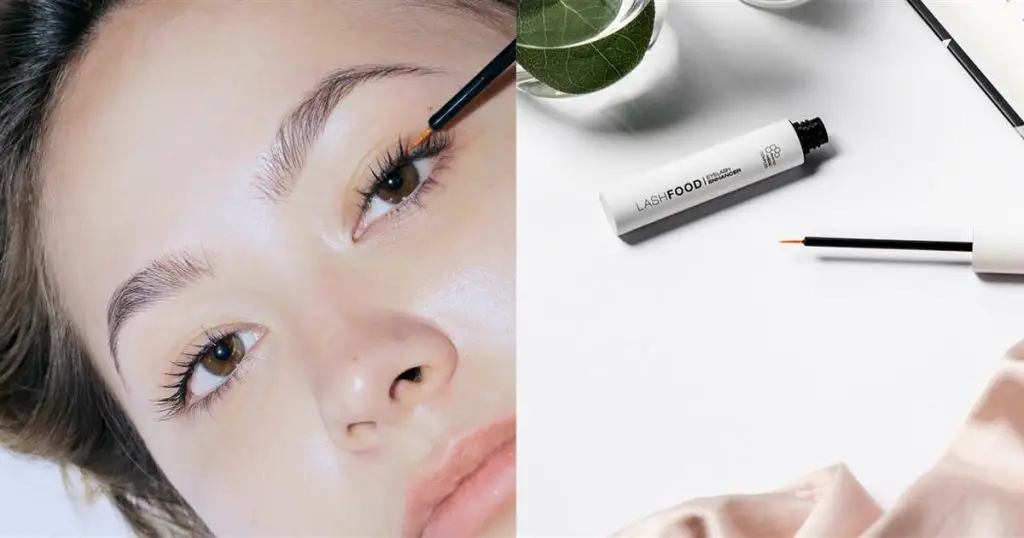 Then you must apply it after your face gets dry. You can apply it in the morning and the evening as well. Then sweep the applicator brush along the lash line.
Do it in the same manner as the liquid eyeliner. Then wait for one to two minutes so that the serum gets dry.
One thing that you must remember is, after applying this you must let it dry before you apply the mascara or the eyeliner. And the other thing is that you must avoid rubbing your face or your eyes with a towel or something like that aggressively.
If you want better results then you must use this eyelash enhancer consistently.
Reported LashFood Side Effects: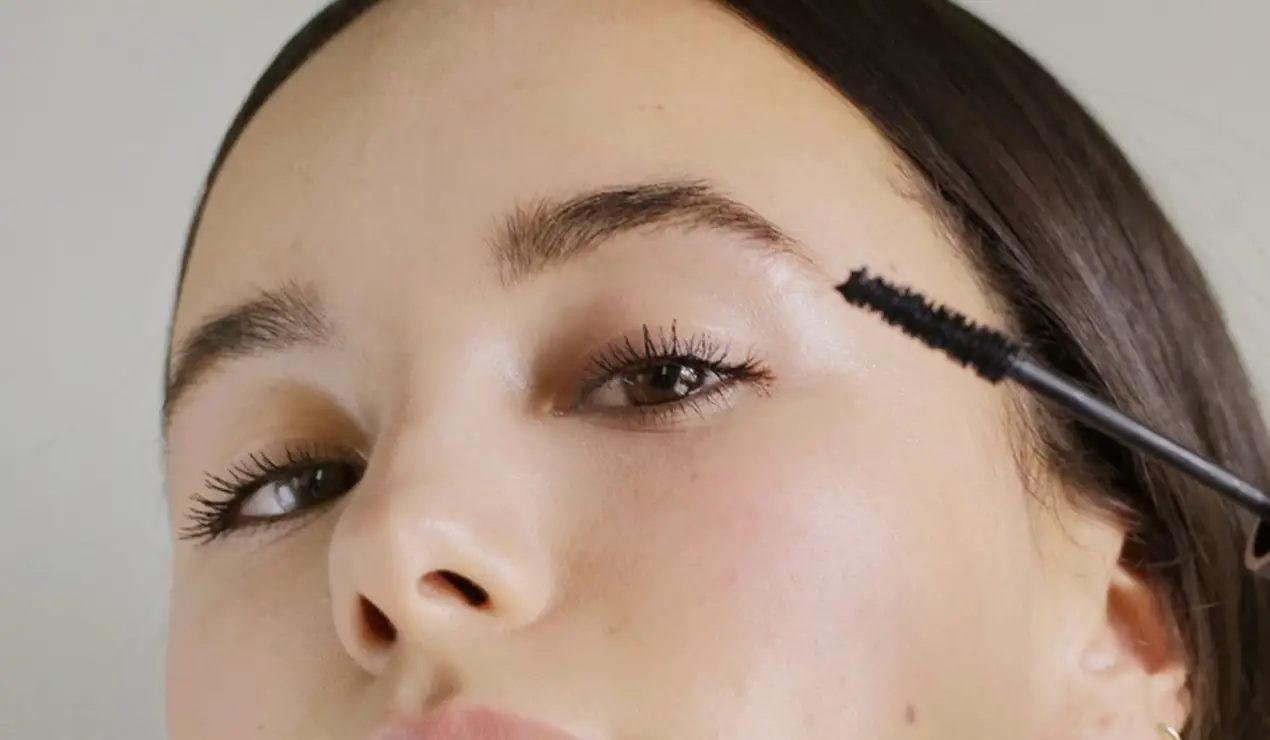 LashFood eye serum has been proven to have little to no harmful side effects because it is a natural serum.
There are many eyelash growth serums that result in the side effects like the eye redness and irritation of the eyes because of the presence of the chemical ingredients which are included in them.
But because this eyelash serum doesn't consist of any chemical ingredients and is fully made up of natural ingredients so there is no report of any side effects with this eyelash serum.
It is reported that it has very one side effect.
This side effect is due to mild allergic reactions. But this is a very rare and uncommon occurrence. It happens only in the case when natural ingredients within the serum in the case may cause mild allergies.
Let me explain this. This eyelash serum consists of lavender water which is considered very safe for most of the people.
But it may cause mild allergic reactions with other natural ingredients which can ultimately cause constipation, headache, skin irritation, or swelling in the eye.
What Buyers Say?
If we look at the overall review of this product, then we can conclude that the consumers are quite happy with this product because of the very supportive fact that this serum has all-natural ingredients.
Many of the consumers have claimed that they see the results in as little as three to four weeks. They noted that their eyelashes became visible healthy and thicker within this period.
After seeing these results the buyers have also claimed that they need to apply only one coat of mascara due to the fuller lashes provided by this eyelash serum. There are many other additional love facts which its buyers have claimed.
A YouTube reviewer also tried this serum and she told that her lashes were damaged by using the lash extensions and she was looking for a natural alternative.
LashFood eyelash serum was proved the best alternative for her.
Bottom line: Is this Serum Worth Buying?
As mentioned before that this eyelash serum doesn't contain any harsh chemicals that are included in the ingredients. It is also mentioned that you will start to see the positive results in a few weeks.
Moreover, the ingredients included in this serum are all organic and Ecocert certified. There are no complaints about this product as well. So we do not have any reason to go against this product.
The only thing which makes this product questionable is the lack of clinical representation and evidence. But, if you take a look at the overall feedback, it is positive and safer.
It is one of the most preferred eyelashes because of its superb customer service, all-natural ingredients, and a 60-day money-back guarantee.
But if you are a person who is looking for a safer with the clinical baking product, then you must look for another product.
There are many other similar products and a market which provides you much better results and is scientifically supported.