On the hunt for an unbiased, spill-the-beans Rapidlash review so you can finally decide whether you should pull the trigger and just order the stuff? We got you.
Lash products are great and all, but with some of them taking months for any results to show up, you may not be patient enough to stick to the routine of applying serum multiple times a day for months at a time. Rapidlash, as the name implies, promises results within four weeks with a once a day application.
But more importantly, Rapidlash claims to be award-winning and to have sold over three million units. From that perspective, it certainly seems like a fan favorite. It's also tested by dermatologists and ophthalmologists give it a safety seal of approval as well. Plus, it's fragrance and paraben free so perfect for sensitive eyes as well.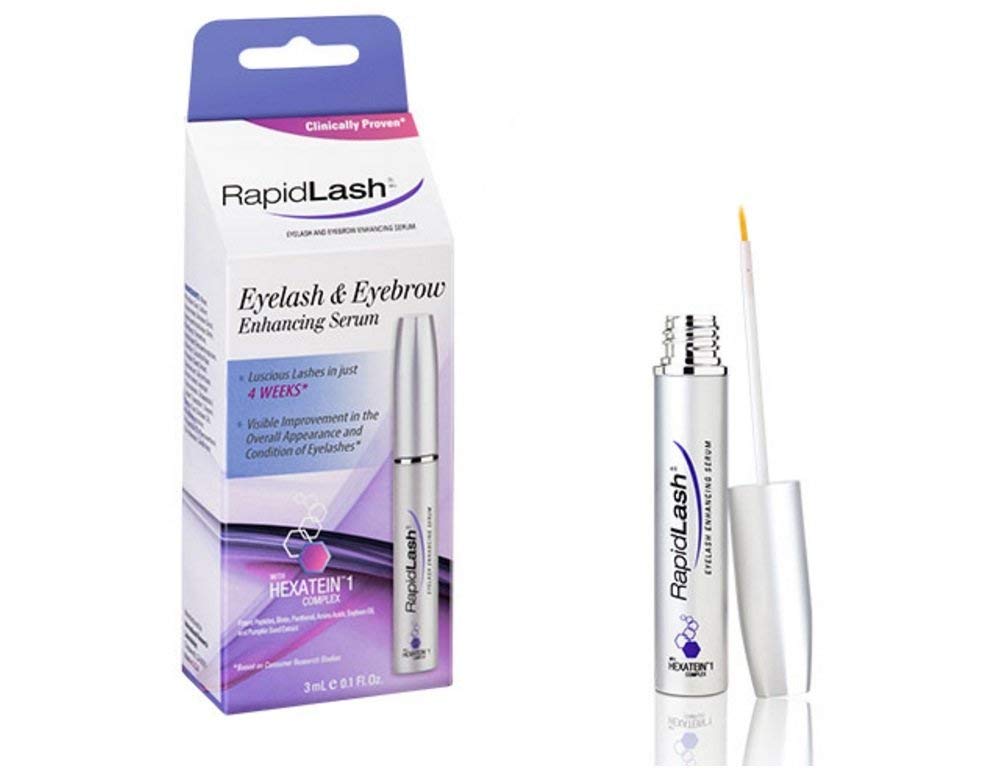 Overall, it sounds like a lash grower's dream come true. But does it live up to the hype? Let's find out…
What We Like About RapidLash:
Safe for contact wearers.
Not tested on animals.
Once a day application with results in as little as four weeks.
Can use under makeup once it dries, though you should use the product before going to bed.
Dries clear.
Can use with eyelash extensions.
Can use on your lower lashes (just do so carefully).
Can use on your brows (you will go through the product more quickly, though).
Includes natural ingredients.
Won't darken irises – more on this later.
What We Don't Like About RapidLash:
Natural ingredients may cause irritation.
Can dry your eyes out, at least for the first couple of days until your eyes adjust.
Rapidlash says a 0.3 OZ tube lasts two months, but the product is typically sold in a 0.1 OZ tube, meaning it won't last very long.
Must use regularly to see effects.
Won't cause dramatic lash growth or increase in volume.
RapidLash Review: What You Need to Know
The very first thing you must know about Rapidlash is that they have changed their formula in the past years, which is why the various Rapidlash reviews you come across can be very confusing.
You see, a couple of years ago – Rapidlash used to contain prostaglandin analogs like the one found in Latisse, which is what made the product so impressively effective.
The users who tried Rapidlash during those years got awarded with dramatic results and recommended Rapidlash based on the huge difference it made in lash length and growth.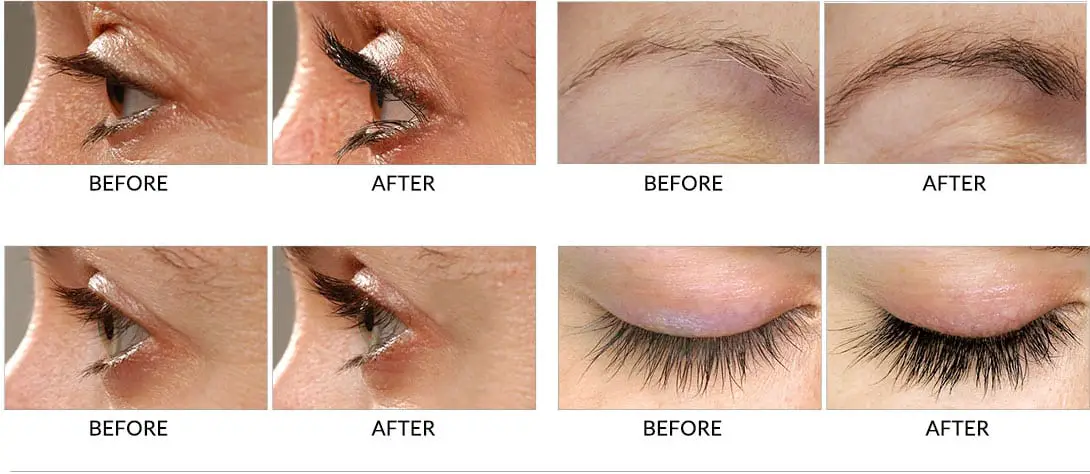 At the same time, because the older Rapidlash formula contained prostaglandin analogs, it also came with the risk of potentially darkening irises, which was a real concern for those with lighter-colored eyes.
In recent years, Rapidlash has changed its formula and replaced prostaglandin analogs with more natural, hair strengthening ingredients like Panthenol, Biotin, and various peptides, the most notable one being Myristoyl Pentapeptide-17.
The result? You don't have to worry about Rapidlash potentially darkening irises anymore. But at the same time, the new Rapidlash formula is also a bit less effective in the lengthening and volumizing department.
So is it still worth the buy? Let's find out.
Rapidlash Review: Our Verdict
The short of it is that Rapidlash used to contain some mighty powerful prostaglandin analogs and now it doesn't. So what can it still do for our lashes? Well, the naturally derived new formula enhances, conditions, and strengthens lashes (and brows, too).
But instead of the "lashes on steroids" effect you get with prostaglandin analogs, the new Rapidlash formula essentially acts as a lash conditioner to gently strengthen and protect lashes so they can grow long and strong.
And despite its former magic ingredient, it's still an effective formula that can reliably promote lash growth and fill in spots that were previously bare.
Plus, at its current price point on Amazon, it's a very reasonably priced eyelash conditioner that's certainly worth a try to see if it'll work for you or not.
So our overall verdict is: Go for it.
Just keep in mind that like with all lash serums, while you will see results with Rapidlash, it's very important to continue use even once you get the results you were looking for. Discontinued use could lead to lash shedding or breakage.
That shouldn't discourage you too much, though, since most lash serums work best when used continuously.
Rapidlash Ingredients:
Water, Butylene Glycol, Hydroxyethylcellulose, Glycerin, Myristoyl Pentapeptide-17, Rhizobian Gum, Sodium Hyaluronate, Biotin, Panthenol, Pantethine, Hydrolyzed Glycosaminoglycans, Allantoin, Cucurbita Pepo (Pumpkin) Seed Extract, Maris Aqua/Sea Water, Dipotassium Glycyrrhizate, Octapeptide-2, Copper Tripeptide-1, sh-Polypeptide-1, Glycine Soja (Soybean) Oil, Black Sea Rod Oil, Phenoxyethanol, Chlorphenesin, Sorbic Acid
Benefits Of Rapidlash:
Using RapidLash has proven beneficial for a lot of people. Read on below to find out in what ways RapidLash has been helpful and how people have benefited from RapidLash.
Key Benefits:
The Rapidlash has been proven to give its users attractive looking natural eyelashes. 
The use of RapidLash has been declared safe by health consultants. These health consultants include renowned Dermatologists and Ophthalmologists. 
The use of RapidLash has been reported by a lot of users. These users have reported that they find the use of these RapidLashes rather easy and convenient.
Rapidlash has been induced with things such as minerals, vitamins, and many other ingredients that are responsible for conditioning.
The price of RapidLash is affordable when compared to the other options. 
Does Rapidlash Work?
To give a short answer to the question, yes RapidLash indeed works and bears positive results for its consumers. 
A user reported that they have been using RapiLash for their eyelashes for a period of 7 weeks.
During these 7 weeks, the person noticed some big and positive changes in the situation which was more than enough to conclude that this product is not a scam and can really bring positive results! 
Not only using the RapidLash made the eyelashes of the person stronger, but it also made them look fuller and thicker. When used with mascara, the eyelashes looked rather big and more beautiful. 
Although it is possible that with increased use over time, the results can be even more positive.
How to Apply RapidLash?
To use something, it is vital to know its operation. Unlike many different cosmetic items, RapidLash's application is rather easy and simple.
All you have to do is use the applicator to swipe the small brush through the base of the upper eyelashes from the inside corner of your eye to the other side. 
The same process of application can be used when applying to the lower eyelashes as well. But, You have to be extra careful as you might get some of it into your eyes.
Before the whole application process, make sure that your eyelids and eyelashes are clean from excessive oil and dirt and they do not contain any kinds of makeup as well. 
The ideal time for the usage of RapidLash is right before a person would go to the bed. Otherwise, you can just put it in right before applying the makeup.
If you are worried that using RapidLash might cause any kinds of skin irritation, then this is not true as the user whose testimony we put in, has a very sensitive skin and she didn't catch any irritation either.
Purchase Rapidlash For Thicker, Fuller Eyelashes:
We have tried to keep this article neutral. But at this point, we think that you can conclude that using rapid lash can be actually beneficial and has no drawbacks to the person's skin or the eyes.
If anything RapidLash helps the eyelashes to grow and make the person look more beautiful. This is why, we want to encourage our users to Purchase Rapidlash For Thicker, Fuller Eyelashes. 
Conclusion!
The Rapidlash has done more than enough in an attempt to satisfy us.
We believe that this is one of the best products that have been created in beauty products and is likely to have positive results for you after you use it!