There are so many Rodan and Fields Lash Boost reviews on the Internet. So how could we justify yet another one?
Well, because we want to get into the nitty gritty of this ever-popular lash serum. Here's our full breakdown of what Rodan and Fields Lash Boost is, the controversy around its ingredients and whether it's ultimately worth it.
What is Rodan and Fields Lash Boost?
Started by dermatologists and fueled by entrepreneurs, Rodan + Fields is a skincare company that's pretty dedicated to giving back to the world.
The company works on a multi-level marketing structure that allows their employees to create a lifestyle business by promoting skincare products that they love. It's sort of like a more modern, more chic Avon. And also the reason your Facebook feed is probably overtaken by friends raving about Lash Boost.
Whatever your feelings may be on network marketing, one thing we appreciate about Rodan and Fields is the simple fact that they've been around since 2002. So right from the get go, they separate themselves from the oodles of here-today, gone-tomorrow lash serum companies that populate Amazon.
And to add to the company's prestige, their Lash Boost serum gets a lot of good press. But at its current rather expensive price point, is this lash serum worth its steep price tag? Let's dive in.
What Does Lash Boost Do?
Let's get straight into it and start with the positives. One thing we already like about Rodan and Fields and their lash serum is how detailed they are on their site about the product. From FAQs to application instructions, it seems they care about both their products and their customers.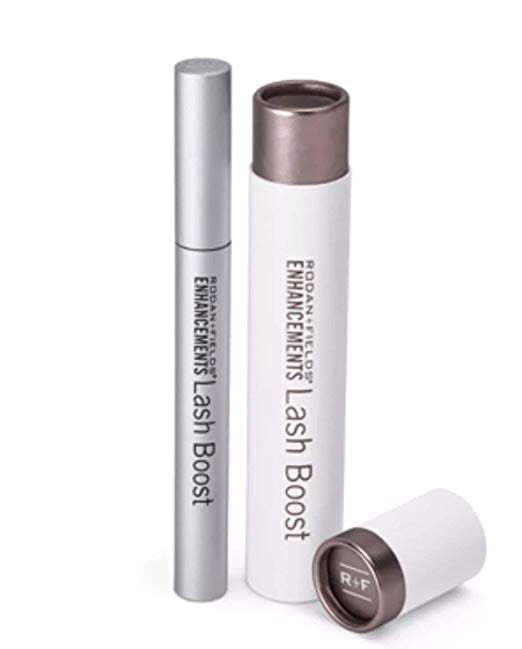 Let's see what they say: "Rodan and Fields Lash Boost works to condition and enhance lashes, promising improvements in the volume and length of your lashes in four weeks, with best results after eight weeks." This, they claim, is backed by a clinical and consumer study.
According to the study, about half of the participants in the study saw darker lashes, so if you're looking for a lash serum that specifically works to give you dark lashes, this lash serum is definitely it.
But how it works is the main reason why we approve of this product. Which brings us to the subject of much controversy: what's in this stuff?
Rodan and Fields Lash Boost Ingredients Breakdown
The most important thing when it comes to choosing a lash serum is not the brand, it's not the promises, it's it's not even the reviews.
The matter of whether a lash serum will be effective or a total waste of time comes down to one thing: its ingredients. So what's in Rodan and Fields Lash Boost?
Ingredients: Water/Aqua/Eau, Butylene Glycol, Hydroxyethylcellulose, Keratin, Hydrolyzed Keratin, Biotin, Sodium Hyaluronate, Isopropyl Cloprostenate, Octapeptide-2, Allantoin, Panthenol, Copper Tripeptide-1, Pantethine, Polypeptide-23, Cucurbita Pepo (Pumpkin) Seed Extract, Glycerin, Sea Water, Malus Domestica Fruit Cell Culture Extract, Hydrolyzed Glycosaminoglycans, Prunus Amygdalus Dulcis (Sweet Almond) Fruit Extract, Backhousia Citriodora Leaf Oil, Dipotassium Glycyrrhizate, Rhizobian Gum, Styrene/Acrylates/Ammonium Methacrylate Copolymer, Xanthan Gum, PVP, Lecithin, PEG-12 Dimethicone, Alcohol Denat., Chlorphenesin, Phenoxyethanol, Sorbic Acid, Sodium Hydroxide
As you can see from the above list, Lash Boost serum is full of lash-nourishing ingredients. Let's just take a moment to break down the most notable ones.
Water
As the primary ingredient on the ingredients label, water forms the base of this product. Many cosmetics and personal care products use water as the primary solvent – that is, the solution in which all of the other cleansing and conditioning ingredients are dissolved. Water, of course, also carries its own skin benefits.
Keep in mind that water-based products don't mix well with oil-based products. Taking you back to 9th-grade science: water and oil don't mix. Meaning that a water-based serum on your lashes is going to cause oil-based balms and shadows to separate.
Butylene Glycol
Made from distilled corn and thus considered a type of alcohol, butylene glycol is often included in cosmetic formulas for its ability to keep other ingredients, such as dyes and pigments, from creating clumps in the solution.
At the same time, it also acts as a conditioning agent and adds moisture to both skin and hair.
Hydroxyethyl Cellulose
This plant-based amino acid is a derived from the cellulose found in the cell walls of plants. Not particularly beneficial to your lashes itself, it acts as a thickener, binder, emulsifier, and preservative.
In all of its purposes and uses its believed to be a safe ingredient that also provides colloid protection. 
Keratin/Hydrolyzed Keratin
Keratin is the fibrous structural protein that makes up your hair and nails. Your lashes absorb the keratin, which strengthens the follicles and strands, repairs damage and breakage, and restores healthy-looking shine and gloss.
Hydrolyzed keratin, on the other hand, is keratin that's been put through a treatment process. The process itself is relatively harsh, but it helps make the keratin more bio-available, i.e. it's easiest for your body to use.
Biotin
Biotin, a member of the vitamin B family, is famous for its role in encouraging hair growth. Taken orally or topically, biotin addresses many of the known vitamin and nutrient deficiencies that cause both hair loss and thinning hair.
Sodium Hyaluronate
You've probably heard of hyaluronic acid: a moisturizing ingredient that fills the space between collagen and elastin for suppler looking skin. The salt form of this popular ingredient is called sodium hyaluronate, and it moisturizes dry, flaky skin just as well as its parent compound.
Moisture is probably one of the most important aspect of any good lash serum; it keeps your hair, follicles, and skin hydrated and healthy.
Isopropyl Cloprostenate
In terms of adding length to your lashes, this ingredient is the most important. Isopropyl cloprostenate is a prostaglandin analog, and prostaglandins are the only lash enhancing ingredients that have scientific research backing up their effectiveness. 
With that said, Rodan and Fields faced a lawsuit over failing to disclose the side effects of this particular ingredient. And in that light, we should mention that, outside of the prescription lash growth serum known as Latisse, the FDA has warned against the use of prostaglandins in lash serums.
They carry potential side effects ranging from irritation and redness to darkening the iris in individuals with light-colored eyes.
Octapeptide-2/ Copper Tripeptide-1/Polypeptide-23
This lash boost serum contains not one, but three peptides. But how exactly do these work to boost your lashes? Peptides are small chains of amino acids – aka proteins that are essential to your hair health. They condition, nourish, and repair damage that's already been done. 
Allantoin
A compound that your body produces naturally, it can also be plant-derived or made synthetically in a laboratory. Allantoin is most commonly used as a soothing and conditioning ingredient.
It's purpose in this formula is clear: it helps to counteract and soothe potentially irritating ingredients, like the prostaglandin analogue.
Panthenol
Another softening, smoothing, and strengthening ingredient, panthenol is one of our favorite lash serum ingredients. The ingredient in fact converts to pantothenic acid (or provitamin b5) upon contact with your lashes, and this creates a protective barrier around each strand.
Not only does that barrier protect your lashes from moisture loss and increase water retention, it also creates the appearance of thicker, fuller lashes.
Pumpkin Seed Extract
As well as Malus Domestica Fruit Cell Culture Extract, Sweet Almond Extract, and Backhousia Citriodora Leaf Oil are all botanical lash helpers.
We won't go into detail about every one of these great ingredients, but we thought it important to point out the host of natural oils and plant extracts included in the Lash Boost formulation. There's nothing quite like the power of naturally-derived ingredients for boosting lash health.
Does Lash Boost Work?
As you saw from the Lash Boost ingredients list above, this serum is packed with nourishing and conditioning agents like keratin, biotin and peptides – all of which are great for protecting and strengthening the lashes.
But let's face it – these natural ingredients aren't going to give you the dramatically longer, thicker and darker lashes you long for.
That's where another little ingredient comes in: Isopropyl Cloprostenate. If you're familiar with eyelash growth serums, you may recognize this ingredient as a lash-growing prostaglandin analogue, like the sort that's usually found in Latisse.
It's listed as the fifth ingredient in Rodan and Fields Lash Boost serum, meaning these tubes contain a potent enough dose of the magic ingredient that makes eyelashes grow like weeds.
Another side effect, of course, of prostaglandins like Isopropyl Cloprostenate is that they can darken eye color (and eyelash color). This may be good news for you if you're already a dark-eyed beauty with blonde lashes you'd like to darken but it's not worth the risk if you've got light-colored eyes. So keep that in mind.
So let's get back to the main question: Does Rodan and Fields Lash Boost work?
The answer is that nothing works for everyone but yes, this lash serum is one of the more effective lash serums on the market. It is more likely to improve the volume of your lashes first and the length second, with 90% of the study paticiants seeing fuller lashes and 85% seeing longer lashes.
Overall, we see the volume improvements of Lash Boost as a huge plus. Most eyelash serums and enhancers work primarily to add to lash length. While Rodan and Fields Lash Boost can have that effect, the fact that it works primarily to improve lash volume makes it stand out from other products.
Is Rodan and Fields Lash Boost Worth It?
Sure, the product works but is it worth it? After all, there are tons of eyelash growth serums on the market and several of them are just as effective…so why would you choose Rodan and Fields Lash Boost? Here's a few things to consider in making your decision!
Who can use Lash Boost? 
You can use the serum if you wear contacts, have tinted lashes or brows, or if you have tattooed eyeliner. Rodan and Fields says, though, that you cannot use this product if you have lash extensions since it is formulated for use on natural lashes only.
How often do you use Lash Boost?
They are very clear that you should only use Lash Boost once a day, as multiple applications per day can lead to irritation. According to the FAQ, the serum shouldn't be used on the lower lash line for the same reason.
Also keep in mind that one of the side effects of prostaglandin analogues is that it can slightly darken the places where the liquid touches so be very careful about getting it only on your top lash line.
Another important note: prostaglandin analogues are capable of growing hairs where there weren't any before. So only apply where you want more lashes.
Are there any allergy precautions?
The most important thing to know about Rodan and Fields Lash Boost is that it contains almond extract, so if you have an allergy to nuts, you should stay away from this product. Rodan and Fields does list this information on their website, though, so it's clear they aren't trying to hide anything about their product.
How much does Lash Boost cost?
While we do recommend Rodan and Fields Lash Boost, we should mention it isn't for those on a budget. In fact, it ranks as one of the most expensive lash serums.
A bottle will last about two months, and Rodan and Fields recommends getting rid of the product three months after opening, which is a pretty good shelf life as far as lash serums are concerned.
The Final Verdict on Lash Boost
As you already know by now, Rodan + Fields Lash Boost scores pretty well in terms of effectiveness. And if we based the review on effectiveness alone, we'd give it a five star review.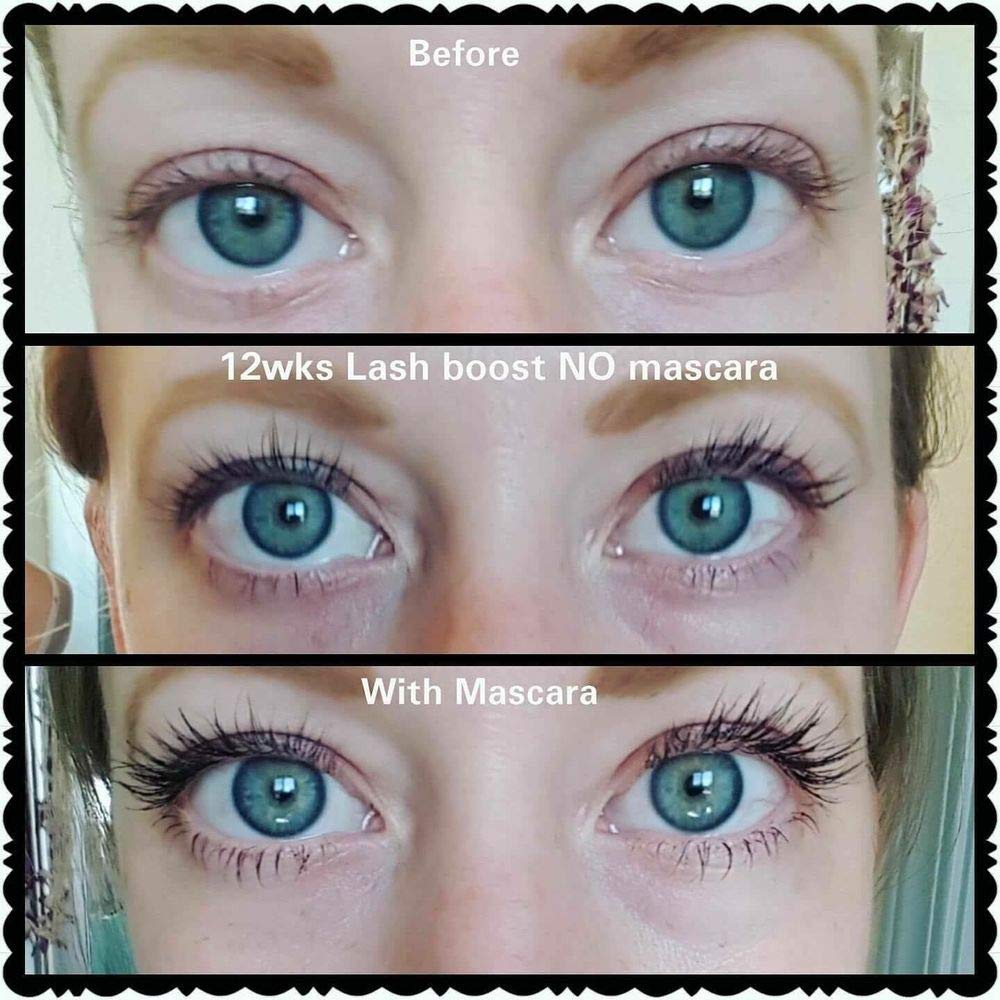 But then again, this lash serum – as effective as it is – comes with a really steep price tag. At its current price per bottle, it's about the same price as prescription-strength Latisse! And of course, that gives this lash serum the dubious distinction of being the most expensive eyelash growth serum on the market.
Expensive enough, in fact, to turn us off and knock off several stars. After all, when it comes to highly effective lash serums – there are a couple out there that work amazingly well and don't cost an arm and a leg.
Like NutraLuxe MD, which has the same highly effective prostaglandin analogue and only costs a fraction of Lash Boost. Same with GrandeLASH MD – which is one of the most effective, most reputable lash serums on the market looks like a positive bargain when compared to Lash Boost.
The whole price thing matters, after all – not only because some of us are on a budget but also because eyelash growth serums are an ongoing expense.
Once you stop using it, your lashes go back to their normal length and nobody needs that. Which is why it's pretty crucial to find a lash growth serum that hits the sweet spot of high effectiveness and affordable enough to purchase every few months.
That being said, Lash Boost does offer a host of high-quality, botanical nourishing ingredients that most other lash serums don't. So if you can afford the splurge – this isn't a bad choice at all.
But if you can't – don't feel bad. There are much more affordable lash serums out there that are just as effective…