It is very difficult to find a good eyelash growth enhancer nowadays.
It is because numerous products of the same types are being introduced into the cosmetics market day by day. And it has also become very difficult to figure, which is the real product and which one is fake.
Most of the women are drawn by the name of the product. The name of the product has a great impact on the buyer's mind.
SmartLash Eyelash Enhancer Review (GUIDE)
If the name of an eyelash growth enhancer is SmartLash, then you probably will think that this product is right for a smart lady.
In this article, we will discuss the SmartLash eyelash enhancer.
SmartLash eyelash enhancer is an eyelash growth serum which makes your eyelashes thicker, fuller and helps them to grow longer.
It can completely transform the appearance of your eyelashes.
There's no denying that the SmartLash Eyelash Enhancer looks pretty darn good at first glance.
It's sleekly packaged, it's got great reviews and it's even packing a good, healthy list of eyelash enhancing ingredients.
We especially love that it's physician formulated and tested, making it safe and gentle enough for even sensitive eyed beauties.
Not to mention, SmartLash also makes some lovely promises – like the promise that you'll see improvements in as little as 7 days!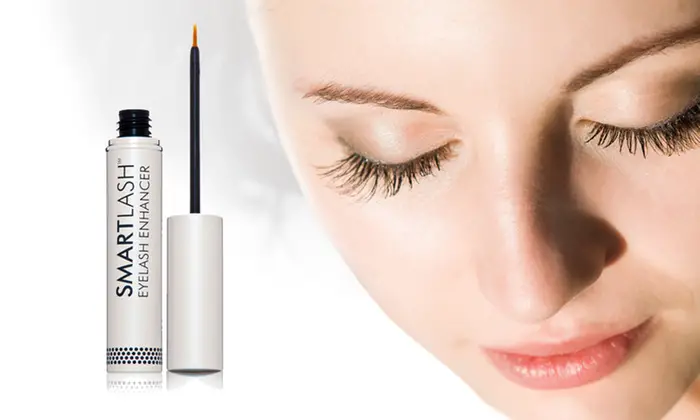 But hey, we've all been around the lash growth serum block before and we know promises are often made – and not kept. So is that the case with SmartLash?
Let's dig in…
SmartLash Eyelash Enhancer: The Basics
Unlike other serums, this product must be used twice a day for best results. While this means SmartLash Eyelash Enhancer won't last you as long as other lash products would, the extra application may ensure better results than those other products anyway.
The 0.16 OZ bottle does last an impressive 30 days, though, considering how often you have to use the product.
SmartLash Eyelash Enhancer also promises results within those 30 days. In self-assessments conducted by 30 women, 93 percent reported that they were satisfied with the fullness and length of their lashes after 28 days.
83 percent saw thicker-looking lashes in the same amount of time and again 93 percent thought their lashes were healthier after those same four weeks.
The prostaglandin-free formula should be non-irritating for most people and won't cause discoloration in your eyes.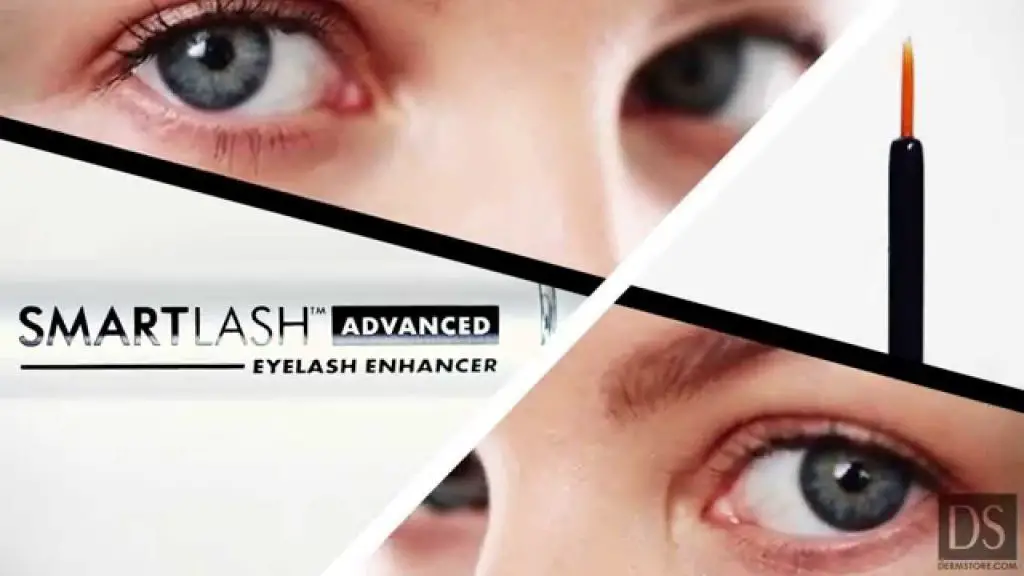 Of course, prostaglandin is the active ingredient in a lot of the most effective lash products, but SmartLash Eyelash Enhancer contains other ingredients that make up for that.
And while there may be a bit of itching until you get used to the product, it should still be overall, irritation-free experience.
Since you use the product twice a day, you're likely to adjust to it quickly, as well.
If you are concerned about having to apply SmartLash Eyelash Enhancer in the morning before applying makeup, worry not. As long as you let the product dry completely, you can use it with eyeliner and/or mascara.
You can even use the product on your lower lash line, as well, which not every lash product allows you to do. This scores SmartLash Eyelash Enhancer some extra points.
Overall, the physician-tested formula can fill in sparse lashes but mainly works to add to lash length.
We wouldn't call this a miracle product since a lot of lash serums can make lashes longer, stronger, darker, and fuller, but SmartLash Eyelash Enhancer does provide results.
And at its current price point on Amazon, it's a pretty good deal for a non-irritating, gently-formulated eyelash conditioner that works.
SmartLash Eyelash Enhancer: Pros and Cons: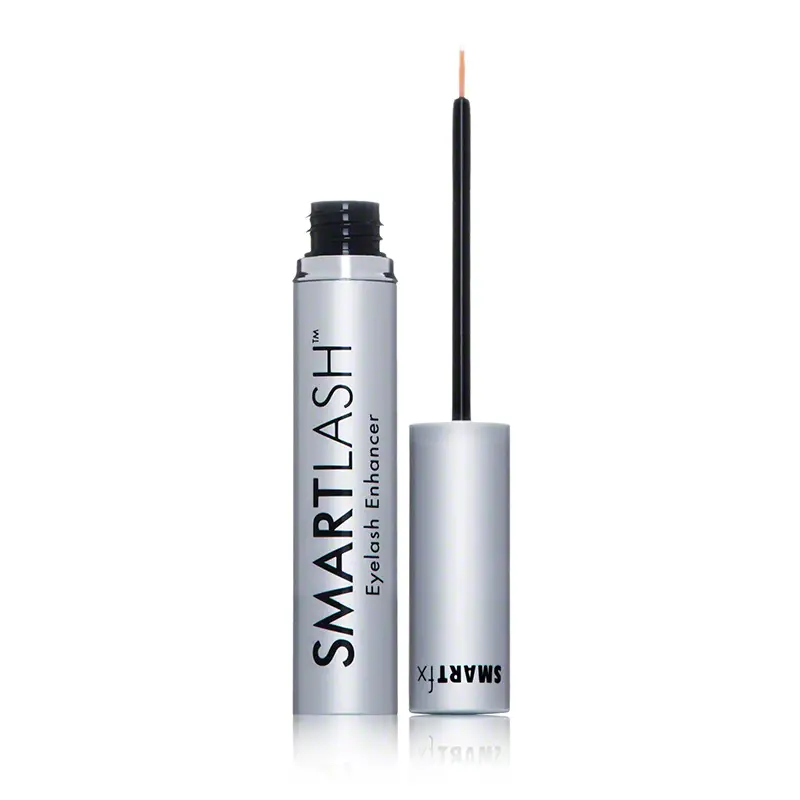 Pros
#1 This Eyelash Serum is Physician Tested:
There are very few products of cosmetics that are tested by the physicians and are approved by them.
A SmartLash eyelash enhancer is among those products which have been approved by the physicians.
This means it is completely safe and beneficial to use this product.
#2 It Does Not Use Prostaglandin:
If prostaglandin is added and some cosmetics it causes very harmful side effects. Satish product doesn't have prostaglandin in it.
So you can use this product without any worries.
#3 It is Approved for Sensitive Eyes:
Most of the people having sensitive eyes do not usually apply eyelash enhancers because they do not feel comfortable with it.
But this amazing SmartLash eyelash enhancer has been approved for the people having sensitive eyes as well as for the people who wear contact lenses.
Cons:
As everything has the prons and cons. Similarly, this product must have some downsides. So now coming towards its downsides. 
#1 It Has Financial Commitment:
The biggest problem regarding this product is its financial commitment. Everyone takes its budget very seriously except the multi-millionaires.
So this product is slightly expensive. Not everyone can easily afford such a thing.
#2 It Doesn't Work for Every Woman:
This is a disappointing fact. This product does not work on every woman. Some women cannot have significant and positive results after using this product.
SmartLash Eyelash Enhancer Ingredients
Aqua/Water/Eau, Glycerin, Butylene Glycol, Pterocarpus Marsupium Bark Extract, Myristoyl Pentapeptide-17, Apigenin, Glutamic Acid, Biotinoyl Tripeptide-1, Octapeptide-2, Panthenol, Mannitol, Biotin, Glycine Soja (Soybean) Oil, Oleanolic Acid, Disodium Succinate, Sodium Oleate, PPG-26-Buteth-26, PEG-40 Hydrogenated Castor Oil, Cellulose Gum, Hydrogenated Lecithin, Phenoxyethanol, Chlor Phenoxyethanol, Chlorphenesin, Sodium Benzoate, Sodium Citrate, Potassium Sorbate, Disodium EDTA
SmartLash Eyelash Enhancer: How To Use It?
The vial should be shaken properly before using a SmartLash.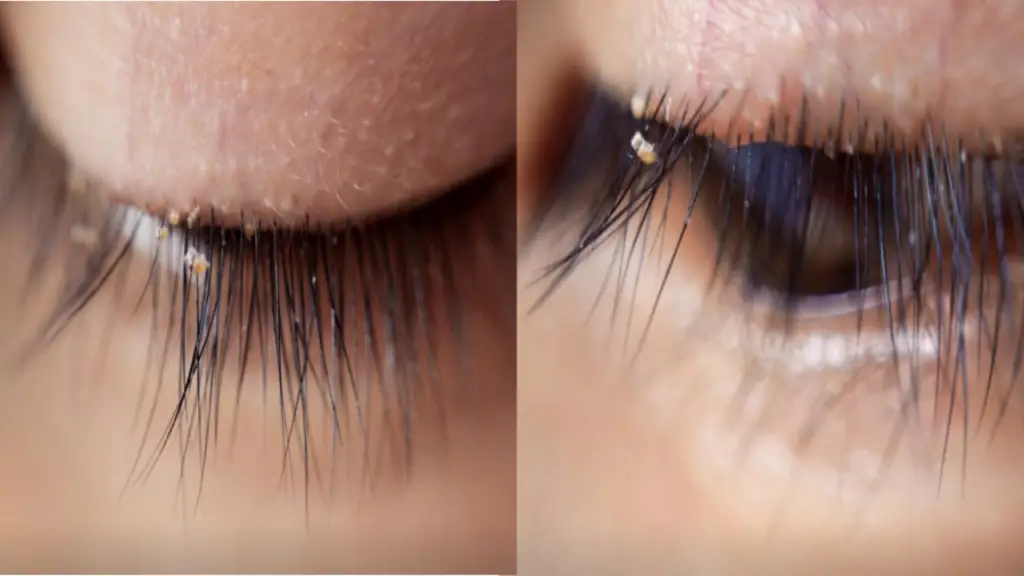 You should not apply this directly to the lashes, but you must first apply it at the base of the lashes. You can apply it both at the upper and lower lashes.
One thing that you must remember is, after applying this you must let it dry before you apply the mascara on the eyeliner.
This product can be applied both in the morning as well as in the evening before you go to bed.
According to the manufacturer, if you apply the product two times a day then this product will last for 30 days. This is a good product, you must surely go for it.
Conclusion
We hope that everything is clear in this review. But if there is still something left unclear then you can ask us anytime. We will be glad to help you.